10 Contemporary male artists painting women
Today I'd like to feature some of the best contemporary male artists painting women in classical tradition. After decades of abstract art dominating the American culture, figurative painting sees a gentle come back that is becoming stronger and more popular year after year. While contemporary art is an amalgam of so many subjects and styles, it's often subjective to the viewer's personal taste to determine who is the best in painting. Therefore, I don't aim to say that the following artists deserve more attention than others, but I'd like to highlight the ones who show both technical and creative mastery in the depiction of women, finding their inspiration in the female form.
1. Pino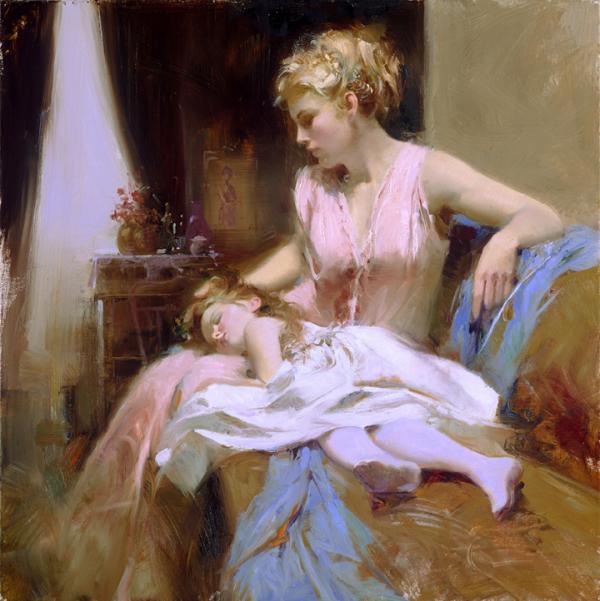 Pino Daeni (1939-2010) was an Italian artist who painted women in fresh pastel colors that evoked feelings of love, admiration, and family warmth. Women dance, read or take a stroll in a field of flowers or at the beach. Sweet and lighthearted, the figures are painted in colorful, loose strokes, using the sophisticated color schemes that overlay and harmonize with each other like notes in music. Long skirts, comfy white shirts, and summer dresses get lost in the soft edges of the surroundings. To see the artist's work, visit: http://www.pino-artist.com/
2. Serge Marshennikov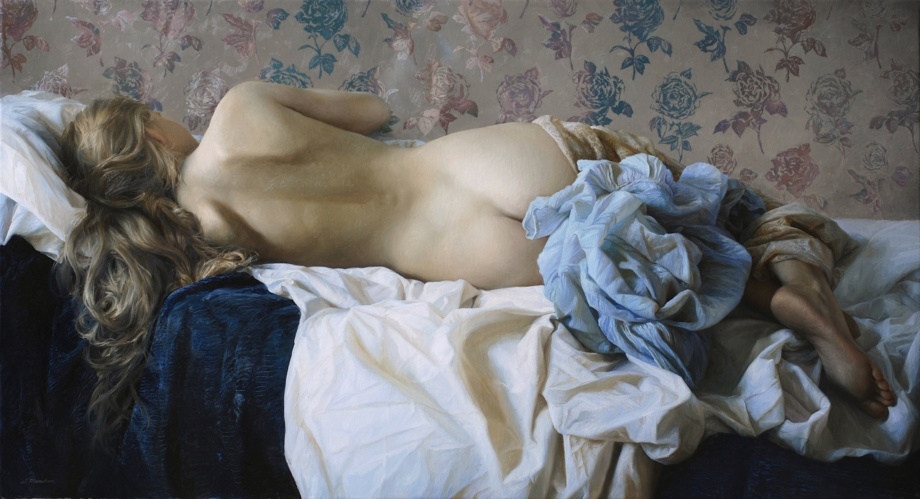 Russian artist, Serge Marshennikov is the representational painter who solely focuses on painting women. His youthful, semi-nude models rest on a couch in swirls of delicate fabric. The elaborate lace and cotton alike, it feels so gentle and real, the viewer feels tempted to reach out and touch it. Like the 19th-century French artist David, Serge plays with complex fabric folds and the luminous skin tones to create stunning contrast in his paintings.
Besides exhibiting a tremendous technical skill in oil painting, the artist possesses true talent composing his images with honest admiration and sensitivity to his models that transcend time and place. Follow the artist here: http://serge-marshennikov.tumblr.com/
3. Joshua LaRock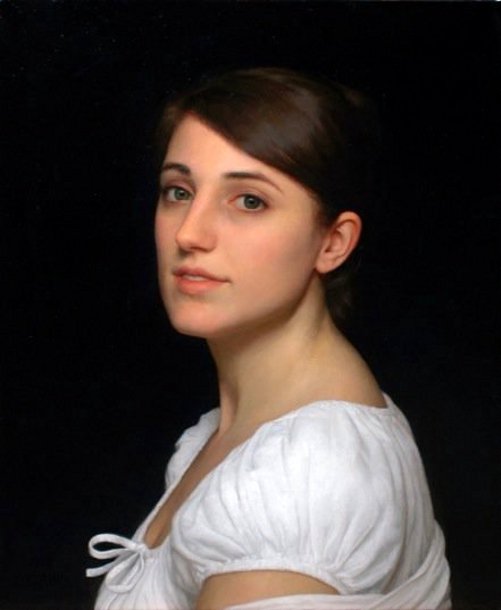 American artist, Joshua LaRock is a classical realist who studied with Jacob Collins to nurture his talents. Deeply rooted in classical painting, his portraits and still lifes are carefully planned and executed in classical tradition. Joshua describes his models in soft, slightly loose brushwork that breath with life. The award-winning artist works and teaches in New York. Connect with the artist here: http://joshualarock.com/
4. Emanuele Dascanio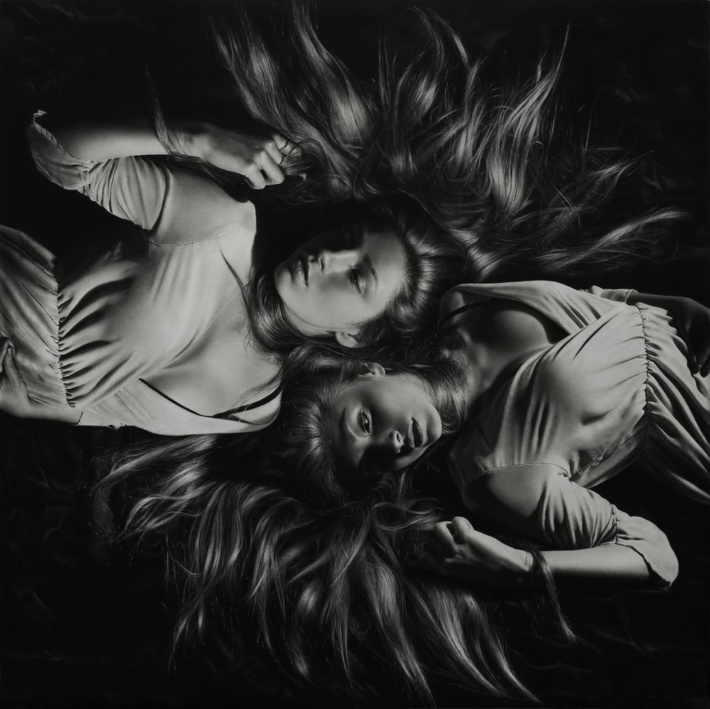 Italian artist, Emanuele Dascanio draws and paints in the hyperrealism style with the models occupying huge surfaces. His subjects vary from women to old men, to still life. He often controls the light with a single light source (the Rembrandt lighting) to create dramatic charcoal drawings and paintings. To see the artist's work, go here: http://www.emanueledascanio.com/en
5. Jeremy Mann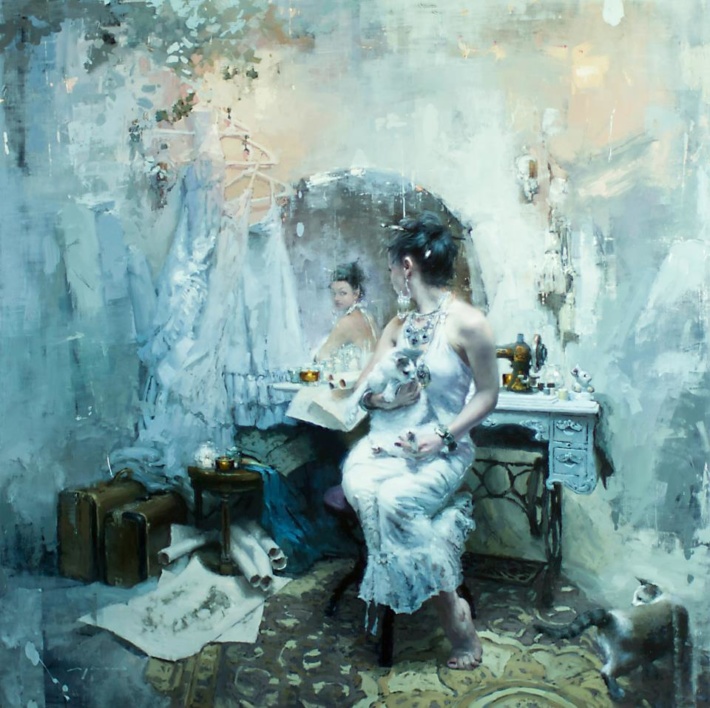 The first time I encountered Jeremy Mann's work I was blown away by his loose style of painting that seemed totally real nevertheless. Painting cityscapes and women in thick, bold strokes of ink brayers and brushes, the artist creates a universe of harmonious, often monochromatic color relationships. Views of Manhattan and reposed models alike, his paintings make us contemplate a moment of beautiful silence that doesn't scream with melancholy.
6. Gregory Mortenson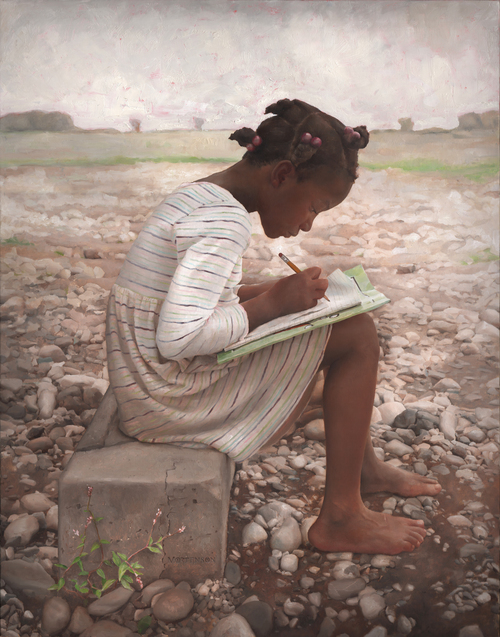 Gregory Mortenson is a classically trained artist whose recent body of work features Haitian children, who were painted by the artist after the devastating earthquake hit the country. His subdued color palettes show a beautiful restraint. To see the artist's work: http://www.gregorymortenson.com/
7. Goyo Dominquez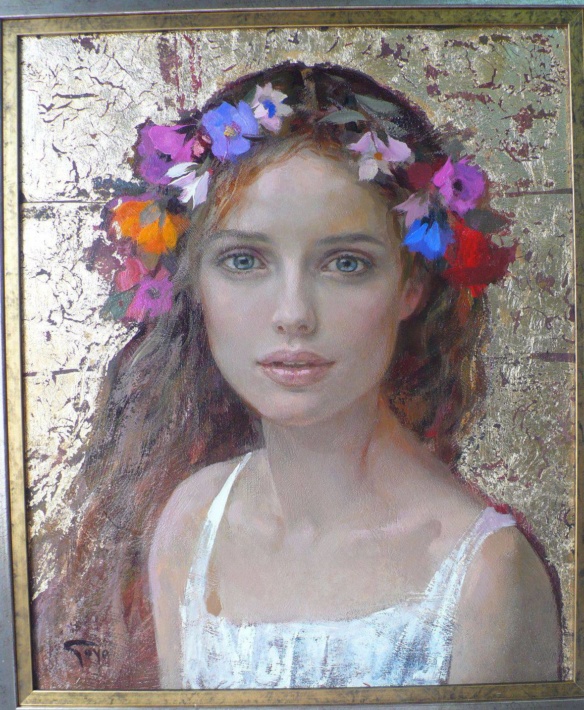 Goyo Dominguez is a Spanish artist who paints women and still life, combining traditional painting techniques with the loose brushwork of the Impressionists. Influenced by Renaissance, his romantic artwork is colorful and pure with a sense of lightness and tranquility. Early in life he studied for priesthood and was encouraged to pursue the artistic career. His upbringing led the artist to create numerous murals and commissions for the church and more. To see his work: http://goyodominguez.com/
8. Brad Kunkle
American artist, Brad Kunkle paints women on the silver-leafed panels. He employs monochromatic grays and browns to describe his models. Brad often places women against the patterned background or lets the flying leaves revolve around the models like tiny birds. His figures could be the nymphs of magical forests that strike us with primal physical presence. To connect with the artist: http://bradkunkle.com/
9. Adrian Gottlieb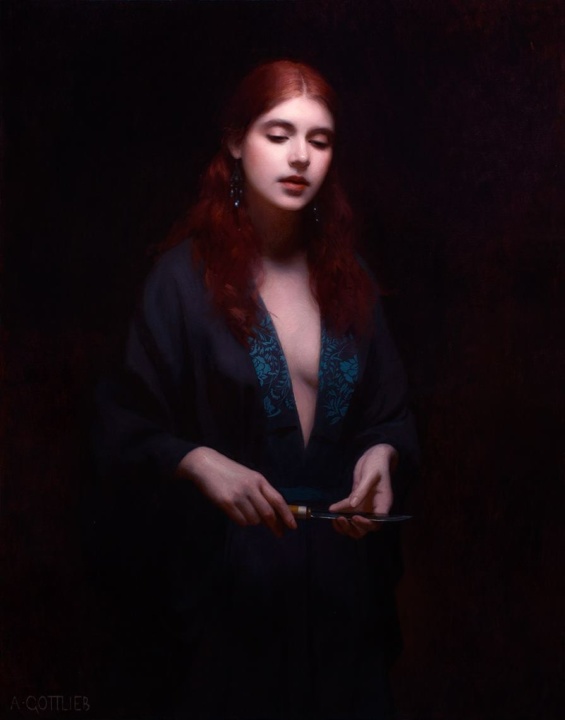 Adrian Gottlieb is a classical portraitist working from his studio in LA. In his paintings he explores the relationship between color and poetry that unifies in timeless elements of beauty. Inspired by Rembrandt, the artist reigns supreme at capturing the luminosity of skin tones and fabric set against dark backgrounds. The amazing life-like appearance of his models is astonishing in all of his museum-quality paintings. He runs workshops from his studio and around the country. http://www.adriangottlieb.com/gottlieb-studios/
10. Louis Treserras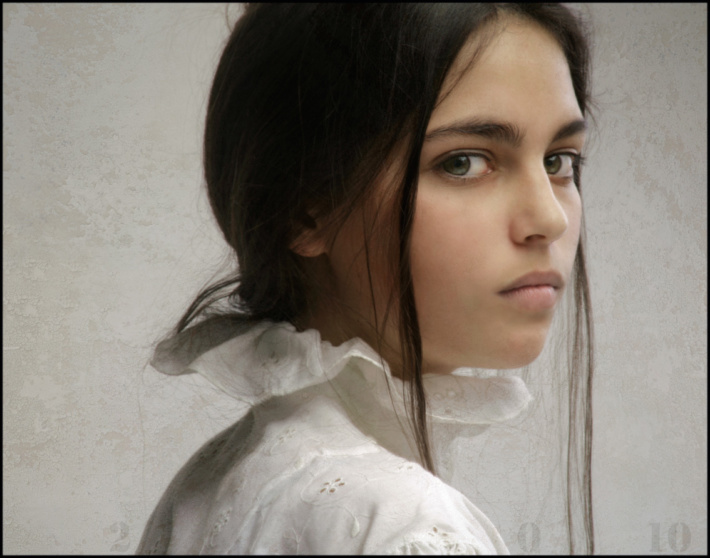 French artist and photographer, Louis Treserras paints fragile, young women with intense gaze in restrained, carefully controlled color schemes. Unlike Gottlieb, the artist always sets his figures against the light background. His female models possess the enigmatic and intense gaze that show character and thoughtfulness.  
Here you have it. Check out my post about the contemporary women artists here: http://veronicasart.com/17-contemporary-women-artists-the-best-of-real-and-surreal-in-painting/
Shop for art prints and more – Society6
Paintings of Women art gallery