Art Miami and Context Art Miami at Miami Art Basel Week 2017
Art Basel Miami Beach is one of the largest art fairs held in the country every December. These art fairs also include Aqua Art Miami, Art Miami, CONTEXT Art Miami, Art Spot Miami, Design Miami, Form Miami, Fridge Art Fair Miami, Pulse Miami, Scope Art Show, Spectrum Art Fair and many more!
Art Miami and CONTEXT Art Miami are two of the art fairs shown under the umbrella of the Art Basel week in Miami Beach that I visit. Unlike last year, this time many galleries have emerged representing figurative realism. Also, there were more Asian galleries as well as galleries showing photography.
Video
This video is a visual roundup of Miami art galleries, international galleries, 3D art and figurative realism art in Art Miami 2017. You'll find the images and artists' names in the post below.
Figurative realism artists and galleries
Brad Kunkle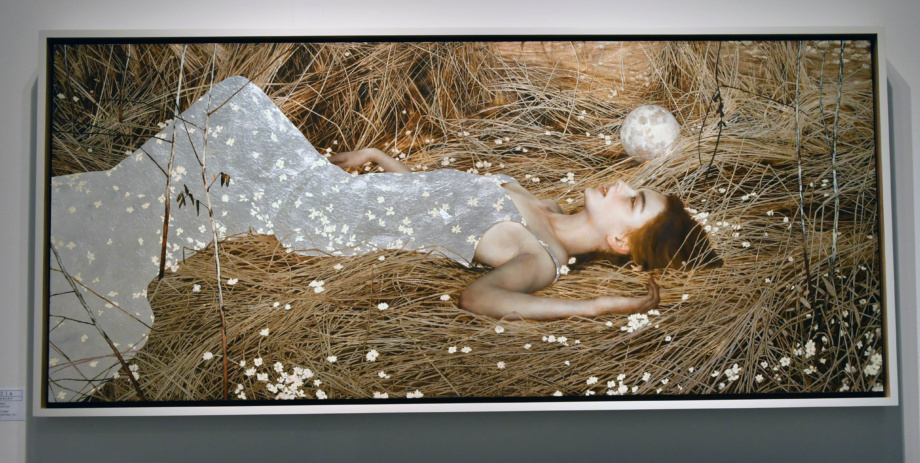 In Brad Kunkle's figurative paintings the feminine is symbolic of the intuitive that helps us – the viewers find purpose in life. By teaching us to study and to interpret artwork, the artist wants us to be more conscious of life and intuition and to feel the magic of life through his paintings. Brad Kunkle depicts women in a palette of warm browns set against the shiny silver leaf to express his idea of female softness and confidence.
To learn more: bradkunkle.com
Yigal Ozeri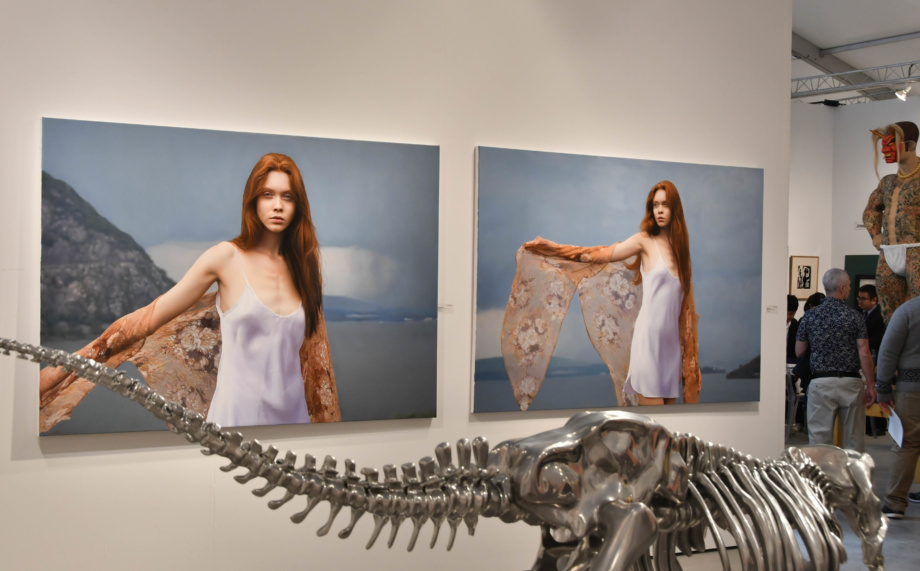 Yigal Ozeri's figurative realism is so stunning, it takes a while to believe that these are actually oil paintings. Born in Israel in 1958, the artist works in New York creating large-scale paintings of women set in lush landscapes. The cinematic quality of his work forces us to stare and study every inch of the oil painting to believe that these are real paintings with the softness of distant mountains and trees, The hyper-realistic figures of women have the immediacy of the moment that are about to walk off the canvas. The artist is represented by Zemack Contemporary Art Gallery.
Clio Newton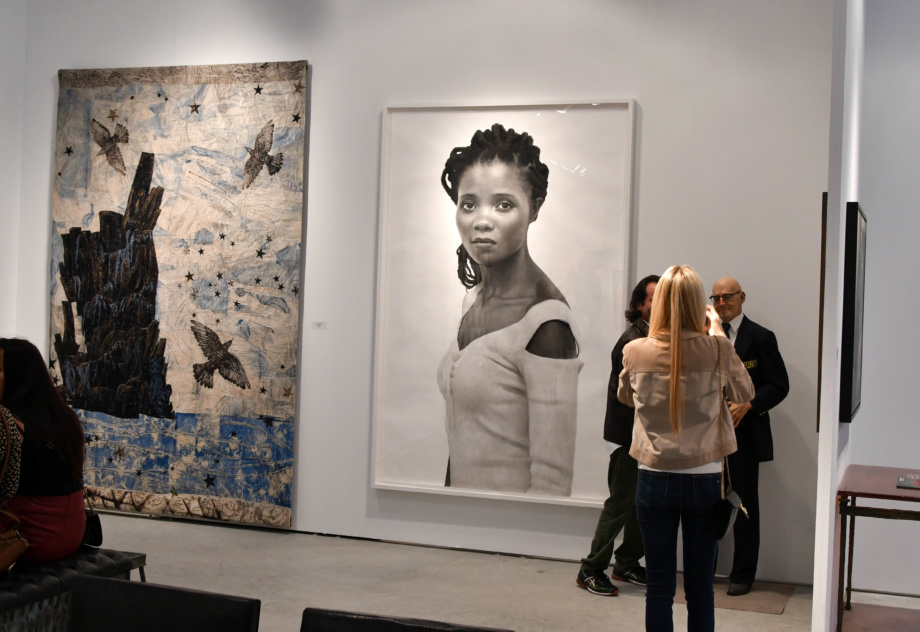 Born 1989, Swiss artist Clio Newton creates hyper-realistic, gigantic drawings of women in charcoal that are larger than life.  The artist captures women with unbelievable anatomical accuracy in black and white that become towering statements of this artist's talent. to To learn more: www.clionewton.com
Alonsa Guevara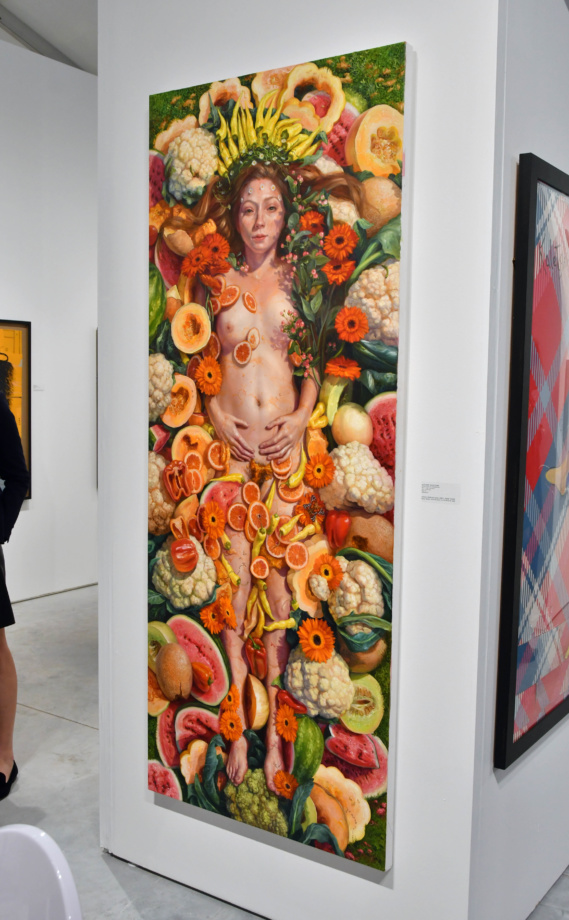 Alonsa Guevara, Fernanda's Ceremony, 80×32 in, oil on canvas | Anna Zorina Gallery, NYOriginally from Chile, Alonsa is one of young figurative painters who shows her work during the Miami art fair. Alonsa's fruit portraits are about desire, desire to move people.  Paintings of nude women that are often self-portraits are mixed with lush cut fruit and flowers that represent fertility and life, mystery and birth.
To learn more: www.alonsaguevara.com
Mr. Brainwash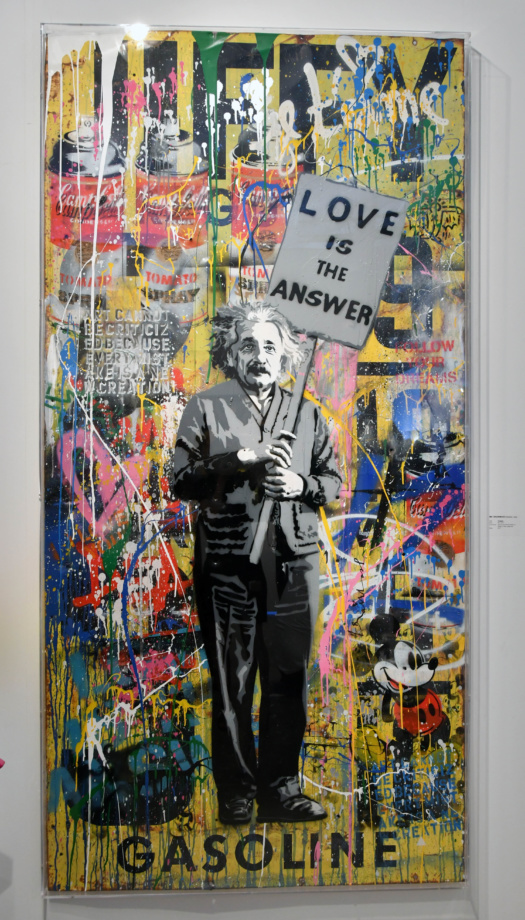 If you wish to understand how this street artist Mr. Brainwash made a name for himself and sold art for millions without any previous knowledge or background in art, you must watch the documentary Exit Through the Gift Shop, 2010. His work continues to appear during the Miami art week.
Mary Jane Ansell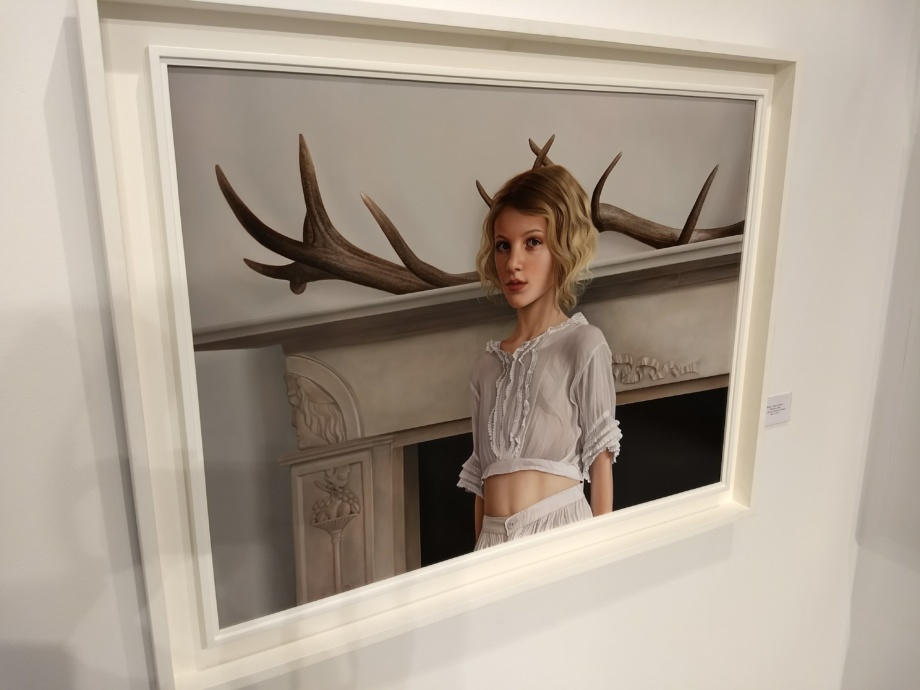 Mary Jane Ansell is a British artist, who represents figurative realism in a fresh way by mixing up the baroque influences with military costumes and feelings of love and loss. She creates the narratives around the female figure that appear lost in their own quietness and self-reflection.
Mike Dargas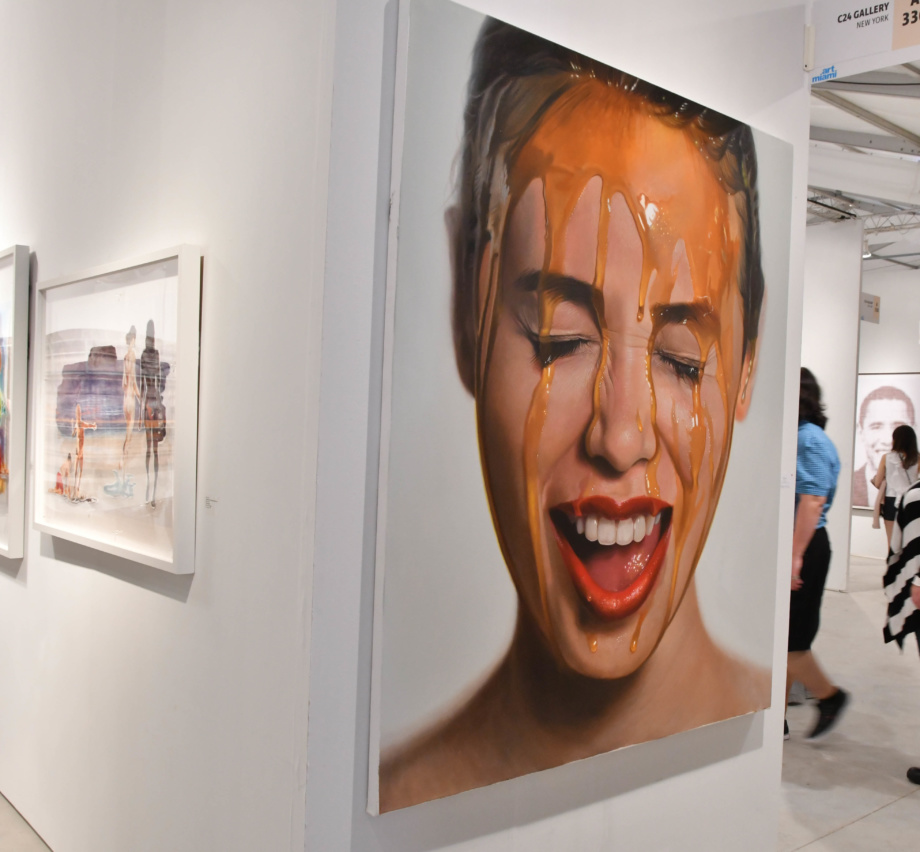 Oversized, hyper-realistic paintings of German artist Mike Dargas depict women's faces soaking in either chocolate or honey. Discovered on Instagram, the artist often exhibits at the Opera gallery now. To learn more: mikedargas.com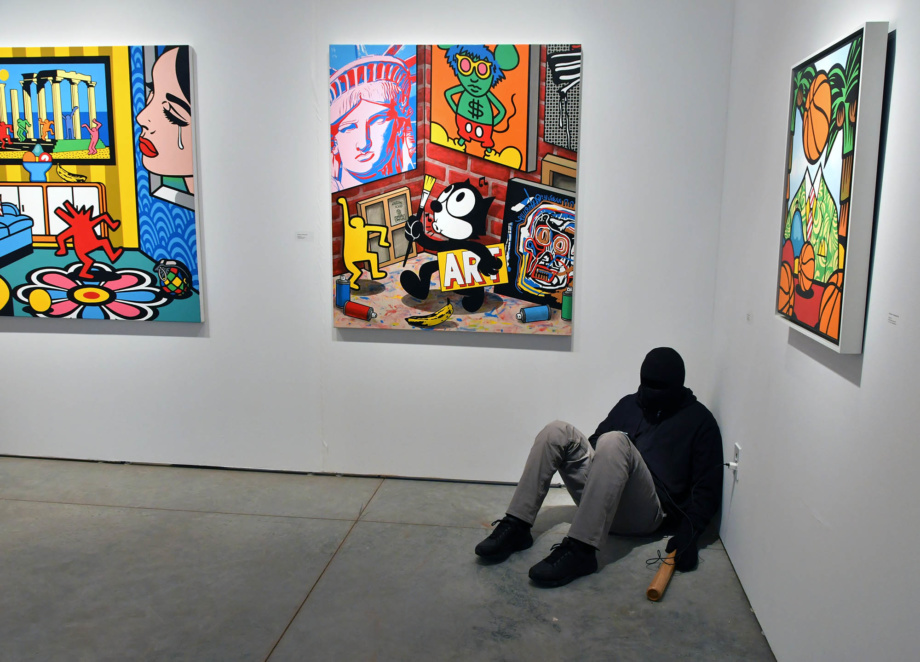 Bernardo Torrens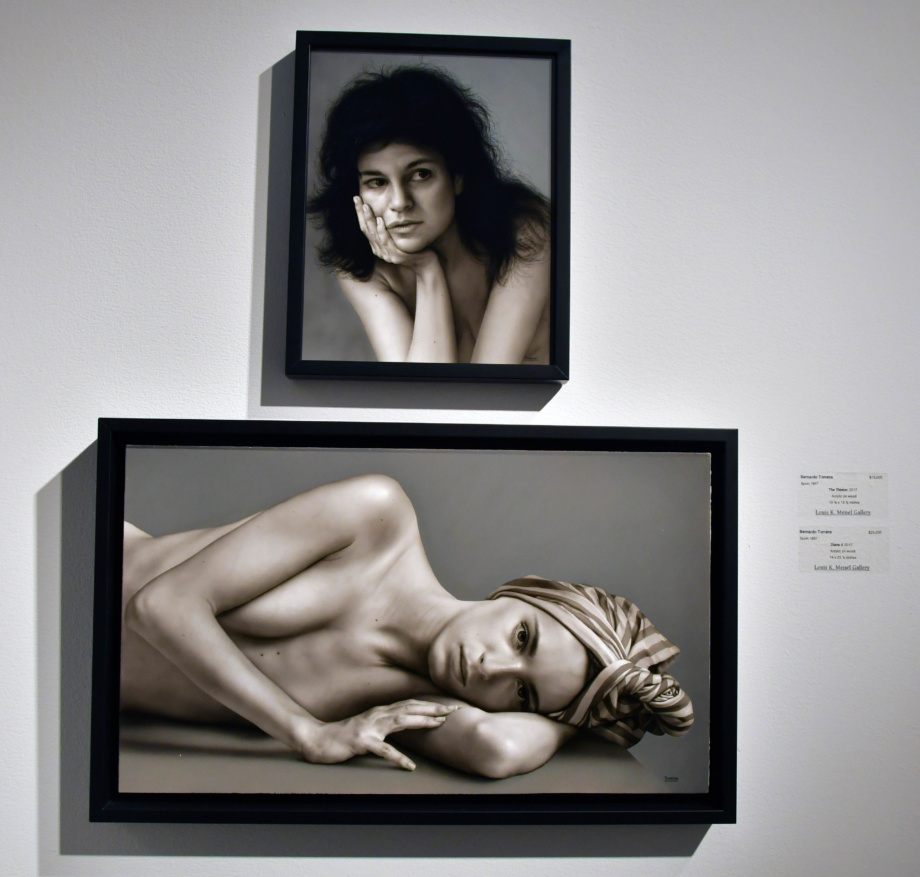 A self-taught Spanish artist paints female nudes in monochromatic colors. He is represented by Louis K. Meisel Gallery.
Carlos Rolon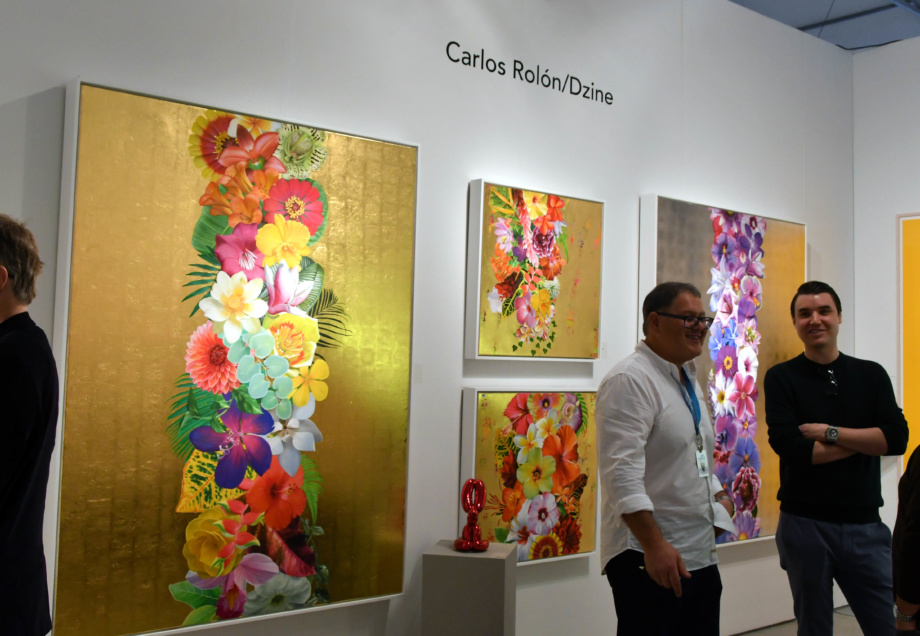 Carlos Rolon, decadence upon decadence, oil and gold leaf on canvas. Born in Chicago, the artist paints stylized yet delicate floral compositions heightening the baroque luxury with shiny gold leaf.
Fernando Botero
Colombian artist Fernando Botero is one of the most popular representational painters and sculptors today who is known for his humorous 'fat' figures that are also expressions of political criticism.
Marco Grassi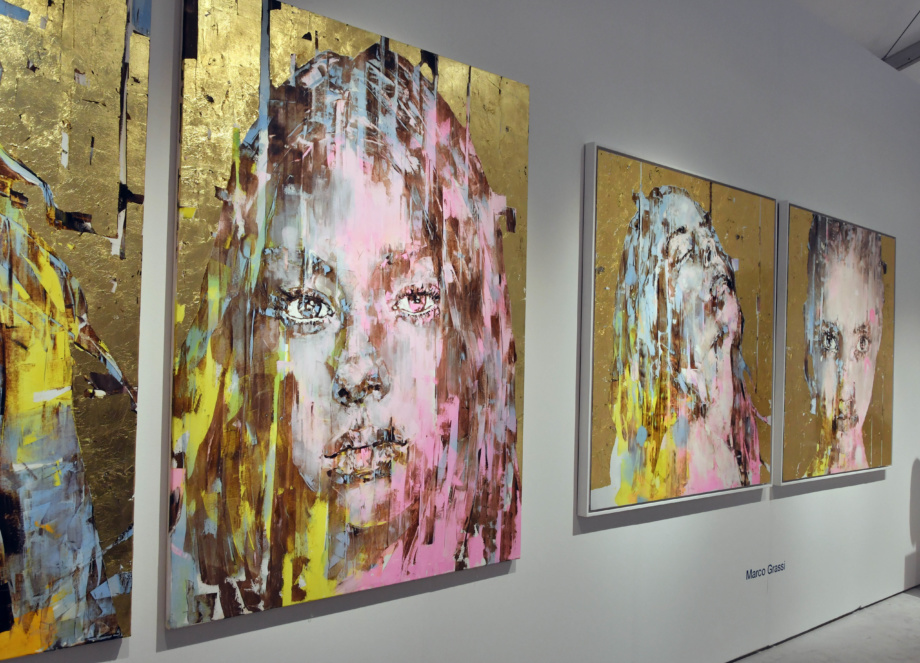 Playful and colorful, figurative realism art by Marco Grassi is a visual treat. Although lacking some anatomical accuracy, these portraits of girls have freshness and vigor heightened by the gold leafed shine.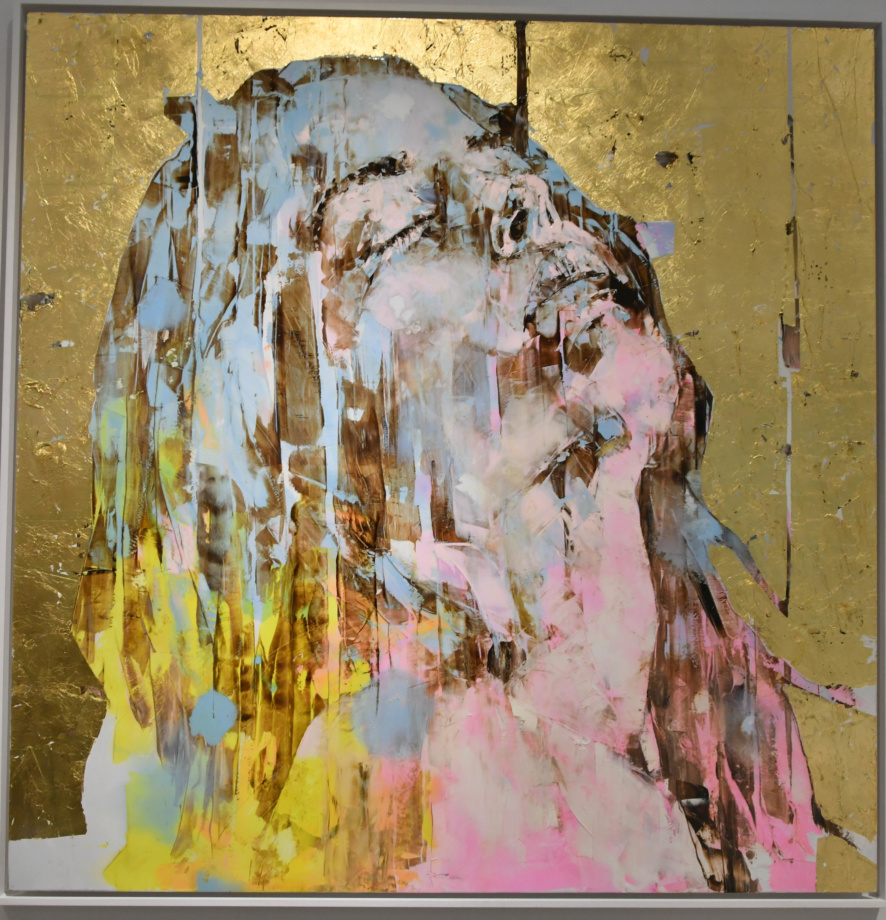 Silvio Porzionato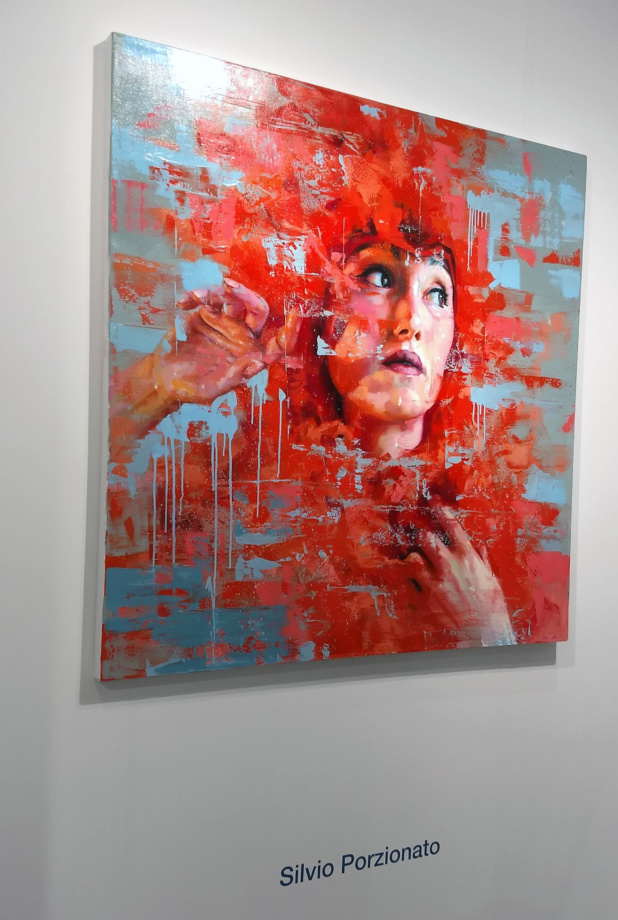 Italian artist Silvio Porzionato paints large-scale portraits with amazing skill, dragging paint across the background to reveal the humanity of the face and hands.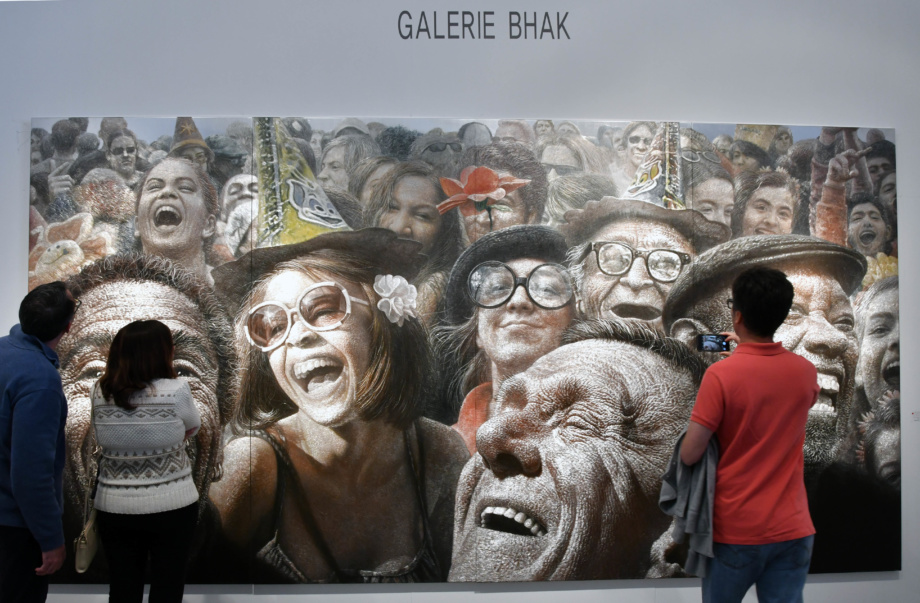 Bringing Korean artists to the Miami art fair, this gallery is a pleasant surprise. Figurative realism art becomes a lot more than painting where non-glamorous people star in a space made of scratches on aluminum.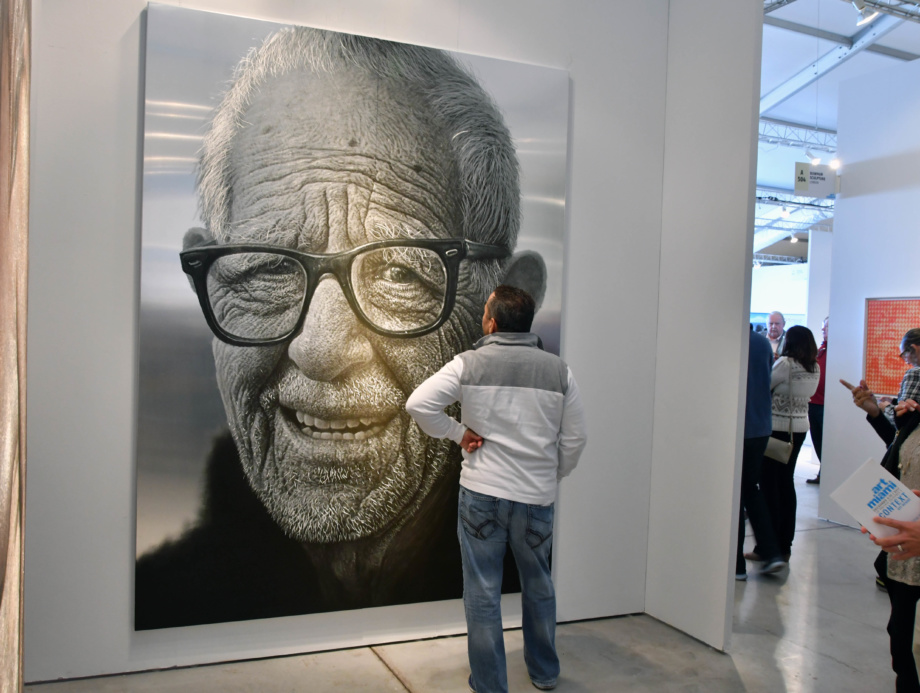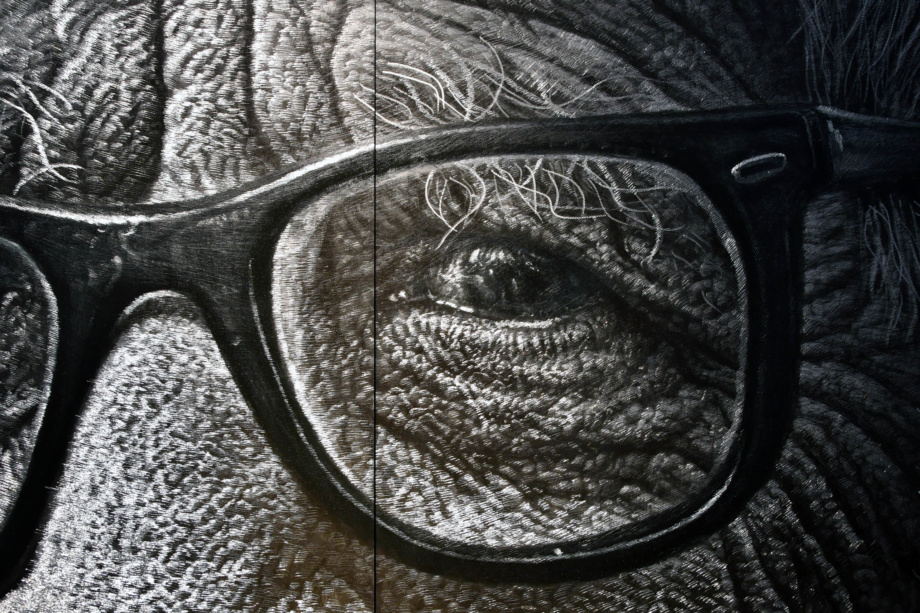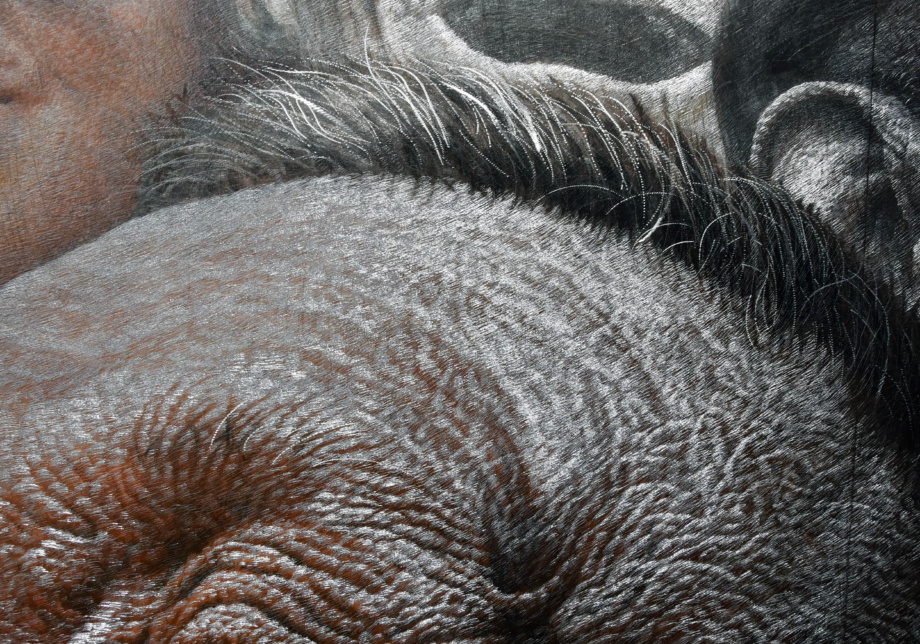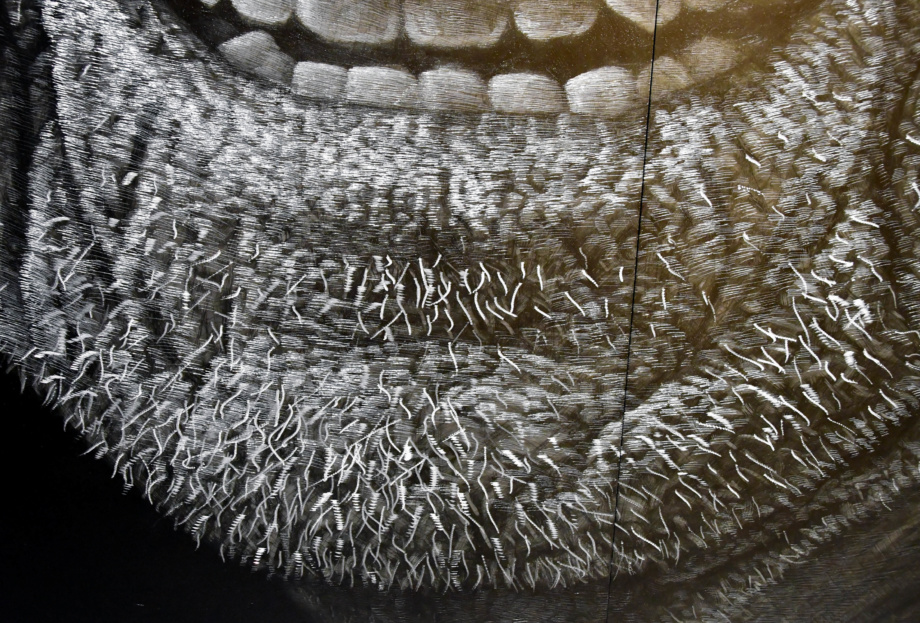 3D art, sculpture and animation
In the video you see some animation paintings/digital media represented by the Priveekollektie Contemporary Art and Design gallery located in the Netherlands. In Bloomed wall, we study the movement of nature reminiscent of the Dutch still life painting in a series of 'paintings' that play animated flowers, birds, and more.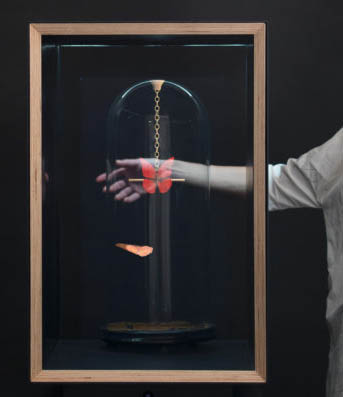 Flutter Hologram: Pendulum
In this 3D Hologram two butterflies fly inside a jar when exited by the movement around them. They sit down at the pendulum, which represents life hanging in balance.
To learn more: www.priveekollektie.art
Carole A. Feuerman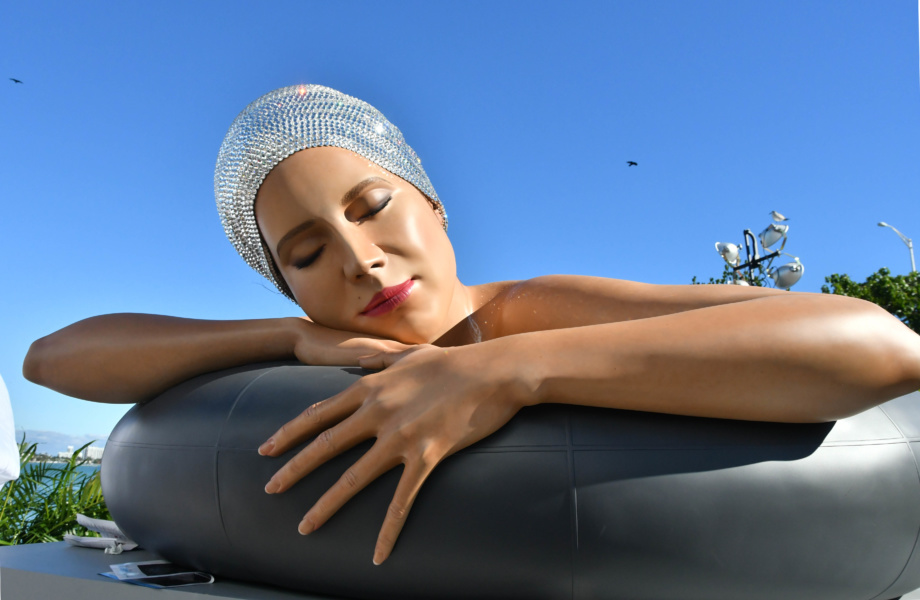 American artist Carole Feuerman belongs to the Hyperrealism movement making life-like sculptures. She casts real people to produce sculptural artwork that symbolizes strength, survival, and balance.
To learn more: www.carolefeuerman.com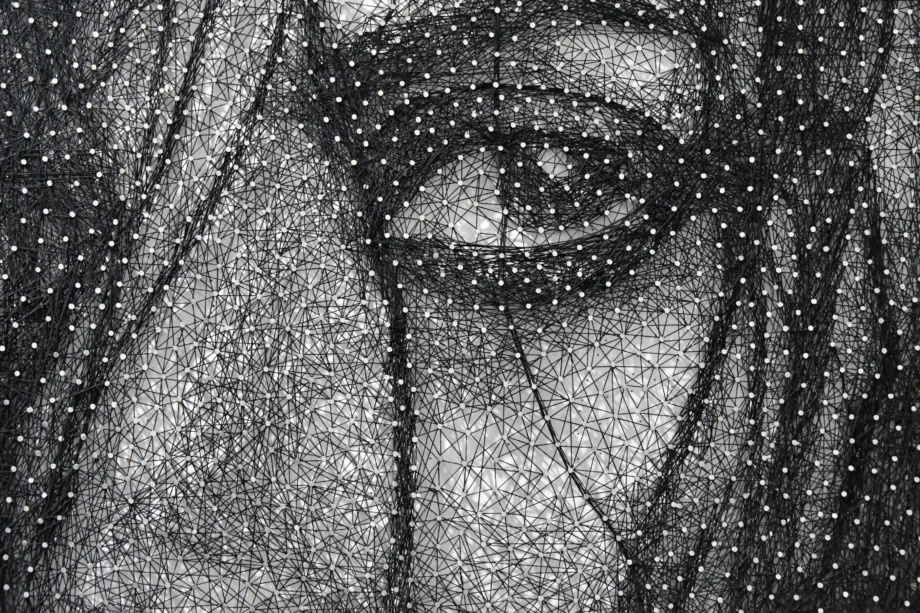 Josepha Gasch-Muche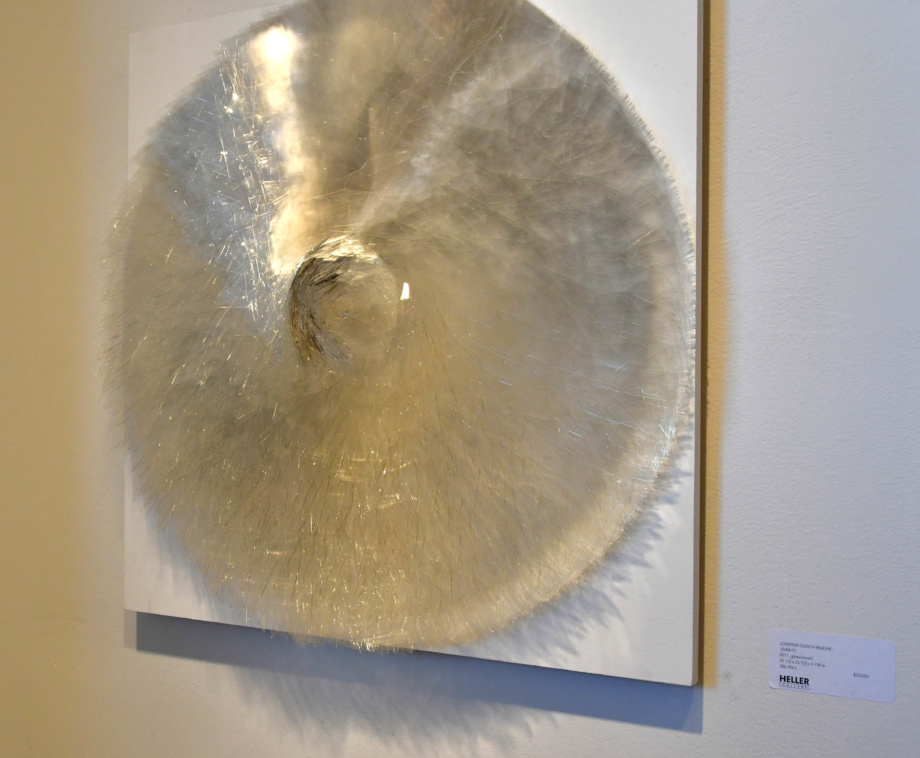 German artist Josepha Gasch-Muche makes glass sculptures from razor-sharp industrial liquid crystal display glass pieces! She breaks and arranges thin sheets of glass into strands to make geometric shapes.  The artist is presented by the Heller gallery at Art Miami 2017,
Metis Atash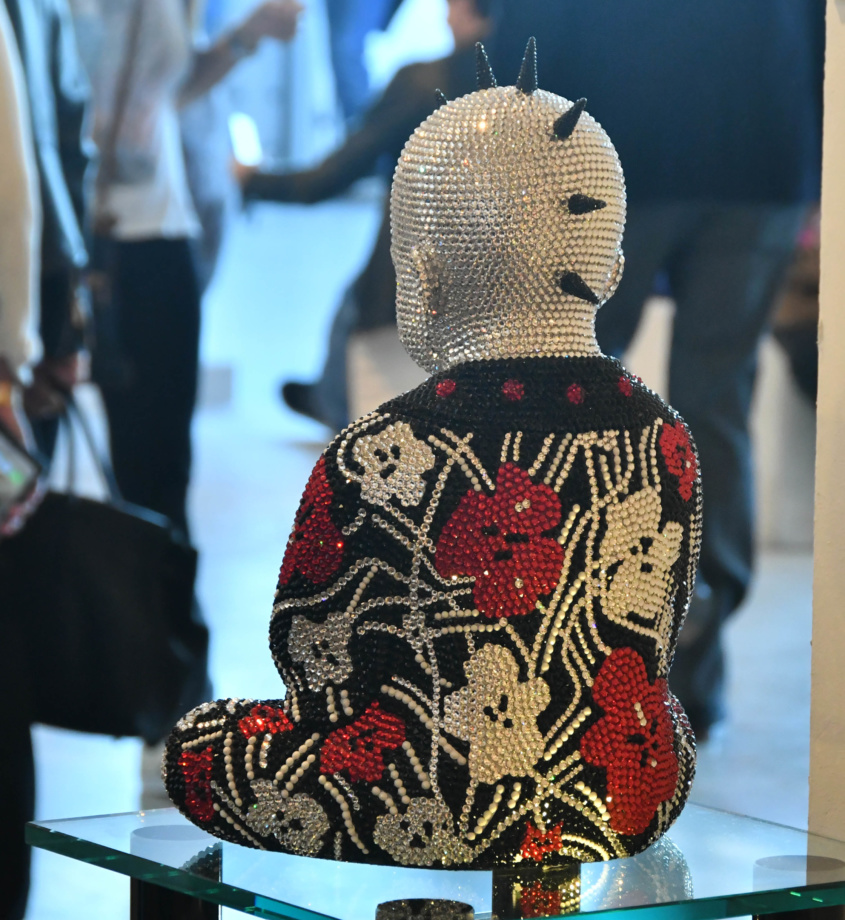 B.1979, German artist Metis Atash comes from consultancy business in Germany to become the creator of sculptures that represent the duality of life and beyond it. To learn more:  longsharpgallery.com
Peter Anton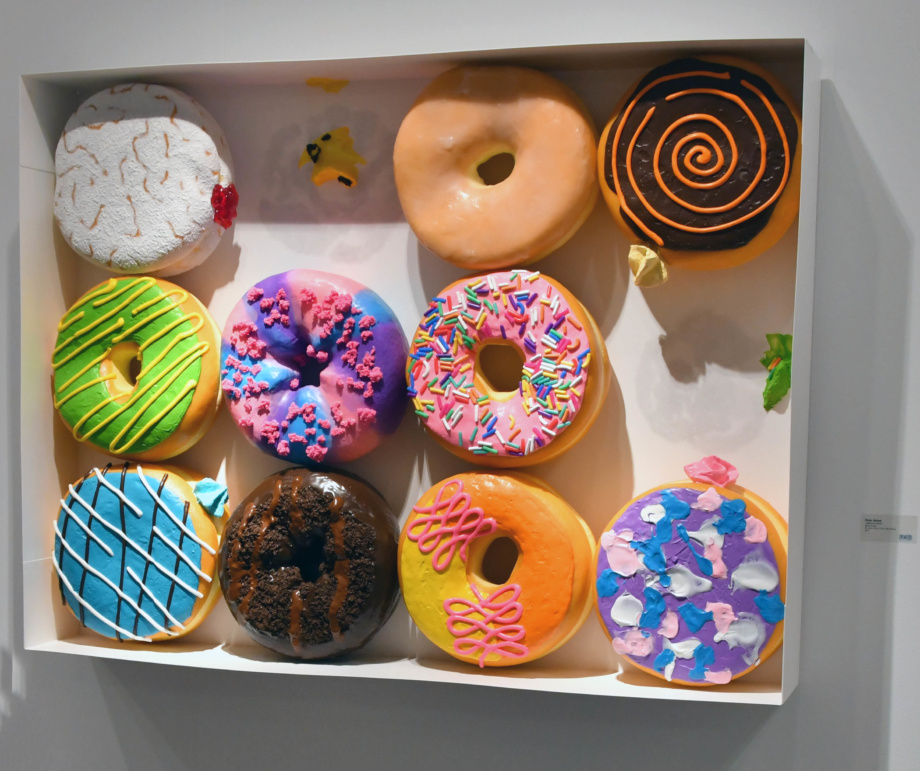 Peter Anton is a popular sculptor whose obsession is chocolate, ice cream and sweets! To learn more: www.peteranton.com
Liquid Art System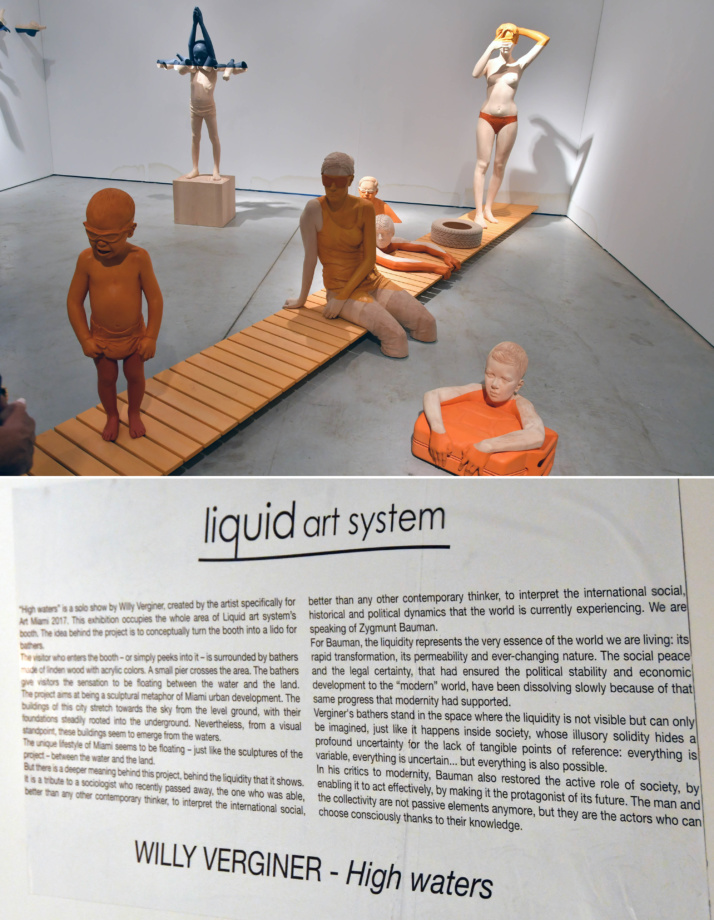 Photography
Jeff Robb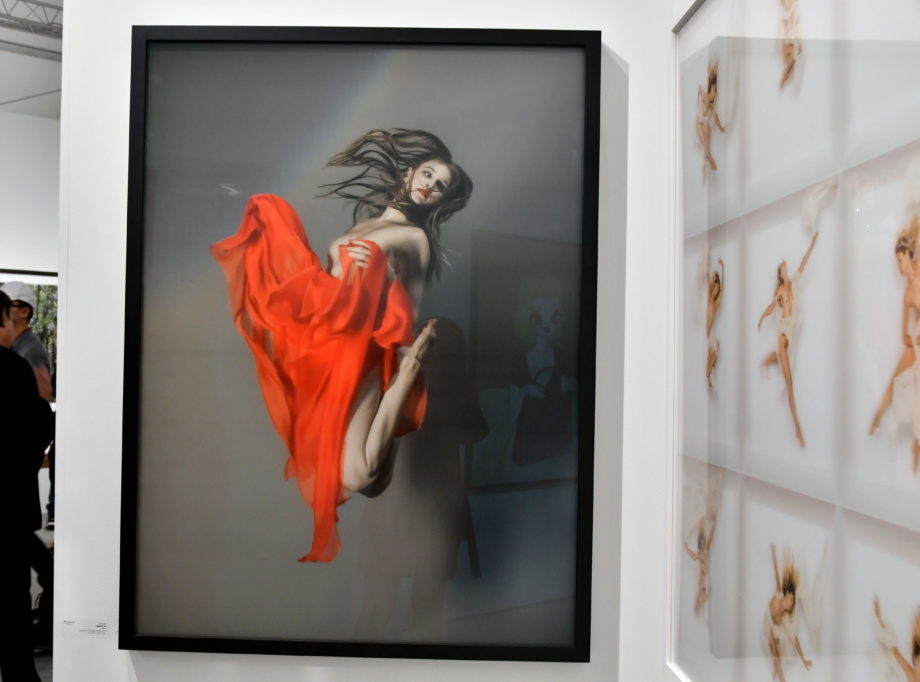 British photographer Jeff Robb experiments with three-dimensional imaging by taking pictures of the female nudes frozen in action and placing them in his lenticular photography. The lenticular photographs give us a mirage of volume and slight movement of a figure depending on the spectator's point of view.
Ruud van Empel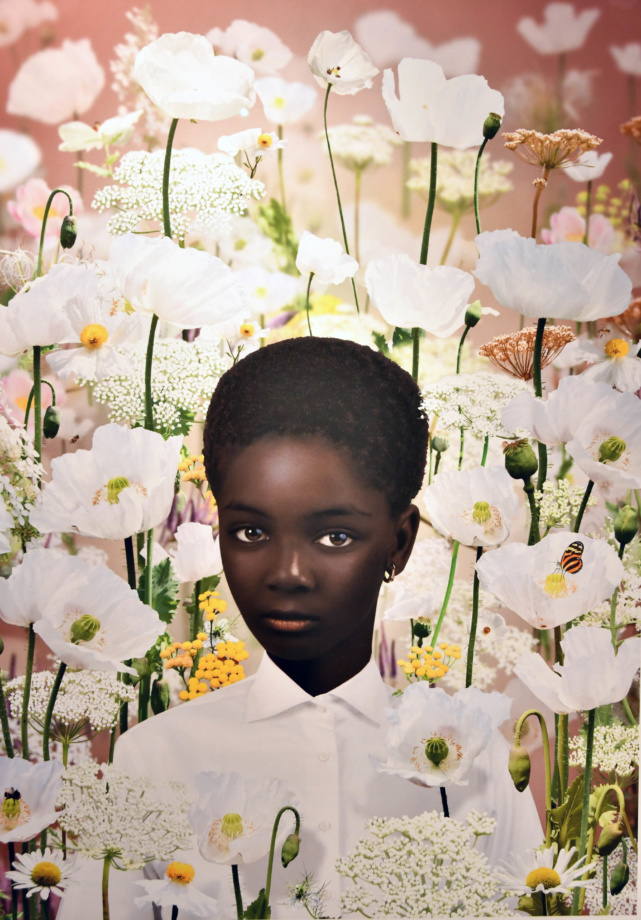 This is one of few photographs that stood out from a crowd of paintings at the Miami art fair. The unusual part is seeing a black kid in a beautiful, not diminishing way. And even more surprising part is that the artist is white – Dutch photographer Ruud van Empel.  A child with mesmerizing eyes doesn't really exist because the artist's pictures are multilayered images. Photoshoped from many photographs, these black girls look like painted figures – symbols of childhood innocence.  This deliberate deconstruction and reconstruction of digital imagery gives the artwork a mesmerizing quality.
To learn more: www.ruudvanempel.nl
Javier Bellomo Coria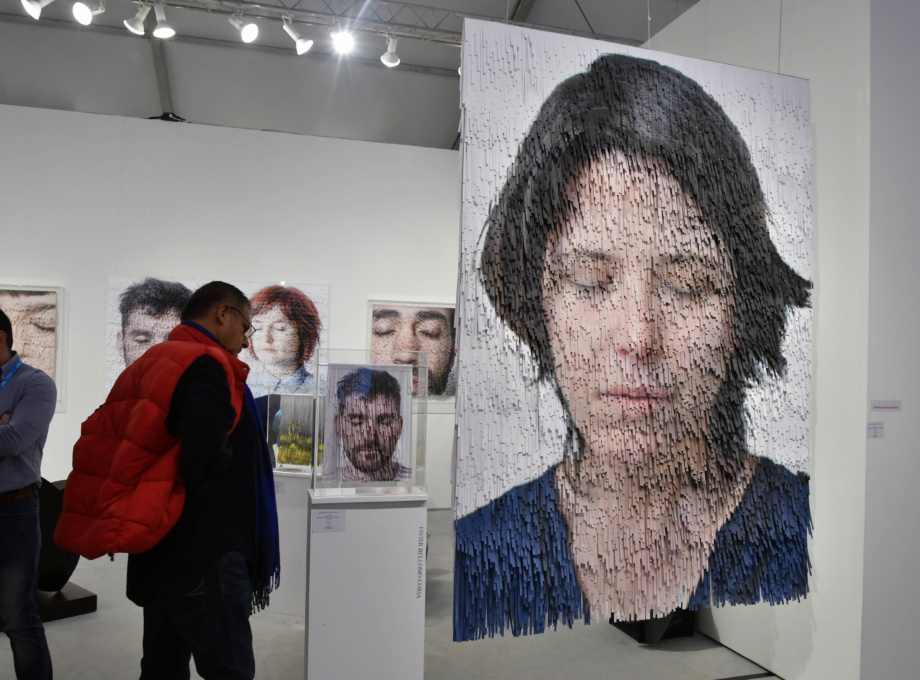 Javier Bellomo Coria is an Argentinian artist who finds his influences in photography and architecture to create the paper sculptures. Realistic portraits look like gigantic puzzle paintings seen from the distance, yet when you walk around one, you find another image – a landscape printed on the other side of the artwork. The multi printed image is cut into numerous pieces and assembled again to reveal human fragility and multiplicity.
To learn more: www.javierbellomo.com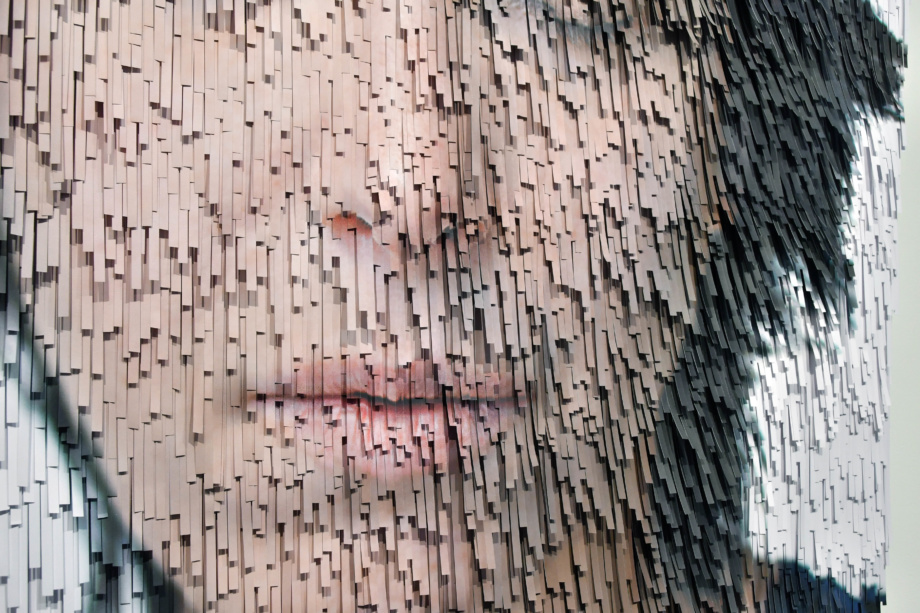 Russell Young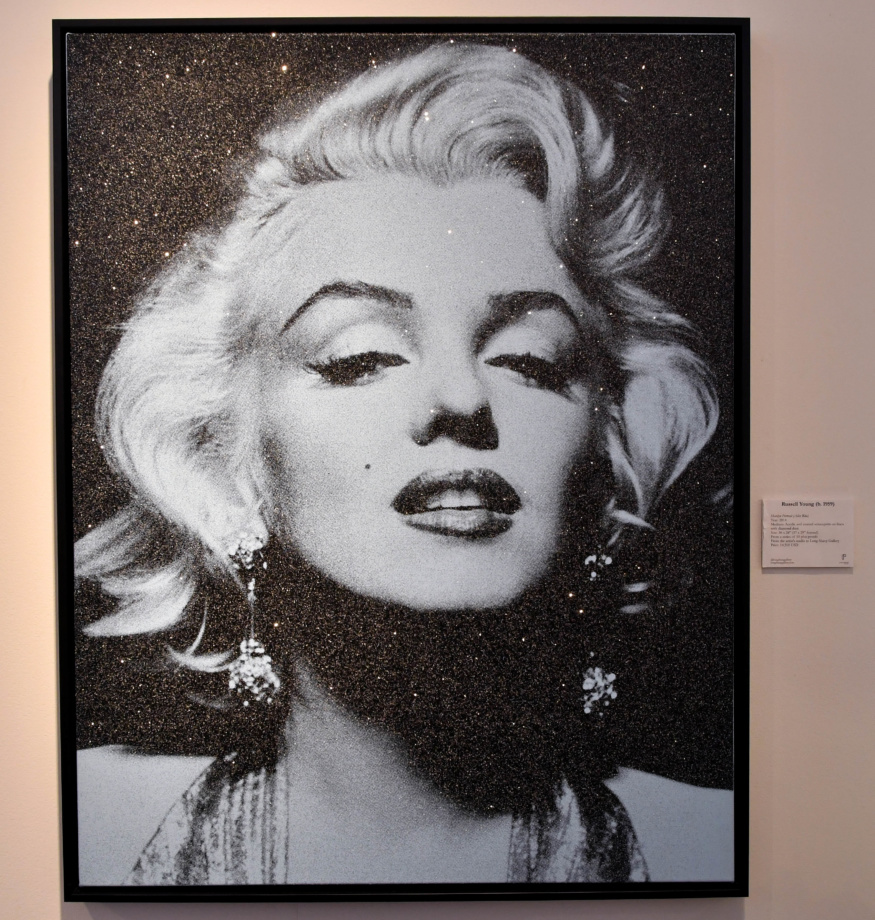 Russell Young's oversized and glamorous depictions of iconic celebrities and figures are chosen based on a personal tragedy of each celebrity. Death, addiction or other fatalities brought them down only to glamorize their status even more. Just like Warhol, the artist knows how to attract attention to his work, combining the diamond dust with the iconic imagery everyone is more than familiar with.
To see art: www.heatherjames.com/exhibitions/russell-young/thumbnails
This sums up my explorations in figurative realism at the Miami Art Basel Week 2017. Hope you like discovering new figurative painters and gain some insight into contemporary Miami art scene and beyond!
Check out my art prints and art gifts at https://society6.com/veronicawintersart