Contemporary women artists
Realism is coming back! Lost to decades of abstract art, contemporary figurative painting is experiencing a rebirth in a variety of styles. Contemporary figurative artists are becoming more popular among the gallerists and collectors alike, and with that the female artists rise and take part in more art shows than ever. Let's look at the roundup of some female painters who continue the tradition of classical painting, yet are subjected to modern times and revelations.
Every artist wants to achieve a unique voice in art that becomes a record of emotions, experiences and history. Many are influenced by baroque painting, wish to find purpose or to depict the duality in everyday life. Yet, the approaches to painting are vastly different. In this interview every painter answers a single question. What they want others to see in their art. Let's look at their answers!
(Please note that all artwork is copyrighted by these female artists painters. Contact them directly. In the following posts I'd be adding more representational artists to this colorful array of contemporary women artists).
Margo Selski
By using a safe and familiar composition, my goal is to lull the viewer into a false sense of comfort and familiarity, where they are drawn to images which, upon further viewing, become curious, uncomfortable and perhaps even dangerous.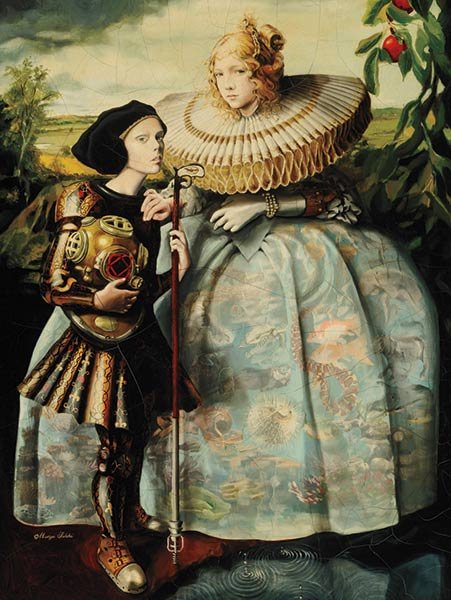 Margo Selski creates a fairy tale universe depicting her family secrets in the surreal paintings. These are tightly balanced, emotional riddles often starring her children dressed in elaborate clothing. While the narratives seem fantastical, they are autobiographical since every artist depicts parts of herself in art. Every painting shows duality that creates tension. Every painting is a world of fragile self-exploration and heightened emotions. There is a sense of passing time that flows through fantasy that becomes a hidden reality. Influenced by Flemish painting, the artist also plays with the medium, creating false craquelure where lines look like cracks in old paint.
Artist's talk: https://m.youtube.com/watch?v=gw0m7VAl4Hs
Anne-Marie Kornachuk
I want people to see a real figure, in a moment of intimacy, surrounded by the abstracted beauty of the fabric.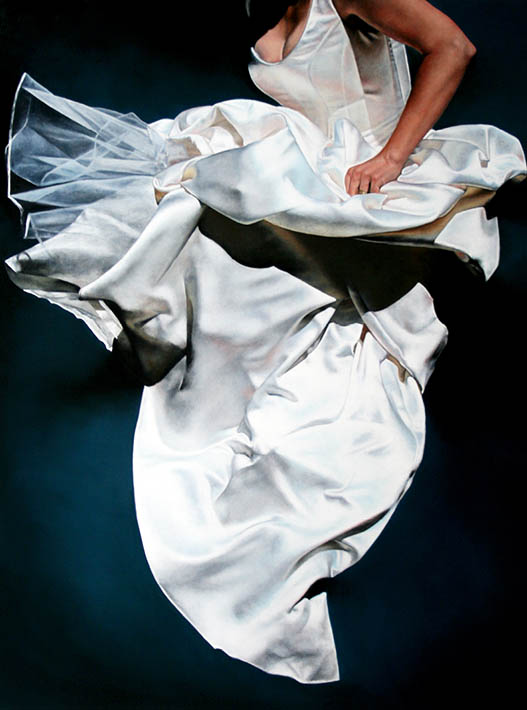 Canadian artist Anne-Marie Kornachuk paints women in swirling gowns where colorful fabric shimmers around the figure to seduce us with visual beauty. Influenced by Baroque painting, the artist creates a dynamic flow between the silky fabric and dark background. Her female figures seem to be confined within the boundaries of canvas, yet they are free to jump, making beautiful patterns of light and dark.
The artist's striking paintings and oil painting techniques are featured in the art inspiration book titled Art Lessons in Realist Drawing, Painting & Beyond. 
To learn more: https://www.annemariekornachuk.com/
Roos van der Vliet
What I want to happen between a viewer and my work is not really up to me. It is something personal between the two of them, it goes beyond me. I do tend to influence this moment of course by always trying to let my portraits stare directly at the viewer, by letting them tell a non verbal story, solely by their eyes. It can't be heard but you can sense some of it by watching them closely. People often walk by art without really looking. I hope that my paintings almost force the viewer to stand still and look back.
Female artist painter from the Netherlands, Roos creates realistic portraits of women with soulful eyes who are also constricted by their own hair. The enigmatic gaze of every Storyteller acrylic painting almost forces us to stare back at the model. Just like in the Margo Selski's paintings, we can sense polar duality in the images. It's a mental struggle between the invisibility and popularity, the known and unknown, the outer appearance and inner world. Interested in representing the world realistically, Roos makes every effort to depict the soft flow of hair and the honesty in the model's eyes as human as possible.
http://www.roosvandervliet.nl/
Kelsey Beckett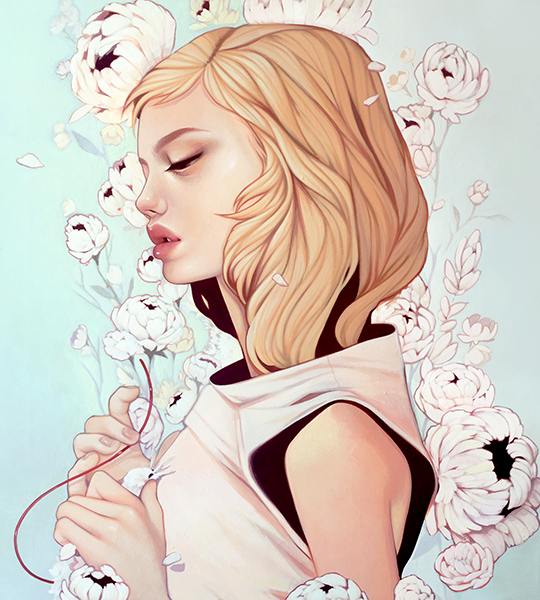 Kelsey Beckett is an upcoming, talented artist-illustrator who stylizes the female form to reveal romantic fragility in her contemporary figurative painting. Influenced by Manga, her oil and acrylic paintings are beautiful expressions of color, form and composition.
http://kelseybeckett.com/
Yuka Sakuma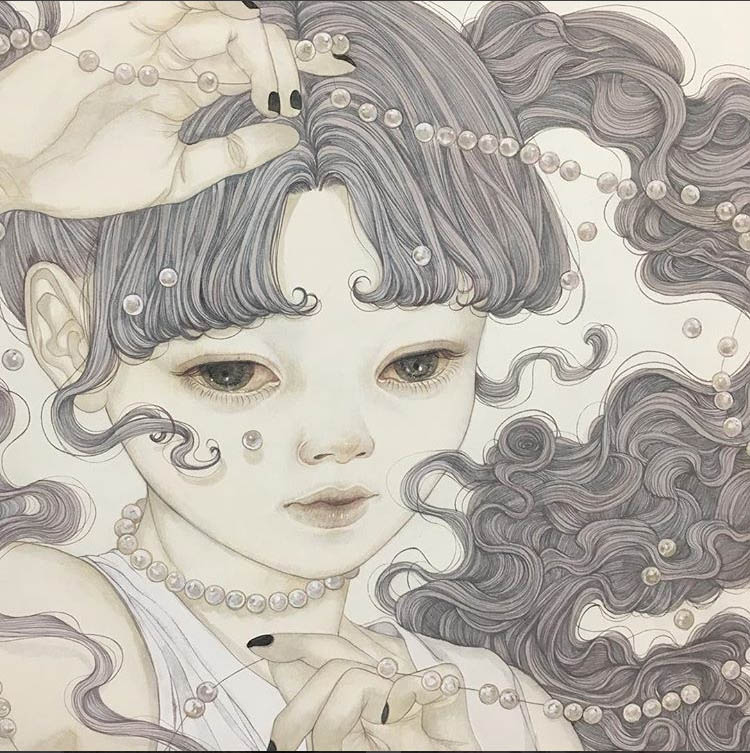 Yuka utilizes traditional materials like natural mineral pigments and Japanese ink to create paintings of women in Japanese style. To be more precise, these are artworks of beautiful, little girls that project innocence, playfulness and immaturity that usually gets lost with age. The artist creates a world of innocent childhood in her drawings where images of little girls often express emotional duality. Yuka is one of contemporary female painters who utilizes muted palette and flowing hair to express ethereal feelings.
Follow: https://www.instagram.com/sakuma.yuka/
Marina Dieul
I want others to see "joy" in my art. Joy of creating, joy of seeing beauty in little things, joy of inventing possible stories and meanings… It looks like people can feel it, I have an endless number of testimonies from collectors and followers saying that my art make them smile.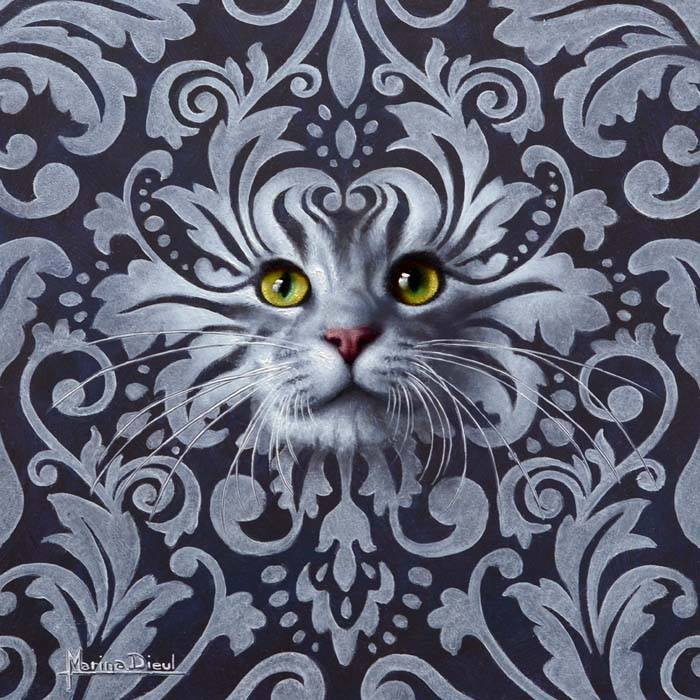 Marina Dieul was born in France but moved to Montreal, Canada almost two decades ago where she paints playful images of cats, mice and other animals. Her trompe l'oeil paintings express curiosity and amusement and we can't help it but smile looking at paintings of cats chasing mice. Marina's dramatically lit portrait paintings often depict children that give us a sense of wonder and innocence as well as show incredible artistic skill. The female artist won many prestigious awards with her figurative paintings. To learn more: www.marinadieul.com
Kei Meguro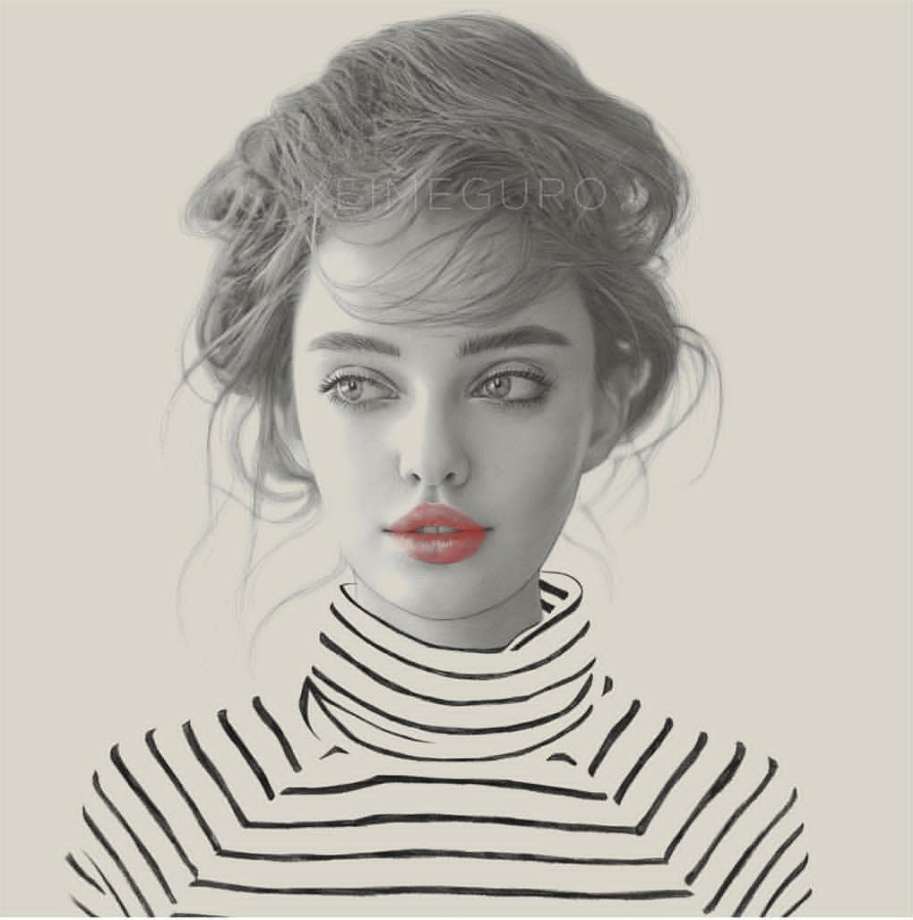 Japanese female artist, Kei Meguro creates pencil drawings of women she calls 'babes.' A lot of them are drawn from famous models or celebrities but exemplify her unique style that's influenced by traditional Japanese art. The simplification of form and a near absence of any color are balanced with incredible details in the eyes and hair. The artist's anatomical accuracy as well as fragility of the faces mesmerizes viewers. Unlike other contemporary female artists painters, Kei processes her drawings in Photoshop, cleaning up the smudges and adding layers of textures and color.
The artist graduated from the School of Visual Arts in New York where she developed her illustrative style and now works for major fashion and design companies. To learn more: https://keimeguro.com/
June Stratton
My paintings are imagined blends of beauty and nature. These paintings are often intentionally idealized representations of emotional impressions from my dreams – entwined with elements of the earth, sky and water that surround my real world. I use symbols and my feminine viewpoint to tell a very loose, abstracted narrative. As in my dreams, my muses cannot see all things, are sometimes unable to speak and frequently appear to be floating.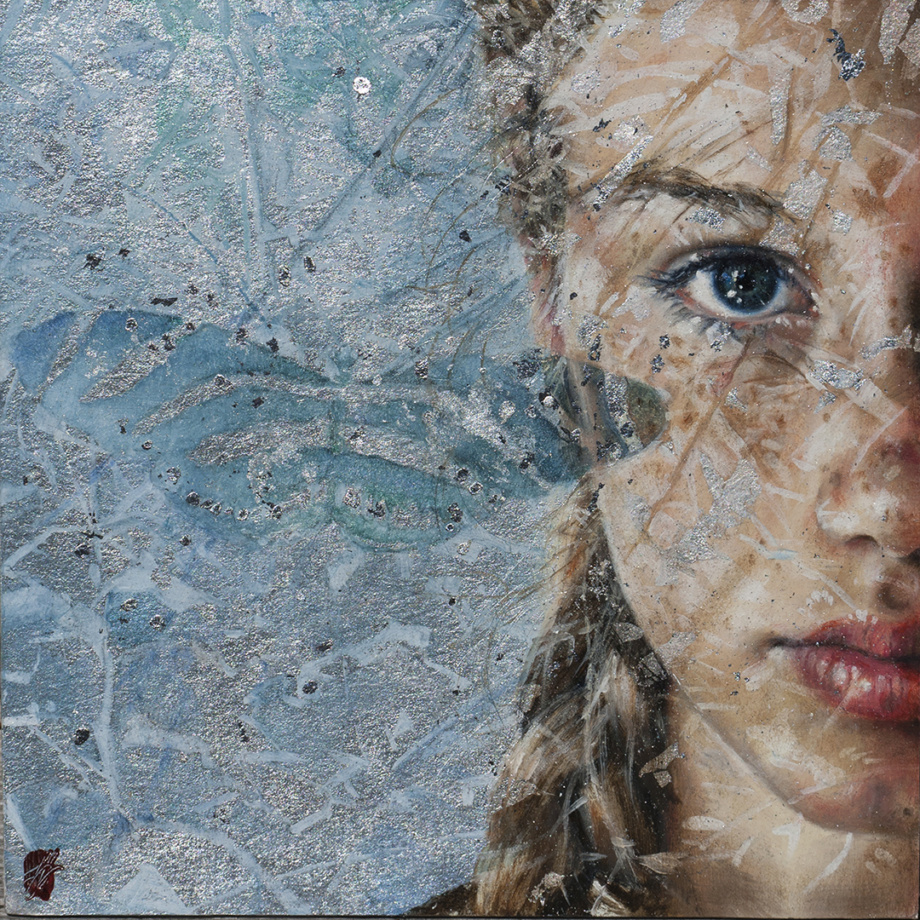 June Stratton's art is ethereal. These are paintings of young women depicted in soft hues of blue and silver that resemble water. While not always anatomically correct, her beautiful figurative paintings project magic and fragility. These paintings are visual stories where figures melt into the background only to reappear in a new dimension. The silver-leafed fractions add specks of light to her images. Connect: www.junestratton.com
Audrey Kawasaki
The girls/women I paint are fictitious characters. They are all a manifestation of this one imagined person. Through her, I'd like the viewers to feel her confidence, strength, and independence. But she is also fragile and vulnerable and has all the weaknesses we all have. I like to play with that juxtaposition and balance. Things are never black and white. There's a whole array of greys in between, and I like to explore that complexity.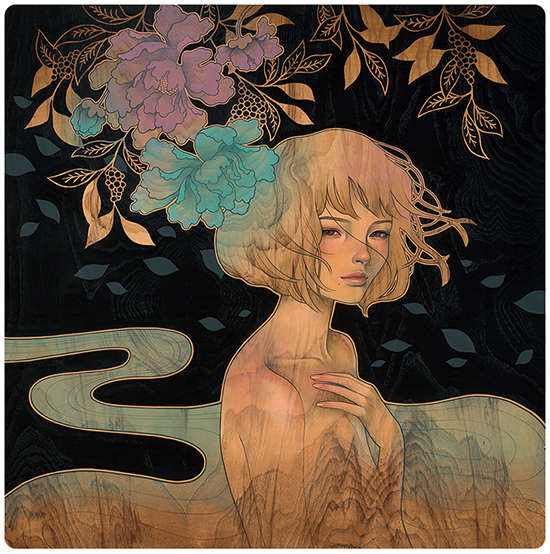 Audrey Kawasaki's figurative paintings are beautiful renderings of female form and landscape. Art-Nouveau-elegant, sensual curves flow one into another to depict innocence and eroticism, seductiveness and melancholy, passion and coolness. Her use of patterns and shapes is reminiscent of Gustav Klimt, while manga-influenced figures show beautiful renderings of women who live in a magical universe.
To learn more: http://www.audrey-kawasaki.com/
Mary Jane Ansell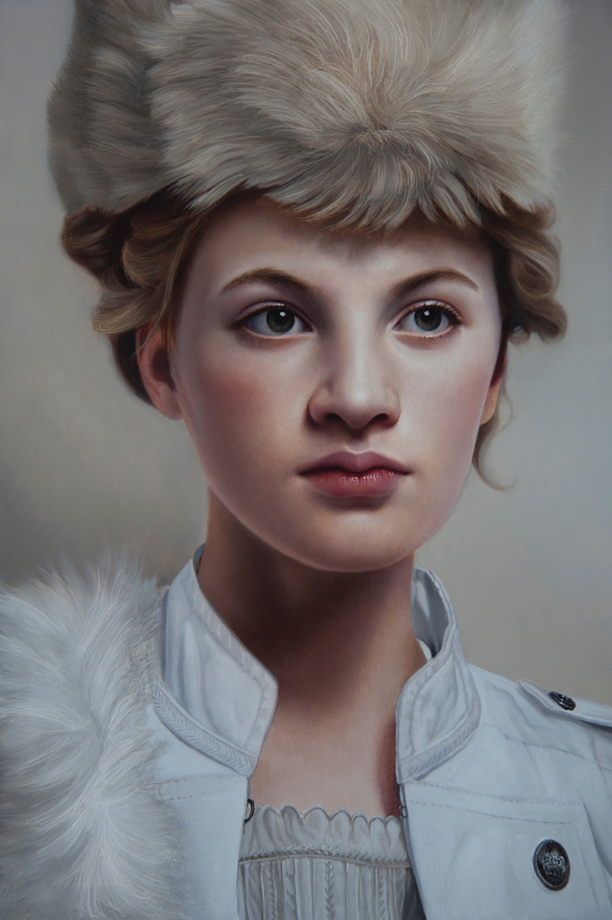 Based in the U.K., Mary Jane works on hyper-realistic paintings of women that look fashionable and modern, yet fall back onto classical ideals in portraiture. These are figures lost in quietness and self-reflection. Mary Jane paints indirectly, meaning that the artist layers paint to achieve gradual likeness, depth and detail. Her female figures have luminosity and rich subtlety in skin tones pared with some simplification in clothing and background space.
 The artist exhibits internationally. To learn more: http://maryjaneansell.com/
Teresa Oaxaca
I would like for viewers to get more interested in learning about aesthetics.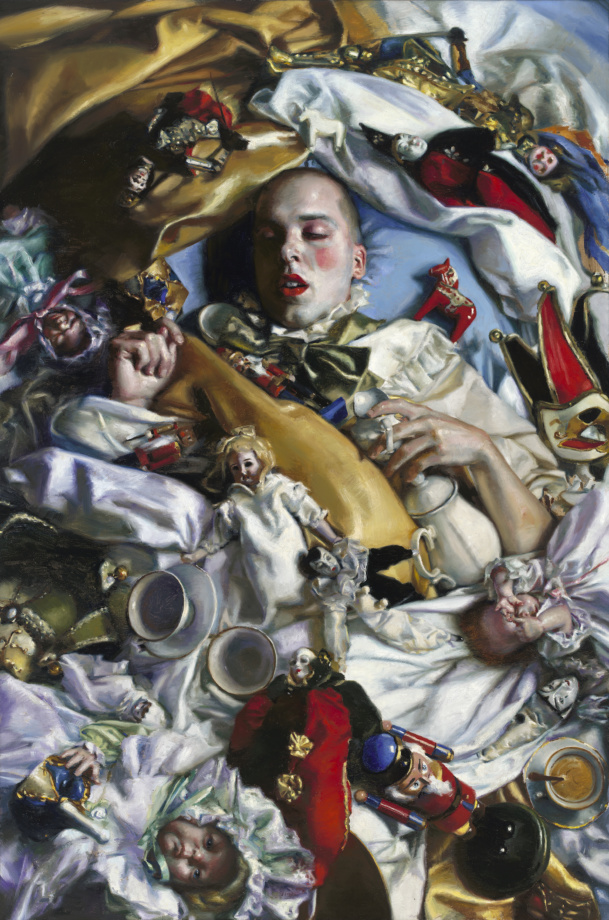 Dolls, dolls, dolls! A beautiful obsession, a dream, a collision of past and present. The Washington D.C. based artist Teresa Oaxaca creates large paintings that inherit the exuberance of the Baroque and Rococo periods. Her oil paintings become records of lush compositions with clowns, women, fabric, and dolls reminiscent of rich artistic history, especially Italy. Classically trained at the Florence Academy in Italy, the female artist mesmerizes us with her skillful drawings and vivid oil paintings that depict figures talking, crying or smiling at us. Dressed like a beautiful doll herself, Theresa embodies her paintings visually during the artist receptions and workshops held internationally.
To learn more: http://www.teresaoaxaca.com/
Anna Wypych
What intrigues me the most is inner strength. My main goal is to make people – viewers of my works, feel and see their own inner strength.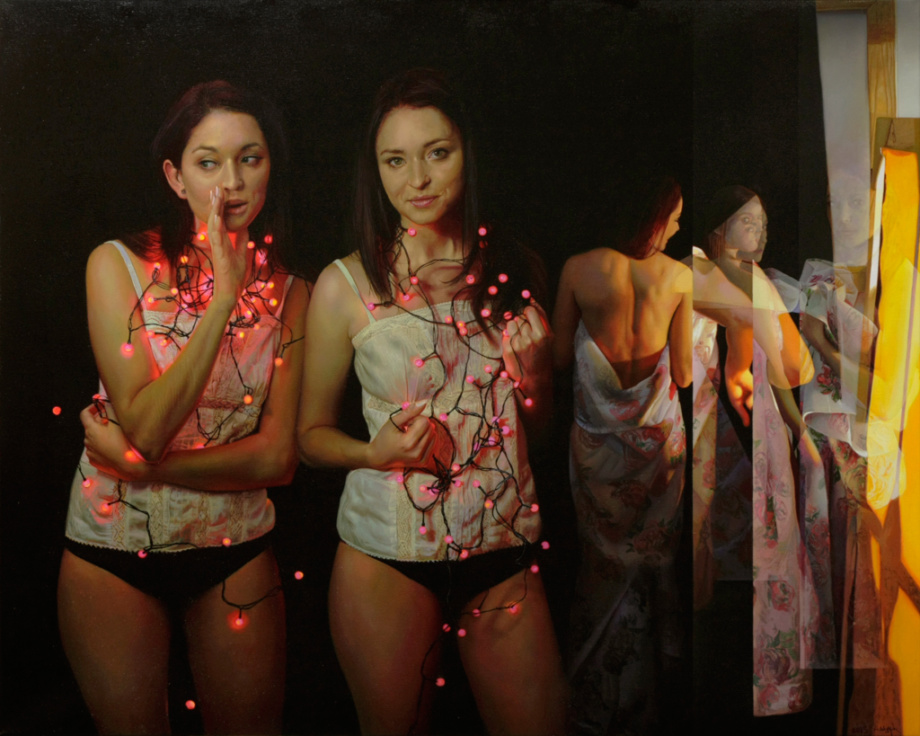 Anna Wypych is a Polish figurative realism artist who paints women as allegories of human condition. Sensitive to her environment, she employs gentle color palette to convey her thoughts and psychology of people around her with undeniable sincerity.  Sometimes she paints multiple figures in a single painting like in a photography that dance, jump or interact with each other.  Semi-nude figures seem to be variations of one person that moves across space.
To learn more: http://annawypych.pl/
Julie Heffernan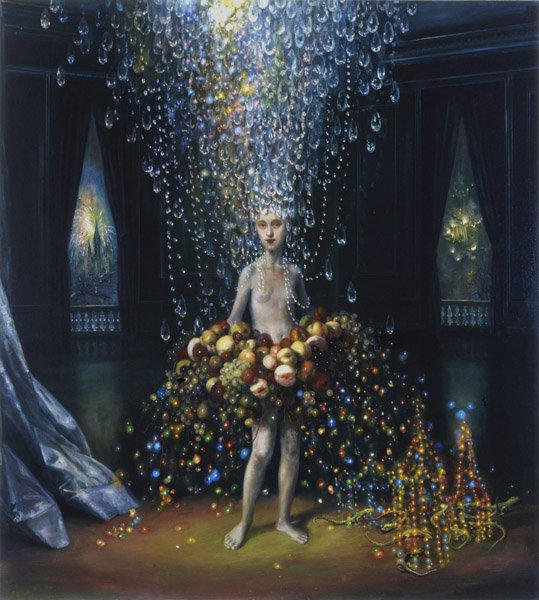 Julie Heffernan's imaginative painting is a mix of history, allegory, figurative and still life – all combined in numerous self-portraits. Presented as a tall, skinny, half-nude woman in the elaborate skirts or without them, she is surrounded by the forest, animals or shiny palace rooms. Her most recent artwork-magical landscapes addresses the climate change and how humanity slowly kills the planet that's different in mission from her older artwork.
http://www.julieheffernan.net/statement
Katherine Stone
When I look at my favorite artists (or read my favorite authors, or listen to my favorite musicians), what appeals to me is that they have created a little universe with its own laws of aesthetics, its  own language, its own habits and forms.  The artists have plunged deeply into their vision.  So I guess what I want people to see when they look at my art is a recognizable voice.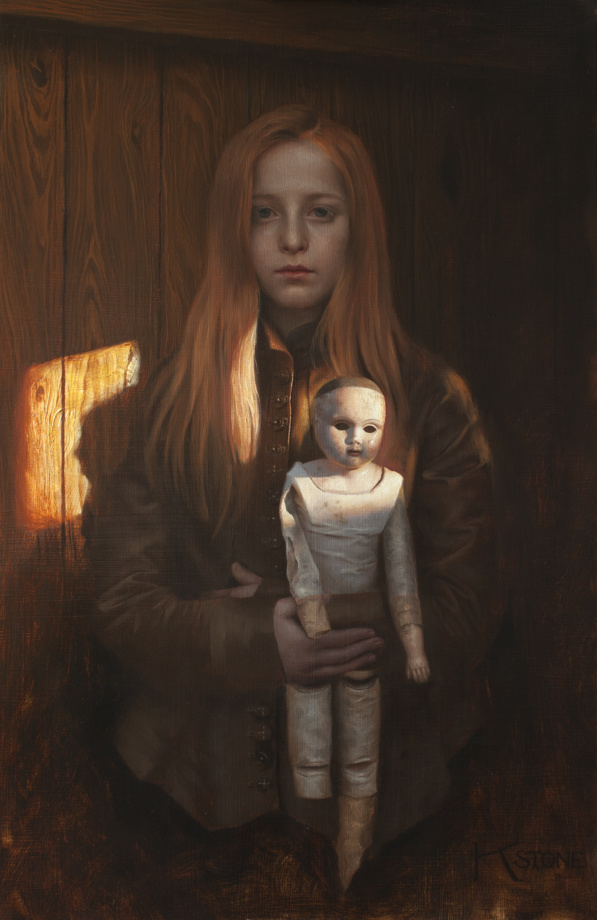 Katherine Stone is a Canadian realist artist who paints children and still lifes. In her figurative paintings you won't find excessive cuteness or sweetness usually captured in children. We rather see peaceful and subdued colors with a careful observation of light. A truly amazing craftsman, the artist often uses dramatic light (chiaroscuro), glazes and other traditional painting techniques to convey realism. Her still life paintings are often symbolic of life and death, and the irreversible passing of time.
In this painting we look at a portrait of Maddie, Katherine's visual inspiration and model since her cousin's daughter was a toddler.  The artist's literal inspiration for the painting comes from the Emily Dickinson poem. Soon we see how both the artist and the poet become sensitive to a short presence of daylight in winter.
Connect: http://www.katestoneart.com/
Kerry Simmons
When people look at my art, I'd like them to see beauty, to experience the work as something that enhances and adds to life's experience.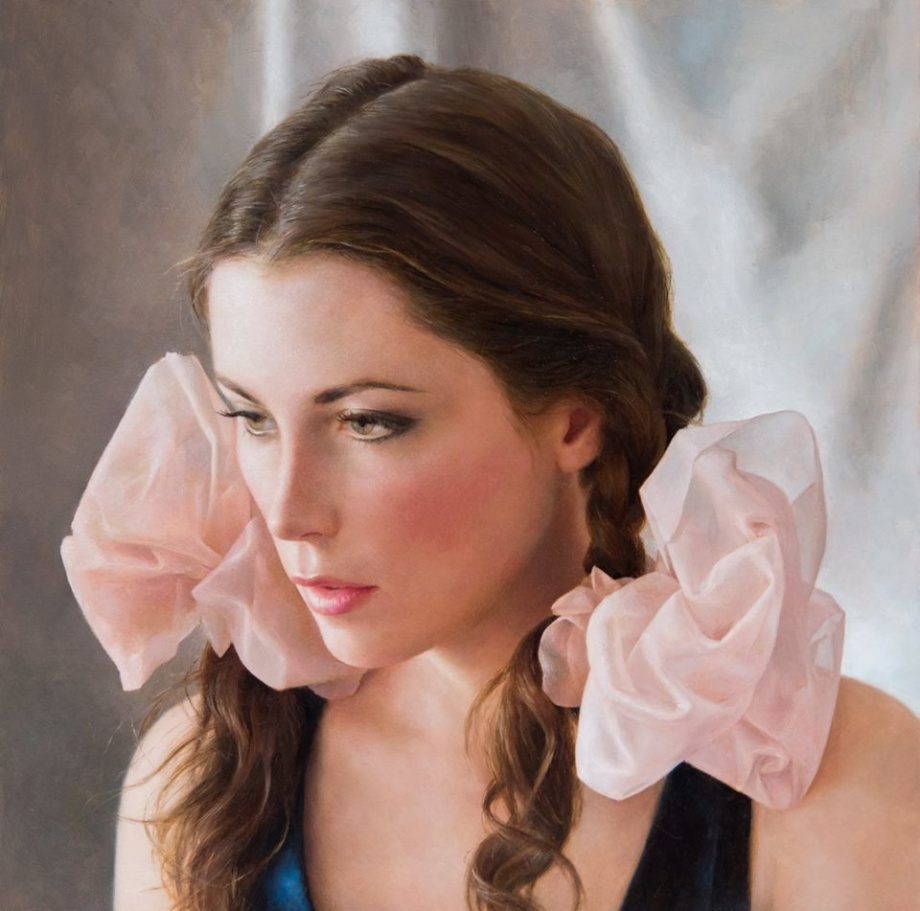 Kerry Simmons is one of few female artists painters who works and illustrates in colored pencil, pencil or oil paint, living and working in New York. Some of her drawings depict women as allegories, or the Barbie dolls that evoke a sense of melancholia, isolation and abandonment. They are intense self-portraits even when the physical model is different from the artist but somehow carries the resemblance to Kerry's beautiful face. A very talented figurative painter, her paintings are heavy with quietness and mystery.
To learn more: http://www.kerrysimmonsart.com/
Tanja Gant
I'm hoping that when people look at my work they see beyond the technical part. Sometimes my portraits are "snapshots" of people I've met and who have inspired me and other times my work tells a deeper, personal story. I would like my work to leave an impression and make people question the reasons behind each drawing.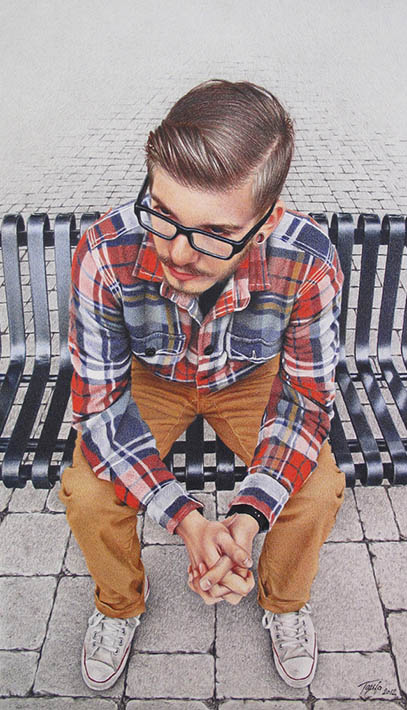 Tanja is an amazing talent. Self-taught, her colored pencil drawings is not a plain exercise in skill, rather an amazing ability to capture every person's character from a unique vantage point. She often draws her family members and weaves her personal experiences into her colored pencil drawings. The artist makes work that encourages asking questions. You can marvel at her drawings here: http://www.tanjagant.com/
She is also one of the artists explaining her techniques at Art Lessons in Realist Drawing, Painting & Beyond. 
Victoria Herrera
I strive to serve as a reminder to the viewer of the beauty that exists in nature, which we often take for granted. Also, the piece should serve as a vehicle for the viewer to pause, observe and find solace in it.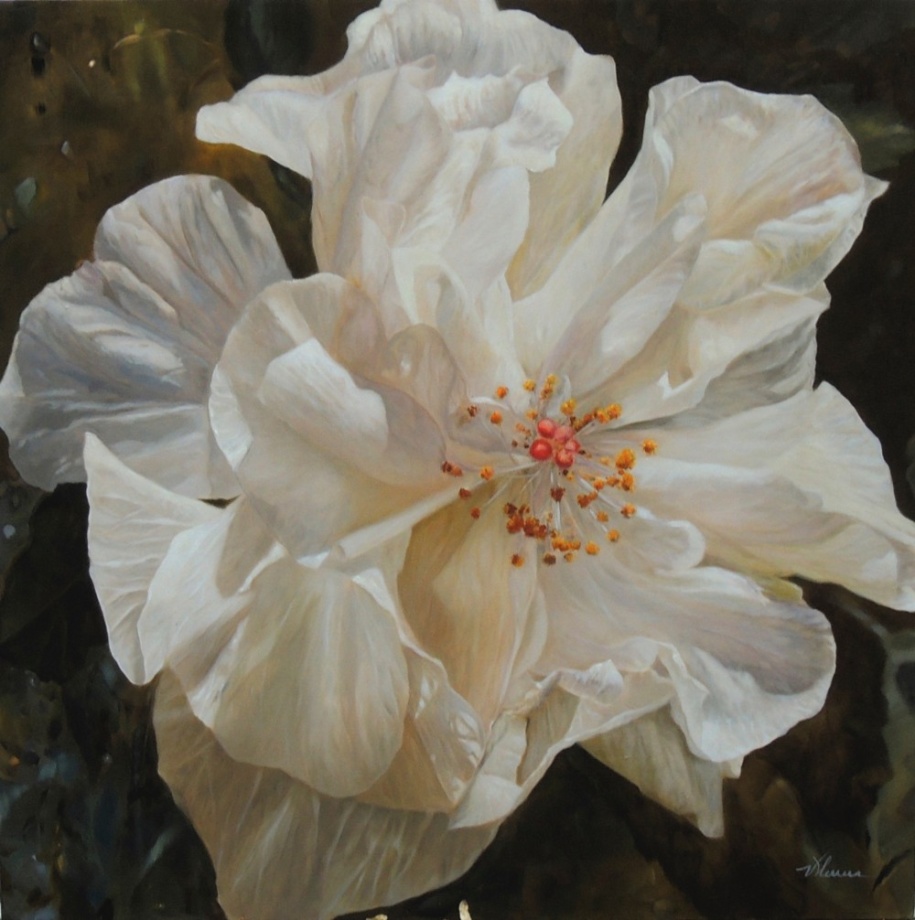 Victoria Herrera is one of female artists' painters who creates large-scale artwork to entice the viewer to pause, step in, and to self-reflect on the emotions and the meaning of life. Every new oil painting is a masterful fit in capturing gentle yet seductive petals with high-contrast design and a controlled color palette. The artist often incorporates semitransparent shapes and circles into the backgrounds as a record of her near death experience. Her oil paintings of flowers serve as transformative experiences to capture simplicity, nature and God.
To learn more: www.victoriaherrerafineart.com
With such wonderful roundup of contemporary female painters American art scene is destined to flourish and thrive. Stay tuned for more contemporary figurative artists to come! Meanwhile check out my other art show reviews and posts.
King Woman art show in New York 
19th century Russian Art & Portrait Painting
10 Contemporary Male Artists Painting Women
Figurative Realism at Miami Art Week 2017