Are you headed to Naples? Do you want to have a blast while you're here? If you're headed to beautiful Naples, Florida, located on the Gulf of Mexico in Southwest Florida, I'd like to welcome you to our paradise. I'm a local artist painting portraits of women and creating handmade ocean jewelry. I've been living in Naples for several years, and I'd like to share a list of a must-see places in and around town.
Things to do in Naples, Florida
5th Ave S.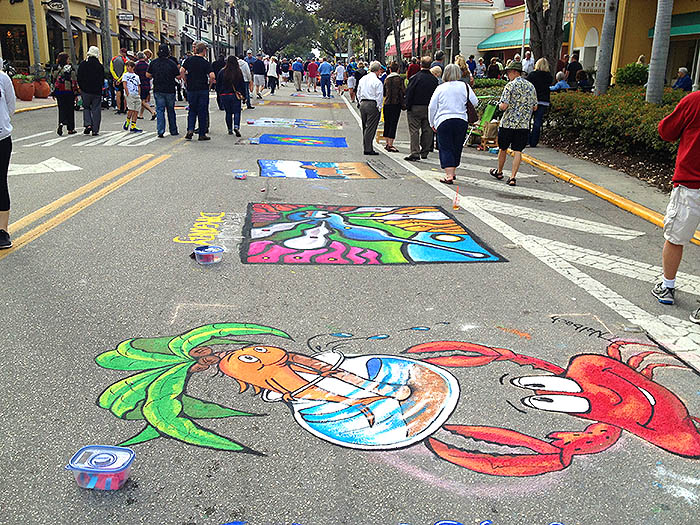 This is the best family attraction in Naples. Situated next to the beach, the 5th avenue offers small boutiques, restaurants, the ocean and a beautiful feel of the tropics. Kids can get some ice-cream, parents can shop, couples can spend their time at the beach or at art galleries. It's a fun and unique place all around, especially at night with the Christmas lights on!
Covered parking is free. http://www.fifthavenuesouth.com/  There are a lot of art festivals happening here during the winter season as well as many other events. Location: 5th avenue south, Naples
3d street & Naples Pier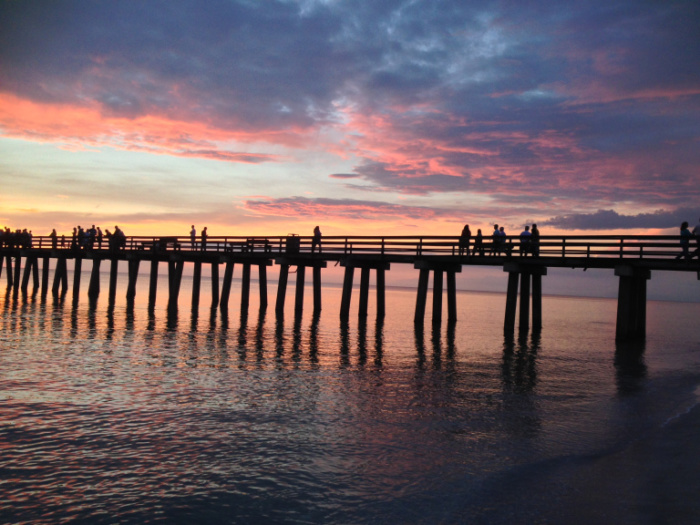 3d street & Naples Pier– the historic district that can be reached on foot via a 10-minute walk on the beach from the 5th avenue beach entrance. The 3d street offers a row of art galleries, boutiques and upscale restaurants. It also has its own charm with flowers, fountains, upscale restaurants, spas, and shopping! http://www.thirdstreetsouth.com/  Located at the west end of 12th Avenue South that goes to the 3d street, Naples Pier is a long, wooden boardwalk with many fishermen on it, who can surprise you with their catch, and you can see many pelicans diving into water there. Dolphins are frequent visitors too! There is no fee to visit the pier.
Clam Pass beach park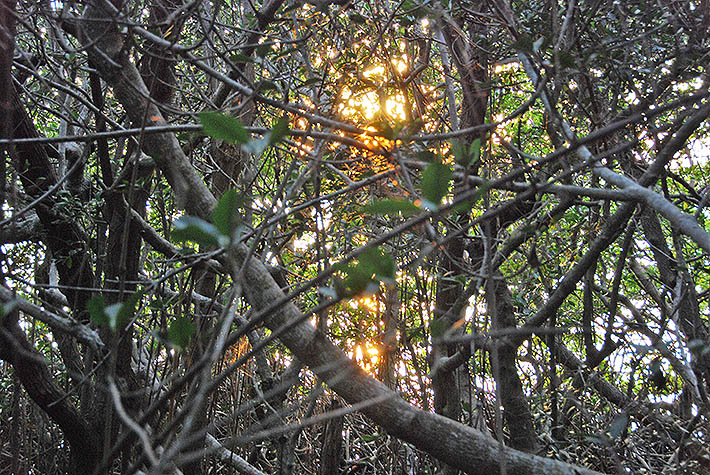 Clam Pass beach park– is a nice alternative to the Delnor-Wiggins. There is a 15-minute, leisure board walk that stretches from the parking lot to the beach with tall, luscious green mangroves growing all around it. I love the quietness of that place. You can get a free ride to the beach that's provided by the Naples Grande hotel. The hotel also has a tiki bar by the beach with condiments and rentals. There is an $8 parking fee, but you can park for free by the Waterside shops area and have a sweet, 5-minute walk to the ride. The park opens at 8 a.m. and closes right after the sunset! Bugs bight after the sunset. It's best to have your bug repellent on.The beach is beautiful with lots of wildlife, and it's a lot less crowded than the Vanderbilt beach or other locations. It's situated in central Naples close to a shopping center, restaurants, and hotels.
Location: Seagate Drive & Crayton Road; http://www.colliergov.net/your-government/divisions-f-r/parks-and-recreation/beaches-and-boats/clam-pass-park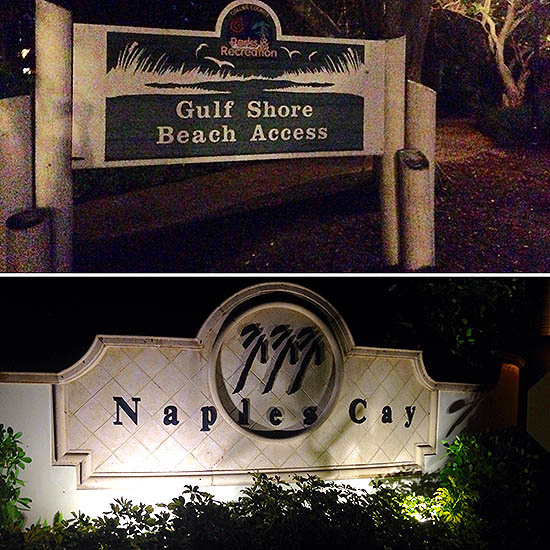 Another entry to the same beach that's not restricted by the hours of operation is situated next to Naples Cay entry and Venetian bay, and the park entrance is called 'Gulf Shore beach access.' A nice feature of this park is that you're  not monitored to get out of there right after the sunset, unlike in other parks (Clam pass).
Delnor-Wiggins Pass state park
This is a beautiful park with all the necessary facilities to spend a nice day out. I love the sand and the birds there, and it's even possible to see the running turtles and swimming dolphins. There is rental equipment, bathrooms, picnic areas, etc. It has a $6 admission fee entering the park by car. Parking is often difficult  to find during the season though. It opens at 8 a.m. and closes right after the sunset!  https://www.floridastateparks.org/park/Delnor-Wiggins ;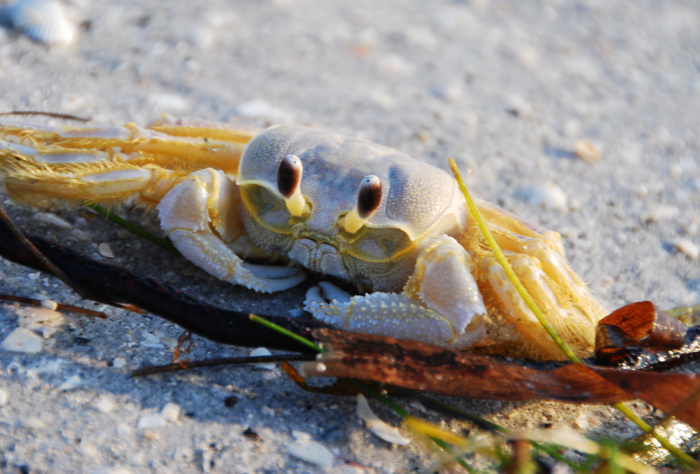 The Vanderbilt beach
Vanderbilt beach-is the most popular beach with a stretch of white sand and the upscale hotels. As a result, it's always crowded there, and parking could be a headache during the season.
Location: End of Vanderbilt Beach Road. Open 8 a.m. to sundown.
Naples Botanical Garden
Naples Botanical Garden-is a good place to spend your morning with a friend, walking among orchids and tropical plants. Depending on the season, the gardens have varied plants in bloom, and it's a beautiful nature preserve. Open: 8-3 p.m. but check their website for current schedule since it varies depending on the season. Admission also varies from $10 to $15 depending on season.
Location: 4820 Bayshore Drive | Naples, FL 34112. Web: https://www.naplesgarden.org/
Naples Zoo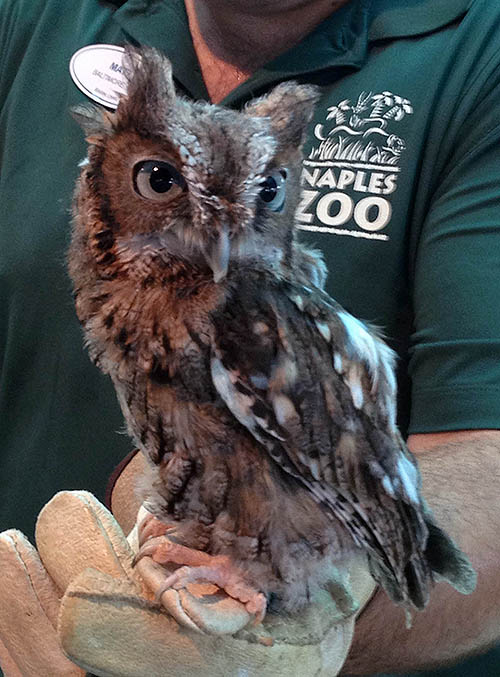 Naples Zoo – a great fun place for families with kids and couples alike. My best tip is to learn about the times when they have the shows (like feeding the crocodiles and giraffes) that culminates with a big show that you don't want to miss! It starts around 3 p.m. Bring plenty of  water with you, and go on a short boat ride to a small island with monkeys!
Location: 1590 Goodlette-Frank Rd, Naples, FL 34102
There is an awesome trail path/walk, situated next to the zoo. The entrance is fee with plenty of free parking.
The Venetian Village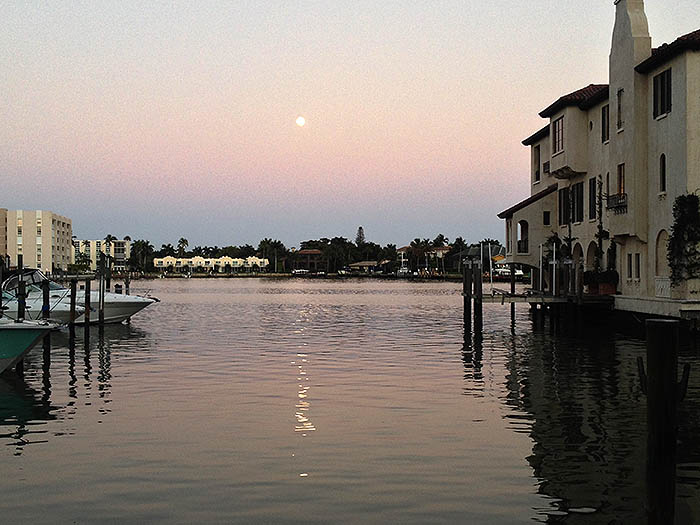 The Venetian Village is a rather small, upscale shopping center, situated next to the beach that has a few restaurants overlooking the bay. The shops are unique and parking is free. Location: 4200 Gulf Shore Blvd N, Naples

The Waterside Sh
ops
It's an upscale shopping center situated behind the Barnes and Noble, with unique, open-air architectural design and fountains. You can find major brands selling their goods here that include Apple, Louis Vuitton, De Beers, and Saks Fifth Avenue. The area also has restaurants and Starbucks.Location: 5475 Tamiami Trail North. Every store closes at 7 p.m. but they keep longer hours during the winter season.
Naples Museum of Art
Naples Museum of Art | Artis Naples– situated next to the waterside shops, this art museum has an awkward art collection with big names. One of the best art pieces is by Dale Chihuly. The museum does have interesting travel exhibitions and offers a free community day once a month. $10 adult admission, children 17 and under come free. Free parking. Check the hours and other info at their website. Web: http://artisnaples.org/
Location: 5833 Pelican Bay Blvd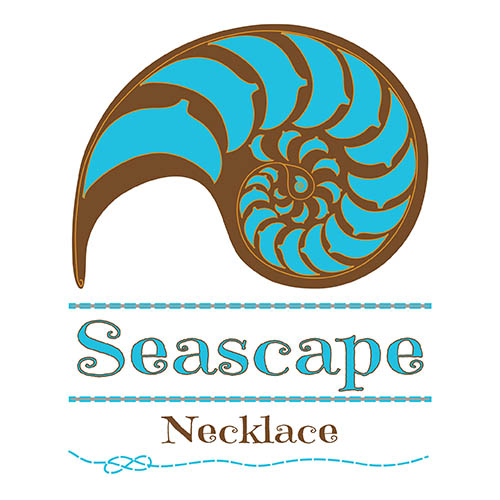 Things to do around Naples, FL
Captain Jack's airboat tours
Captain Jack's airboat tours are so much fun, you won't be disappointed. You must get on this boat tour if you come to Naples! You will see lots of animals there and may be able to pet a tiny crocodile. This picture is taken from their website.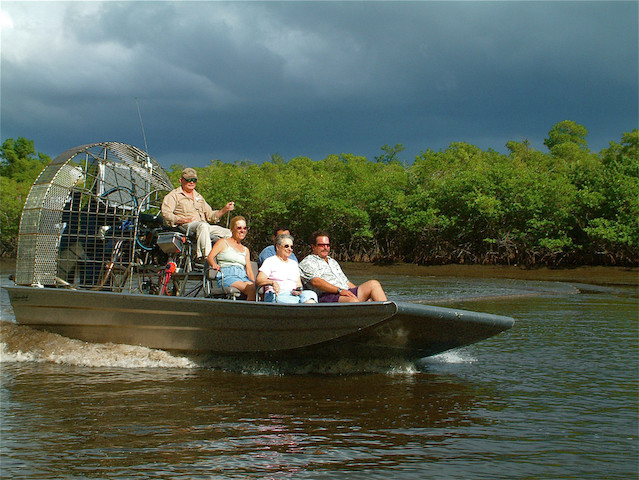 The picture is taken from their website.
1-844-326-2628 Toll Free | 1-239-695-4400 Phone | Hours: 9:00 am – 5:00 pm daily, 365 days a year, boats depart about every 30 minutes
Tickets & Gift Shop: 200 Collier Avenue, Everglades City, FL 34139 (map)
Mangrove Tour: 905 Dupont Street, Everglades City, FL 34139 (map)
Animal Sanctuary, Grassland & Swamp Buggy Tours: 32330 Tamiami Trail East, Ochopee, FL 34141 (map)
Web: http://www.captainjacksairboattours.com/
The Koreshan State Historic Site
Located in Estero, The planetary court is surrounded by pine flatwoods' habitat and has a religious colony settlement, the Koreshan Unity, whose last members deeded the land to the state in 1961, according to the Naples Daily News. The Unity of 200 followers relocated from New York to Florida in late 19th century, who believed that the universe existed within a giant, hollow sphere (according to the park's site). The park is good for fishing, hiking and boating.
Hours: t
he park is open daily from 8:00 AM until sunset. The historic settlement is open daily from 8:00 AM until 5:00 PM. | 
Fees: 
$5.00 per vehicle. Limit 2-8 people per vehicle.
Location: 3800 Corkscrew Road, Estero, FL 33928; (239) 992-0311
Web: https://www.floridastateparks.org/park/Koreshan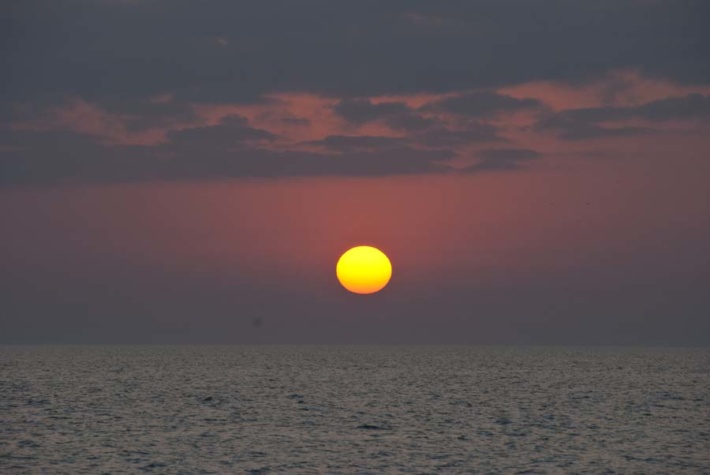 Marco Island
Marco Island is a stretch of pristine beaches similar to the Naples ones, but with its own charm. Located on the Gulf of Mexico it offers natural beauty and luxury of accommodations.
Well, that sums it up. Have a blast in Naples, Florida! 🙂 Don't forget to visit my online store selling handmade ocean necklaces!