What is art for you? What pulls you in to look at paintings? Is it the beauty that we see? The color? or an idea? A memory or emotion? It's all of the above for me.
How I create a story:
Stories come to me as an emotional response to my surroundings and people I encounter. Creating a painting is falling in love with the idea, a visual element, and even the light shaping the form. I see a lot of beauty in people's faces even when they may appear ordinary to the outside world. Every person has that special, beautiful side to him or her that I so like to capture!
I usually draw or paint from my pictures, but sometimes I brake the rules and follow my aesthetic and perception, working from my  photographs. When I shoot portraits, I aim to tap into a special place, to open the character of a person, to see a novel side of him or her.
I create stories around the models, and not the other way around. Therefore, it's vital for me to get the "right expression" or the "right pose" before I could proceed with the design of my artwork. It's shooting blind at times with plenty of trial and error experiences. After the general edit of my pictures, I pick one or two images to work from.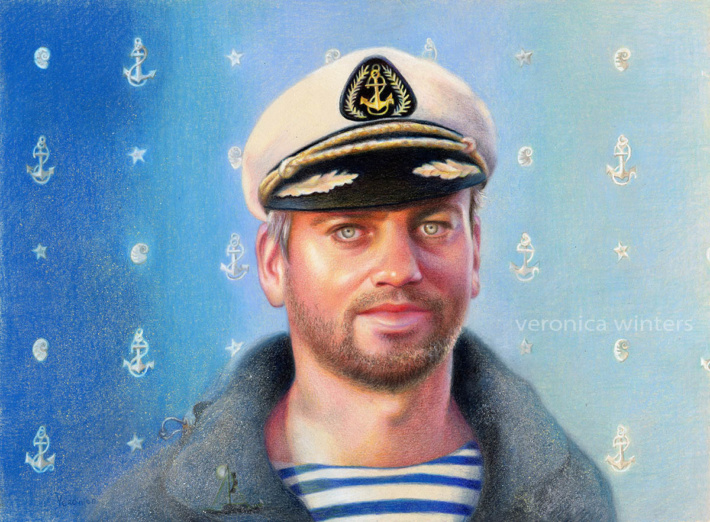 In this drawing the model is an avid lover of boats and travel. I created a nautical background here to highlight the man's romance with the  sea.
Next I focus on the overall theme and color of a piece. Blues and greens tend to be calm and soothing, while the reds and yellows give an upbeat vibe. Every color carries its own significance to me and affects the perception of my subject. Thus I almost never leave the background to color last. And even if I do, I know what's supposed to be there. The idea is set in the beginning and I often draw the background simultaneously with my subject. It's much easier to maintain the color unity and the overall  movement in the piece this way.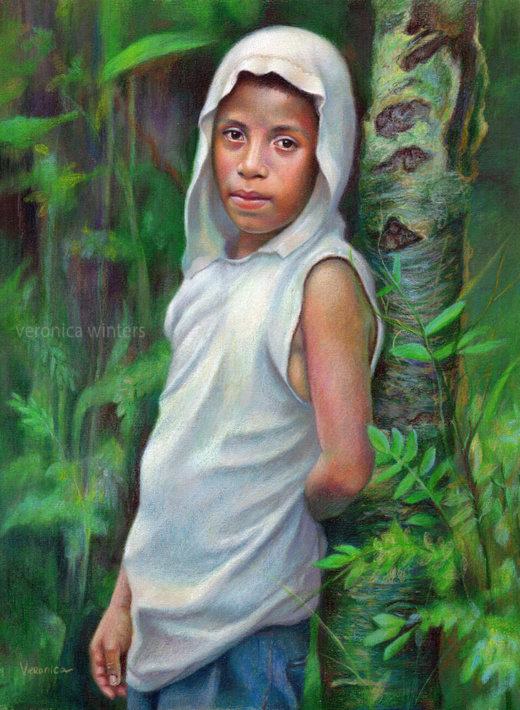 This is a very special drawing for me. I took a picture of the boy in Nicaragua. He wore shabby clothes and I didn't speak English. Yet, he was eager to pose for me as soon as he saw my Nikon aiming at him. The expression in his eyes is infinite.
I find the artwork with the narrative to be the most fulfilling to me. It lets me create a world  that may exist although it doesn't. The power of storytelling is more evident in my oil paintings where I let the figures keep their secrets and give the visual enjoyment to people looking at my work.
Some technical tips drawing in colored pencil:
It's vital to draw on smooth paper. I burned out drawing on textured paper every time i tried it. While Bristol smooth paper might be too smooth for you, I find the Stonehenge papers to be exceptional in terms of layering, smoothness, and color choices.
Don't economize on professional colored pencils. If you still draw with crayola, don't expect the results you see in other students' work.  🙂 Some professional brands include: the Prismacolor premier, Pablo, and the top of the line is Luminance.
If you are the very beginner in drawing, I strongly suggest to draw objects from life using graphite pencils. Draw one object from different points of view and under various lighting conditions. Adding color is like stepping up a notch or two. So if you are not that good drawing shapes correctly, the colored pencils is not going to fix it for you. A few of my art instruction books have demos done in graphite and then progress to colored pencil drawing. You can check them out here: http://www.veronicasart.com/Books.shtml , or find the book descriptions right here in my blog, by doing a title search.
Join a few Facebook groups to inspire and be inspired! Sharing helps to get good feedback, if you ask for it.
Have fun with it!!!!!!
How I draw in colored pencil step-by-step:
This demonstration gives you an idea how I draw in colored pencil.
I work out the outlines on a sketch paper and then transfer the lines using the transfer paper. If it's a portrait, I always begin drawing the eyes first. Nothing works, if the eyes don't.
I mass out the hair with the darkest color I see in the model. I don't look at individual strands, rather focus on major shapes and masses.
I draw the shadows in the face.
I work on subtle shifts in color and value in the face. This is not easy to achieve, believe it or not. The trick is to overlap colors, instead of layering colors next to each other.
I add color to the hair and strengthen the highlights.
I add flowers as my background using the same color scheme I have in the model. For outlines of the flowers I use gold metallic pencil. I didn't draw the flowers first because I knew I'd smudge these light colors while drawing the hair.
I always spray my drawings with a final fixative to protect them from the UV rays and moisture.

My drawing methods shown on YouTube:
Shading: one mistake every beginner makes https://youtu.be/GaDyhypmWwY
The colored pencil demo of drawing a cherry: https://youtu.be/onvAG_TpV8o
Still life drawing:  https://youtu.be/rP3pUQszhKU