Would you like to know what makes a big difference in your drawing? Yep, you guessed it, it's the colored pencils you use! Ditch your Crayola and pick one of the brands listed here. You won't be disappointed. And to make sure of that, here is a short video explaining you the difference between a good pencil and a bad one.
The video
What makes the professional colored pencils different?
lightfastness
lead's softness
durability (breakage of its core)
Brands worth your buck:

The absolute best are Swiss made Caran d'Ache Luminance. They have the best lightfastness rating, the strongest core and the softest lead to produce professional colored pencil drawings. They are the most expensive ones too, sold at $4 per pencil.
Prismacolor Premier colored pencils have a very soft core and nice coverage, but not all of them are lightfast. You should download their lightfastness chart to see the rating of every pencil they have. LF-1 and LF-2 are good to go, but avoid using pencils with the # III and # IV ratings. They fade from your page within 2 years. Literally.
Swiss made, Pablo colored pencils is a cheaper alternative to the Luminance manufactured by the same company. These have a very strong core that resists breakage, but they are not as soft and don't have as much pigment as other pencils listed here. These are great for developing details in my work. The lightfastness star rating is written on them.
Coming from Germany, The Faber-Castell Polychromos colored pencils are different from the brands mentioned above, because they don't have the wax in them and behave more like soft pastels when you start blending them. Therefore, solvents don't work on them as well as on wax-based colored pencils. They have a very strong lead with the lightfastness rating written on every pencil.
 Some of the tutorials available for download:

http://veronicasart.com/step-step-drawing-tutorials/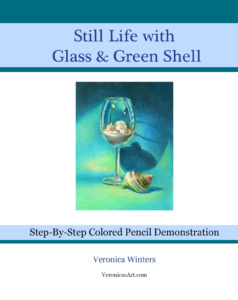 What makes the professional graphite pencils stand out from the rest?
High quality of the lead
Resistance to breakage
Consistent coverage
Various degrees of softness and hardness. (9H is the hardest pencil for the lightest shading, and 9B is the softest pencil for the creation of the darkest values).

The best graphite pencils:
Coming from Japan, the Tombow Mono graphite pencils are the top of the line for professional drawing.
The Cretacolor Monolith woodless pencils
Prismacolor ebony graphite pencils are great for beginners in art that don't need to sacrifice quality over the money spent on art supplies.
The Faber-Castell 9000 graphite pencils
Of course, there are many more brands and pencils. Instead of buying a box, buy them separately at a local store or online. Work with them and then invest into the professional box of colored pencils you like best! 🙂