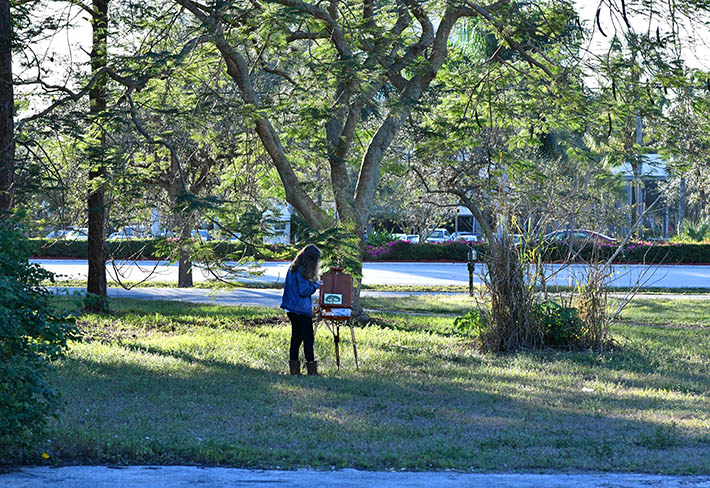 If you are interested in learning how to draw and how to do oil painting realistically, you're in the right place.
Thank you for your interest! Taking drawing/painting lessons with me in my studio, students study the basics of realist drawing and painting. You not only learn to draw a flower or eyes realistically, but also build a solid foundation in art to be able to think independently and to paint any subject with ease on your own.
We discuss your goals during our first session to see if we are a good match for each other. As an art teacher I teach one-on-one only where students come in to my studio/home in central Naples, Florida once or twice a week to draw and paint at a scheduled time slot. Most of my students are beginners who have never done any art, but have a strong desire to learn. I teach teens and adults alike. Usually children begin to express interest in drawing realistically at about 11-12 years of age.  I currently take students 14+. We start from drawing simple shapes in graphite, then progress to color, and only after that to paint.
I'm opening up a student enrollment in September. Email me if you'd like to take art lessons in my studio. email: nika@veronicasart.com. Please read the guidelines below.
Also subscribe to my art student club where I share my tips and techniques with students in my monthly newsletter http://eepurl.com/bIJlGf .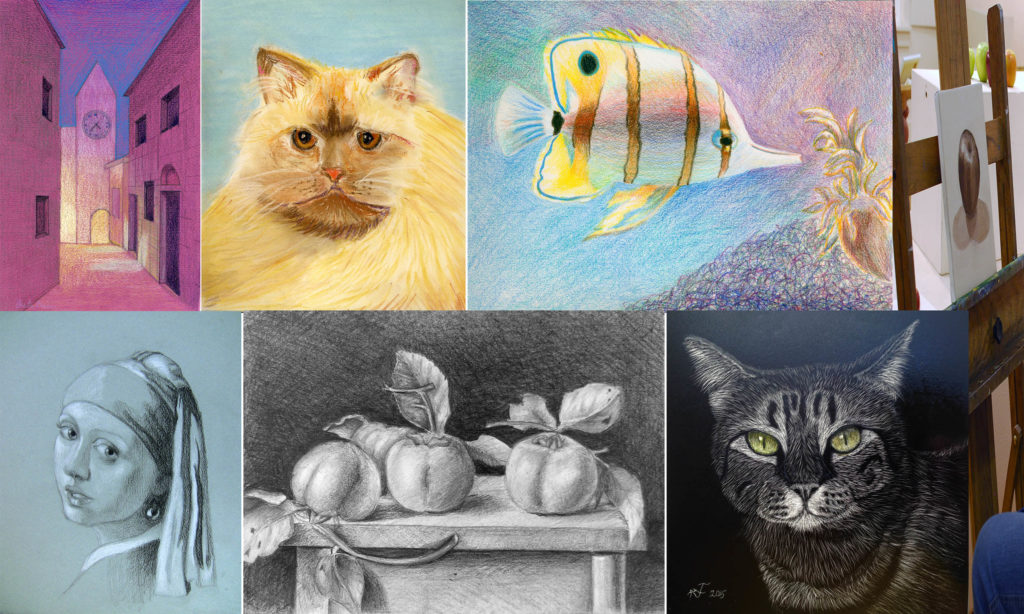 I don't teach crafts, manga, painting by numbers, and 'painting and wine' classes. I teach how to see the world realistically, putting it on paper. Every student starts with some still life drawing in graphite and then progresses to drawing various subjects in other media. When I see a solid skill going, we progress to oil painting.
Learning the techniques one-on-one is the most efficient way of studying. My rule is to teach art in a fun and positive environment where students don't feel pressured to achieve results instantly. It takes time, practice and patience to achieve your goals. I've spent over 15 years teaching students in groups and personally, in schools and in my studio. I'm confident in my teaching methods, and I grow this confidence in my art students as well. You'll see a considerable improvement in your art after each lesson. However, I find that it's most beneficial to study drawing for a year to see permanent results.
Cost: $35/hr. Students are responsible for their art supplies that we discuss during our first session. There are no discounts out of respect to my past students and clients.
When: We set the schedule after our first meeting/class.
When we set the schedule please observe the following rules:
If you bring your child to study, please come and leave on time. While life happens and we can get stuck in traffic or be late due to unforeseen circumstances, please let me know via text.
4-7pm is the most requested time to study art with teenage students, if you cancel often during these hours, I reserve the right to cancel our classes or reschedule you for afternoons.
There is no need to bring a sick child on schedule. It's no fun and a waste of time and resources. Just let me know as soon as you can.
I don't teach on weekends.
Payment is expected at the time of service (cash or check). Most students pay monthly to cut on checks and hassle, although there is no requirement for that.
Call: 814-777-1802 or email: nika@veronicasart.com
Testimonials:
"A committed artist, author, and teacher, Veronica Winters's illuminated artwork and attention to detail pushes her to create realistic images that breath life into everyday objects. We are honored to present lessons by Veronica in the quarterly publication of COLORED PENCIL Student"
–Sally Ford, Founder & Editor, COLORED PENCIL Magazine

I attended Veronica's soft pastel's class, and she was very inspiring.  She gave good individual instruction, building confidence in her students by creating a non-competitive environment.  Veronica's instruction is straight-forward and she has a true desire to help you.  I attended her class after decades of doing no art, she inspired me to continue my journey and I have since had my art accepted by and displayed in the Von Liebig Art Center in Naples. 
–Clare Roberts
Veronica has been an instructor in our Adult Education program for several years offering a variety of drawing techniques in both classes and workshops. Her classes include teenagers and adults, beginners and more experienced artists, and she provides professional and individual instruction to each student. We feel fortunate to have Veronica teaching in our program.
–Marie L. Doll, Executive Director, Art Alliance of Central PA
The experience of learning to draw with graphite and colored pencils with Veronica as a teacher for me was like learning to grow down and up in the world of art. Expressively up, because with each drawing advice I applied more the nuances of finding the skilled way to make a drawing shine through with life, and fruitfully down because for each finished drawing while looking for her to give the 'teacher's final remark' she would always add: How do you like it?
–Kristina Egumenovska, Fulbright Visiting Research Student, Department of Human Development and Family Studies, The Pennsylvania State University
In a very short time, Veronica has helped me to develop confidence in my artistic ability. Even though I am a beginner, I am progressing rapidly under her direction. She is patient and knows how to nurture a student's natural talent, while helping the learner to stretch and grow in new areas of understanding (such as how to see and draw proper shapes and tones; working with perspective; how to see, work, and play with color). She is a fabulous artist herself, and learning from her is fun, educational, and inspirational.
–Stelli Munnis
As a teaching artist, Veronica inspires students with her own beautiful paintings and drawings, as well as with her personal attention and gentle, thought-provoking, well-planned, and thorough method of instruction.
–Stephanie Hosier, Assistant Director, Galaxy: The Arts in Education Program of Central Intermediate Unit # 10
I just wanted to say thank you for all your help so far – I've really been enjoying the class. This has opened up a whole new world for me. Drawing was something I always wanted to learn how to do, but I used to think you needed to be born with some sort of natural talent. I love finding things I want to draw, and I draw as often as I can at home. It's something I definitely want to keep doing in the future.
–Brianne Hennel
I was admiring your art and your ability to bring out the full potential of colored pencils! I have to say, I am very impressed. I myself love using colored pencils- they are my favorite medium. By the way, your art work is very inspirational.
–Lauren Foley
Would you like to see your testimonial here? Shoot me an e-mail: nika@veronicasart.com 🙂
Here are some drawing and painting videos from my channel to check out:
About drawing in color: http://munsell.com/color-blog/color-theory-drawing-value/