King Woman
King Woman is a contemporary art show with epic impact. Occupying two floors, the exhibition features several strong pieces in contemporary painting, photography and sculpture. This art show is a rare gem, sparkling in a landscape of mediocre art galleries in New York. Both abstract and realistic, artworks have a single vision where a woman is King. The curator of the show is Mashonda Tifrere. She said, "My goal for this show is to highlight work by women who question history and deny limitations, persevering in their art despite social mores and norms. These artists have also found a way to acknowledge their gender but at the same time move beyond it by owning it in an unabashed way – showing that women can be more than Goddess or Queen, that they are capable of being 'King,' at the pinnacle of power and strength and skill."
Art transcends the gender roles, and while it shouldn't be about the division between the sexes, it's important to see women have equal say, being presented in exhibitions. While we don't see male artists showing in groups where their art challenges stereotypes and disparity they often face, women seem to unite in their message channeled through their art. That vulnerable is beautiful! Women artists often feel unimportant and invisible, working alone in  their studios, walking the streets, interacting with people around them. However, their art becomes very powerful once the forces are united in the show like this one.
Carole A. Feuerman
Carole Feuerman is a pioneer artist in hyper-realist sculpture who started the hyper-realism movement in the 70s. She portrays women in steel, bronze and resin so lifelike, you can't help it but to reach out and touch the sculptures. Tiny eyelashes, hair and droplets of dew make her figures appear incredibly real.  Large and small, her figurative sculptures can occupy a small space in a room or in the entire garden. The sculptures are often integrated into their environment, like you can see in Venice. http://veronicasart.com/venice-biennial-2017-a-crappy-show-with-rave-reviews/
On the artist's website Feuerman explains her work. "She creates visual manifestations of the stories she wants to tell of strength, survival, balance, and the struggle to achieve."
Chrysalis, 2017, resin, 33 x 36 x 18″
Ingrid Baars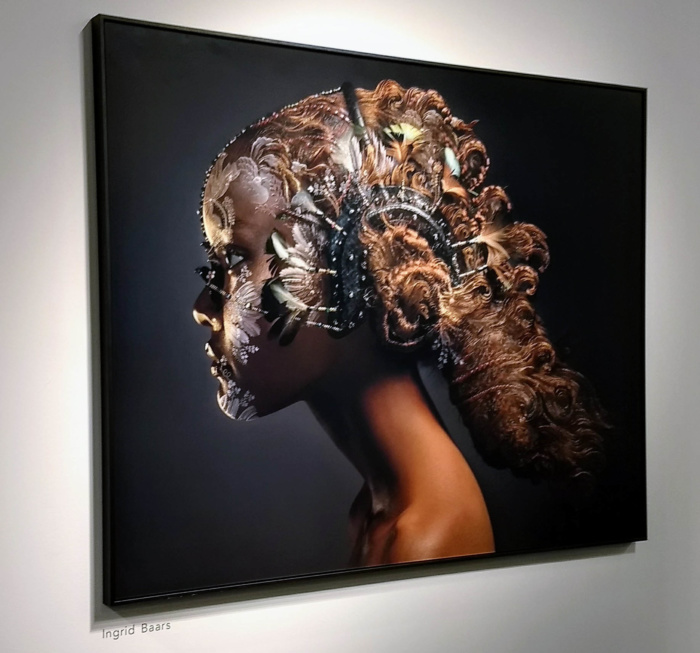 Artemis, 2017, C-print face mounted on dibond, edition of 7, 45″x 59″
This incredibly powerful photograph is inspired by African culture, fashion and women. Romantic at heart, the photo manipulation is the image of  striking beauty and ethereal contemplation.
Yvonne Michiels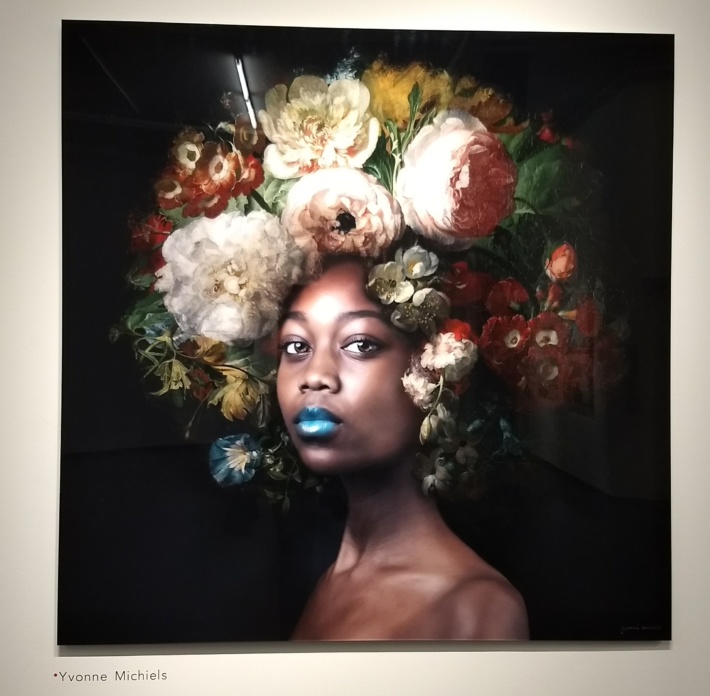 Royal Flowers, 2017, Fuji Crystal on dibond with perspex
Based in the Netherlands, the artist creates incredibly moving digital collages of women with floral crowns.  At first sight her portraits of women express confidence and beauty. Women's faces look so magnificent, you stare at the image speechless, yet we can feel some hidden vulnerability behind the perfect looks.
Roos Van Der Vliet
Roos Van Der Vliet, Storytellers XX & XV, 2017, acrylic on canvas, 37 x 29″
These intimate portraits of women feel incredibly sincere and down to earth. Dutch artist paints women realistically to express her inner desire to replicate reality as close as she can. Her paintings give a sense that women are hiding yet want to be seen. Painting process is always a path to understanding oneself. Here we see the artist making discoveries about her own vulnerability and unimportance in a world around her.
Reisha Perlmutter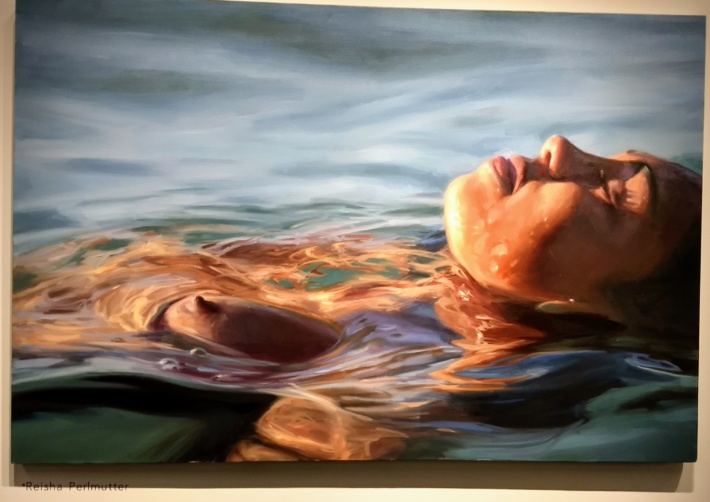 Iris, 2017, oil on canvas, 40 x 60″
Reisha paints women floating in colorful water. Abstracted patterns of body and water channel their healing powers where women are allowed to dwell freely in their ever changing environment.
Victoria Selbach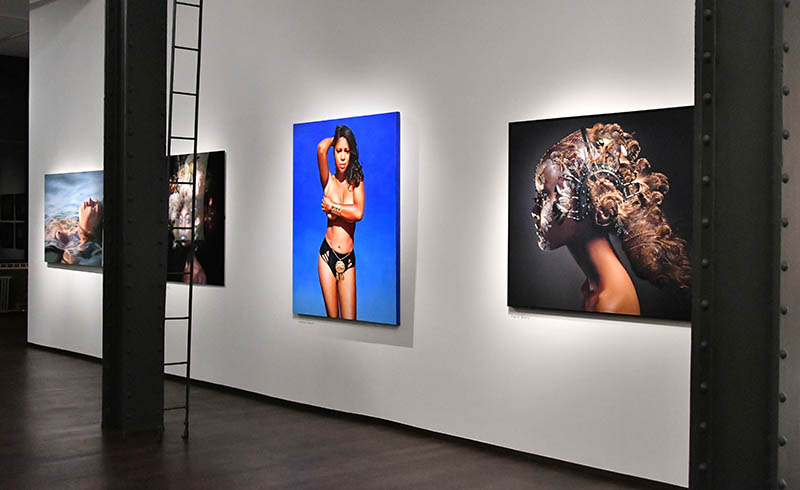 Kali Ma, 2017, acrylic on canvas, 60 x 50″
This painting surprises with its size that creates instant sense of power and control found in a figure. She looks like a goddess or warrior who is ready to concur the world.
The list of artists in King Woman includes:
Rebecca Allan; Azi Amiri; Ingrid Baars; Hunter Clarke; Donna Festa; Carole Feuerman; Lola Flash; Meredith Marsone; Yvonne Michiels; Stephanie Hirsch; Kharis Kennedy; Kit King; Lacey McKinney; Jane Olin; Reisha Perlmutter; Renee Phillips; Trixie Pitts; A.V. Rockwell; Victoria Selbach; Lynn Spoor; Swoon; Tiara; Roos Van Der Vliet; Elizabeth Waggett; Lynnie Z
Where:
King Woman is the contemporary art show that runs between October 12th-December 9th, 2017 at Pen+Brush nonprofit art gallery in New York (29 East 22nd street). To read more about the show: http://www.penandbrush.org/articles/press-release/upcoming-exhibition-king-woman