Russian Portrait Painting
In this blog post I'd like to introduce you to some of my favorite 18th and 19th- century Russian portrait paintings that I fell in love with when I was a child. These portrait paintings made a considerable influence on my aesthetic and desire to learn traditional oil painting techniques in adulthood. Some of these paintings represent the collision of classical ideals with Romanticism that is obvious in artists' choice of subject and color schemes.
Art became a source of inspiration early in my life. Many oil paintings were printed in public school textbooks. Russian art occupied the last few pages in those textbooks that were printed in color and on thick paper unlike the rest of the material (the 1980s Soviet Union). Besides one art class in the elementary school, we didn't have art as a subject back then, so those color reproductions and my parents' art book collection became my first introduction to Russian art.
Ilya Repin (1844-1930)
Ilya Repin is one of the most well-known Russian artists of his generation. Excellent figurative painter, he is one of my favorites for his moral views and social purpose he channeled through his art. His portraits depict a variety of characters that all share the enormous artistic power and thoughtfulness.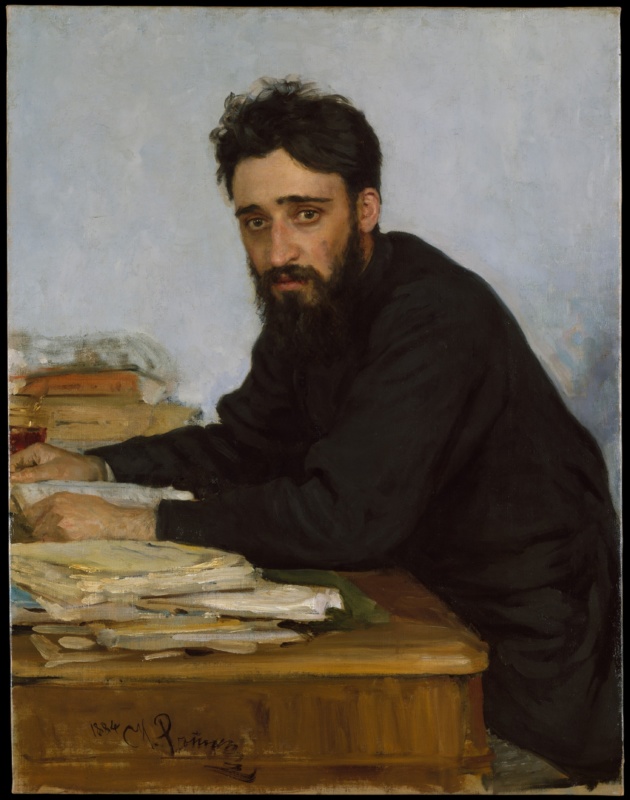 This portrait is one of several that Repin made of Russian artists and intellectuals following his return from graduate study in France. The artist begged the Academy to let him return home, so he could work on the national themes in his painting.
Here is an excerpt from the Met about this painting. "Russian author Vsevolod Garshin specialized in short stories expressing his pacifist beliefs, love of beauty, and aversion to evil. In the early 1880s he became friends with Repin, a leading progressive painter who shared his concern for contemporary political and social problems. Four years after it was created, Garshin, scarred by the suicides of his father and brother and his own mental illness, threw himself down a stairwell and died." http://www.metmuseum.org/art/collection/search/437442 )
Vladimir Borovikovsky (1757-1826)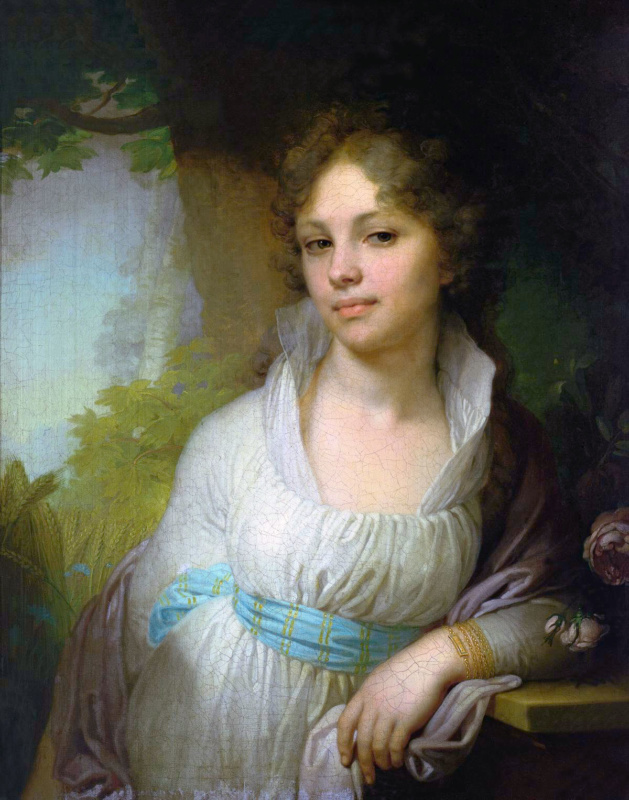 Created at the end of the 18th century, this painting reflects the sentiment of the epoch where a man is part of nature. The artist fuses the model with a natural, but decorative landscape behind her where Russian landscape becomes more prominent than it used to be shown in Russian painting. This oil painting has a through balance of color. The blues of tiny cornflowers in the background are reflected in her beautiful blue sash, and the gold of the rye mingles with her jewelry and the golden sash accents. The color of a dull pink shawl wrapping around her figure is similar to the quiet roses blooming by her side. Her white gown finds similar tones with a couple of trees, repeating the diagonal of the figure.
Otherwise standard, diagonal three-quarter view of the woman depicts the beauty of a young Princess Lopukhina (1779-1803) who belonged to the Russian royal family of Tolstoy and died of tuberculosis in her early twenties. Her masterfully painted face shows beautiful restraint. Soft transitions between warm and cool tones, light pinks on the cheeks, greenish shadows, the riveting depth of the eyes, and gentle, rosy colors of the mouth – everything breathes with life. I love this portrait for its quietness, elegant confidence and a masterful balance between colors and shapes.
Borovikovsky created numerous portraits after his work in the military, and then graduation from the Academy in St. Petersburg. He found fame among the imperial court including Catherine II.
Karl Briullov (1799-1852)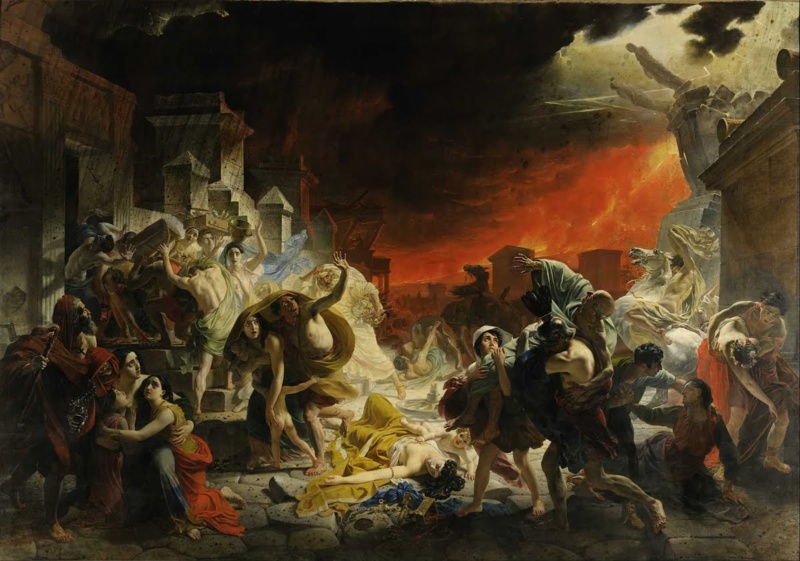 Karl Briullov was the last great classical portraitist in the 19th century Russia. Trained in the Academy in St. Petersburg, the artist was influenced by the classical ideals of Rome. Painter of royalty, Briullov had a tremendous skill set that he showed off in his most famous historical artwork titled "The last day of Pompeii, 1830-33" that brought him a widespread fame throughout Europe. Realism and idealism, classical and neoclassical ideals collide on a huge canvas that depicts people in action, running for their lives during the eruption of Vesuvius. After receiving the highest honors at the Academy, Karl Briullov won a golden medal to travel to Italy. Immersed in the classical tradition of painting, the artist had spent three years studying each figure for the Last day of Pompeii, completing numerous drawings. There is movement and balance in every figure, buildings and horses. Every element is painted with great detail and mastery of the form.
Russian artist also produced many paintings featuring royalty as well as idealized Italian themes with lighthearted women doing regular tasks, like picking up grapes or washing clothes. Although those paintings were painted masterfully, they lacked vision and the reflection of some important societal changes happening in the country. Those changes were painted soon thereafter by the Itinerants.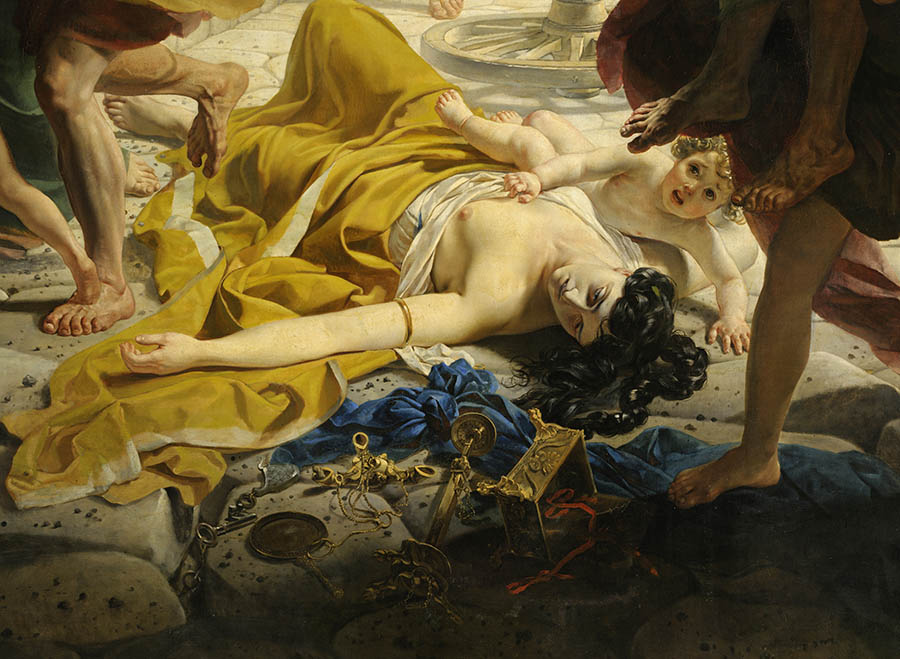 Detail from "The last day of Pompeii"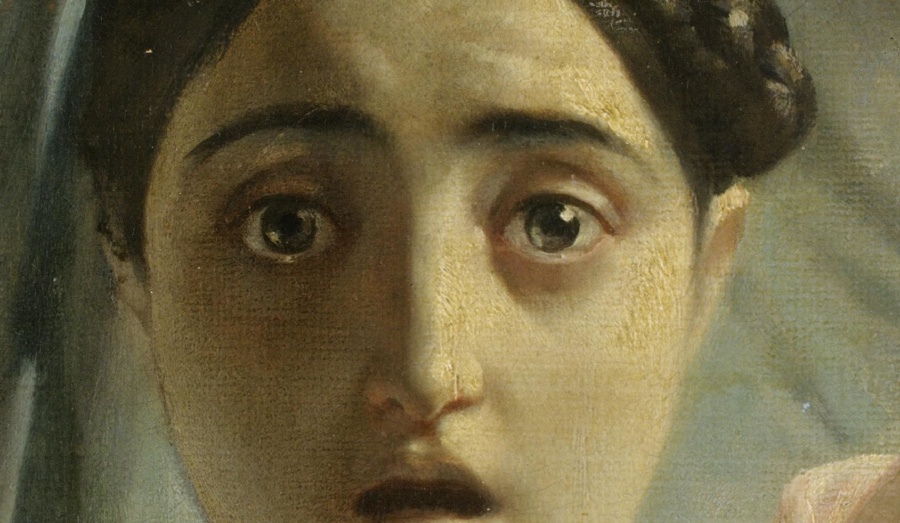 Detail from "the last day of Pompeii"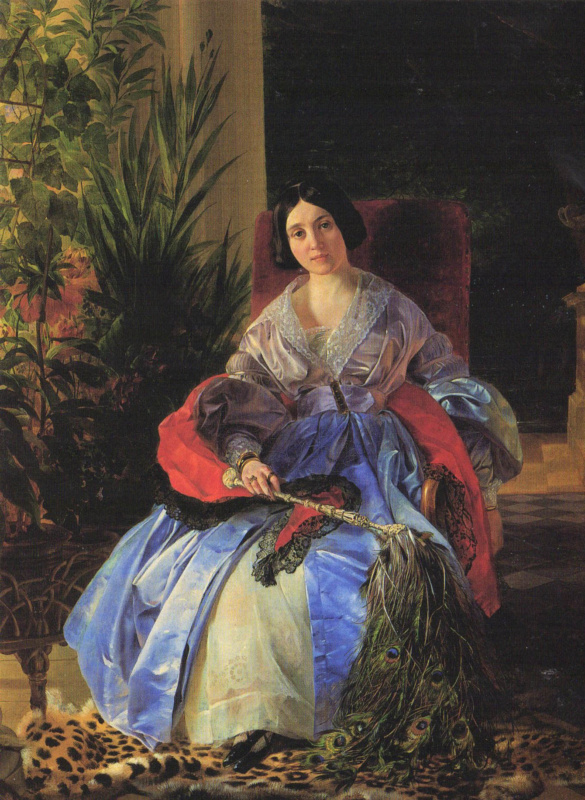 Nikolay Pimonenko (1862-1912)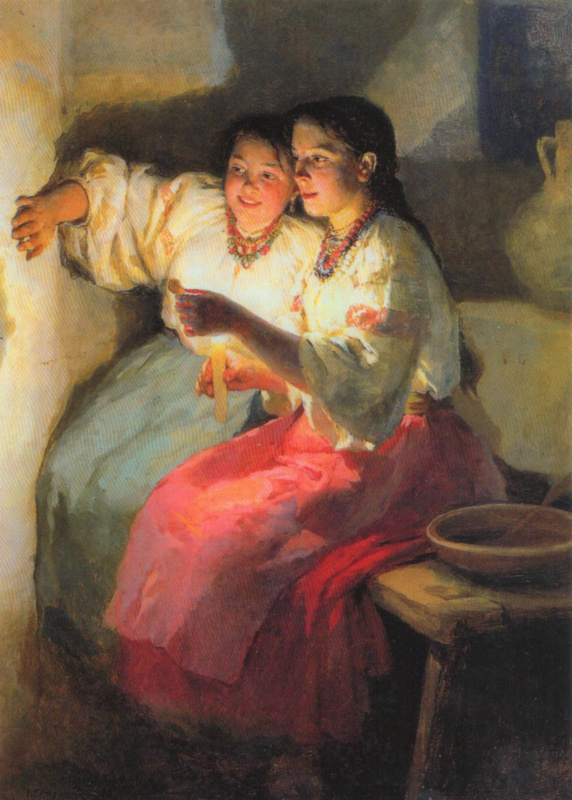 This painting has such a bold use of color! Strong, single light source illuminates two peasant girls who read the fortune. In the old tradition, girls placed the melting wax into a cup with cold water to capture the "frozen" profile of a future husband. Here they look at the wall projection cast from the melted wax, trying to figure out who the man is. I love how spontaneous and fresh the brushwork is and how vivid colors harmonize to depict festive mood.
Ivan Kramskoy (1837-1887)
Ivan Kramskoy, a leader in the Itinerants movement, was one of the strongest portraitists in his generation of artists. Like other artists in the movement, he believed in public duty and service to people through his art. He was interested in painting national themes, but Kramskoy was also a great portraitist. In 1869 he exhibited his portraits at the Academy for which he won a rank of an Academician. One of his famous artworks depicts a woman who could be either decent or not, but her facial expression is captivating. Every texture is richly painted: the feathers, silk, fur, and velvet. Light yellow light envelops the distant buildings and describes the contours of the figure. The artist puts the same color into the hat's feather and her face to carefully harmonize the painting.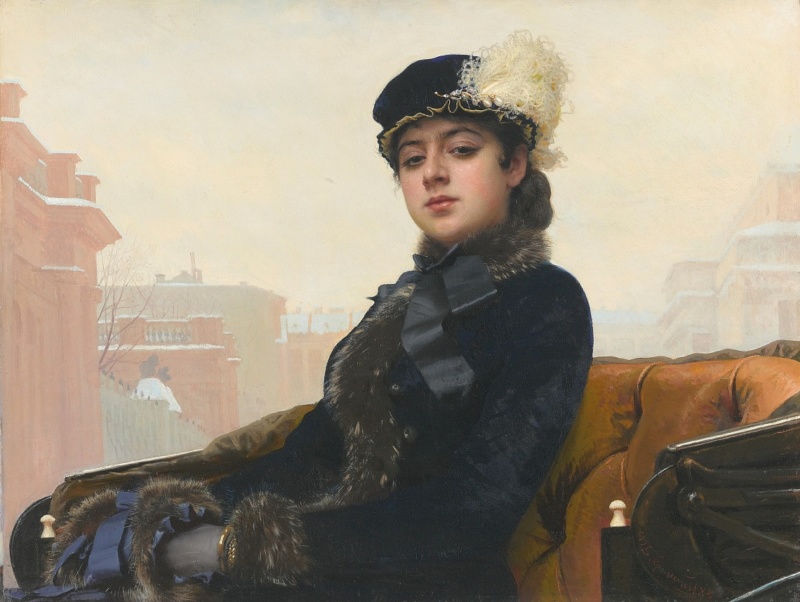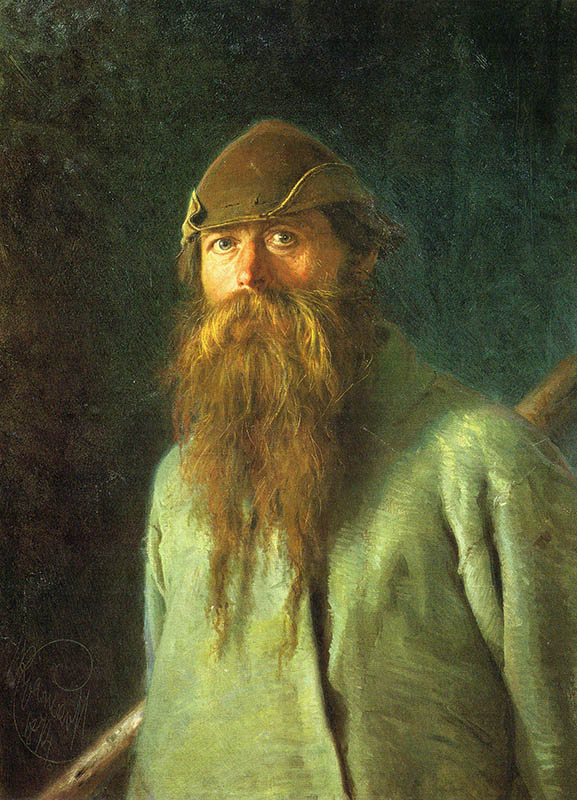 The gaze of this peasant man is just riveting! Tragedy, disturbance and hidden force reside in his enigmatic eyes. The artist shows a specific type of a man who doesn't like to settle or to tolerate the abuse of the forest by men. Or perhaps the painting is about poor villagers  who are tired of their endless suffering and are getting ready to revolt against their wealthy masters.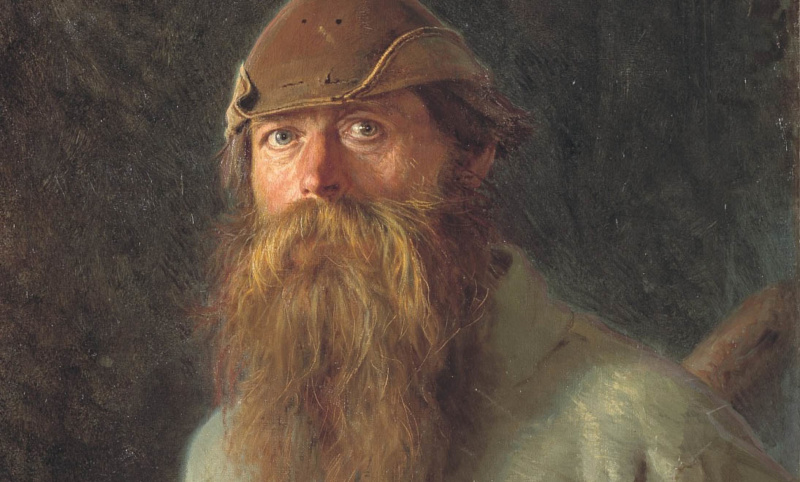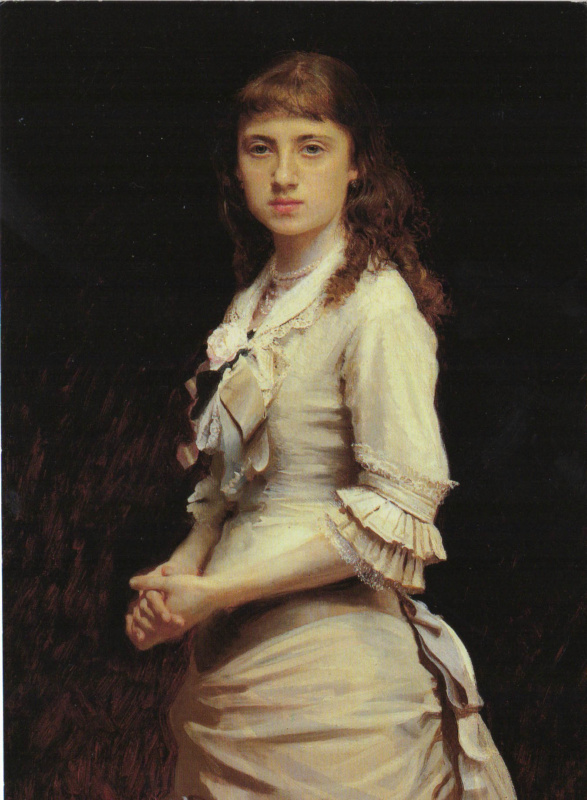 This portrait was painted in the end of the 19th century that marked the transition between the classical and modern art. The artist depicts his daughter in less controlled manner with loose strokes and colorful shadows that show the classical mastery of the anatomy and oil painting techniques. Her thoughtful face possesses no classical idealization, but expresses inner strength and depth of character that's so hard to reach in a painting. The restrained position of her hands and mouth depicts a very young woman wrapped up in thoughts. Trained by her father, Sofia became a professional artist as well. She received recognition for her artistic skills but had a very complicated life after the revolution.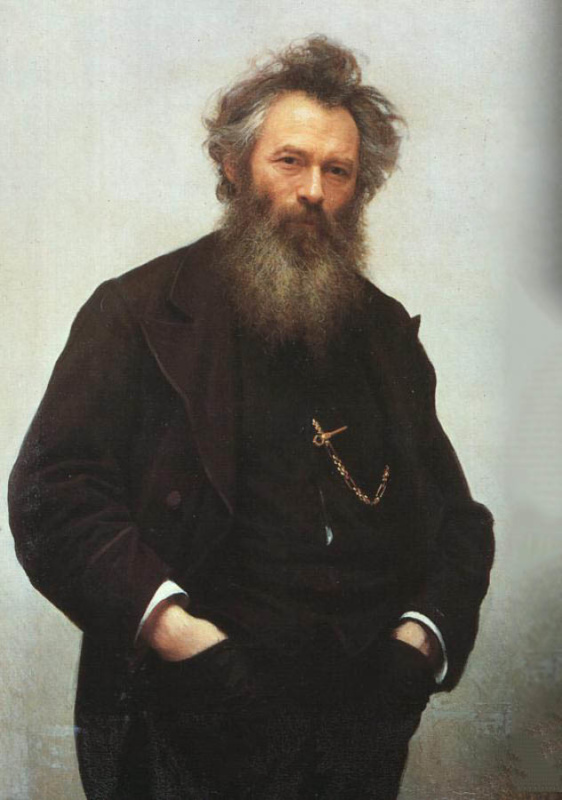 Ivan Shishkin was a great landscape painter who posed for this masterful portrait by Kramskoy. The background and the pose are so simple that all our attention goes to the face of the artist, which channels so much humanity and life that seems impossible to describe in paint.
Vasily Tropinin (1776-1857)
Vasily Tropinin came from a family of the serfs and received his freedom only at the age of 47. He often depicted scenes of ordinary peasant life that feature women doing hard or meticulous work. Those paintings have jovial mood, celebrating ordinary, domestic life.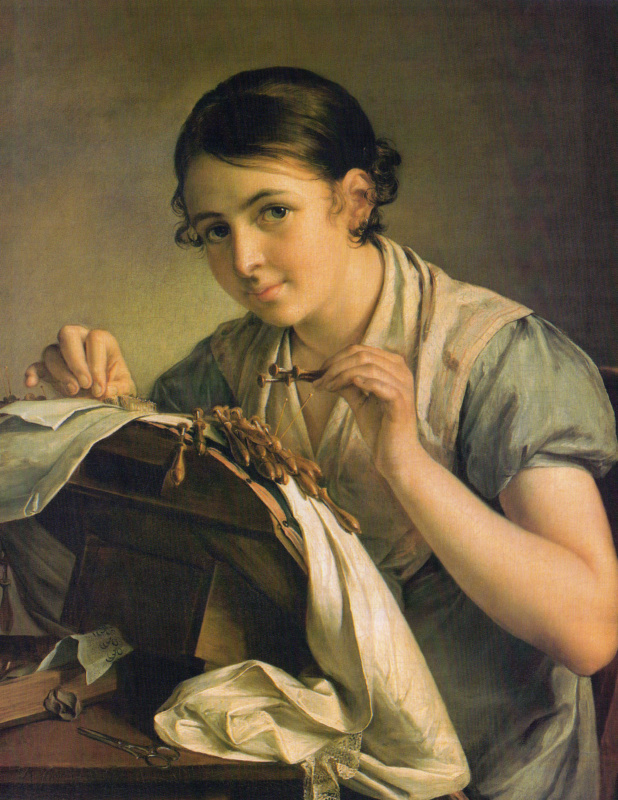 I'm fond of this painting because it shows the old Russian tradition of lace-making, something I learned how to do in my teenage years, taking a class for a year. A pretty, peasant girl creates intricate pattern with numerous bobbins and thin threads. Captivated by her task, she quickly glances at the viewer only to return to her work. I love the gentleness in her face and a hint of a smile that's subtle and kind.
To Read about Russian genre painting, click on the image below.
19th Century Russian Artists and Genre Art: the Itinerants movement