Handcrafted, art ocean necklaces on a mission
Playful | Marine | Colorful
Color your life with the beautiful energy of the ocean!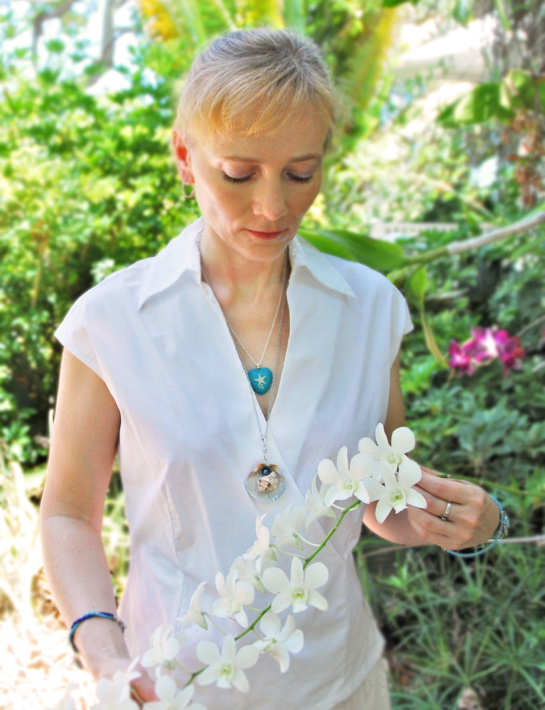 Thank you for your interest in our company. It's the artist's belief that beauty saves the world. With her handmade, artful ocean necklaces you feel as beautiful and inspired as remembering your best vacation days spent by the sea shore, catching waves and chasing dreams.
As you heal and recharge, you're able to create beauty around you for others to enjoy too. Color your life with the beautiful energy of the ocean! Will you join us in the pursuit of living in color, bringing the healing beauty of the ocean to others? Will you invite your friends to collect and gift unique, ocean crystals?
Sign up to receive a mystery gift with your first purchase!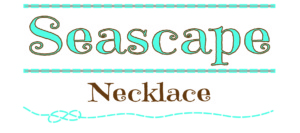 Our materials
Every handmade necklace is made of real seashells, starfish, sand dollars and marine charms.
Each piece is unique like an artwork.
Each seashell necklace is beautiful like the ocean's wave that allows a woman to highlight her individuality and taste.
Every seashell necklace carries elegance and practicality.
Every statement necklace can be worn as a choker, on a cord, or on a sterling silver chain.
Sterling silver chains are of the highest quality, imported from Italy.
Handmade jewelry is made of epoxy resin, which is a synthetic thermosetting polymer that contains epoxide groups. The artist mixes two components-the hardener and the resin to "freeze" the seashells in glass-like, durable substance. Discovered in 1930s, resins are widely used in a variety of applications today.
Unique gifts are created with high standard in mind.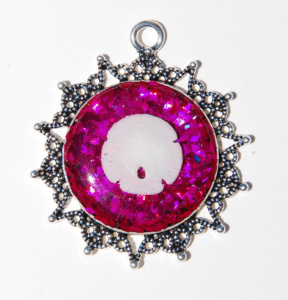 About our company
Seascape Necklace opened in 2016 after years of education, practice, and passion for all things handmade. Russian-American professional artist, Veronica Winters has been creating art for two decades of her life. Ever since her upbringing in Moscow, she's been fascinated with beauty around her. When she moved to Naples, Florida the idea of making something elegant, affordable, and ocean-inspired that women could wear every day downed on her, and she began experimenting with the epoxy resin, a very durable material once cured correctly. "I got fascinated with the beauty of seashells and wanted to create the ocean-themed jewelry with the inspiring feel of nature, tropics, and the beach." Like your best vacation memories, these handmade beach jewelry pieces preserve the best recollections of a sunny beach. The handmade seashell necklaces pop with sparkling color and capture the ocean's beauty and healing energy in the unique gifts of nature – the ocean crystals.
The artist casts real seashells, starfish and beads in resin, which is a skill that involves time, patience, high-quality materials, and the exact room temperature to produce the handcrafted pieces. The casting of one piece is done in two to three days plus a day for quality assembly and photography.
Transforming the healing energy of the ocean into her real seashell necklaces, keychains, and bracelets has become her artistic expression. "I wish to create perfect summer keepsakes of the warm beach." The artist is proud to offer one-of-a-kind, beautiful, handcrafted, high-quality products at an affordable price that people could gift and share.
Thank you for taking the time to learn about the company.
Handmade Ocean Necklaces Product Line
Due to inherent nature of these pendants, every handmade necklace is unique and varies in arrangement and color.
Ocean Crystals
Art jewelry | Oval seashell pendant necklace, 1.5" silver chain $34.99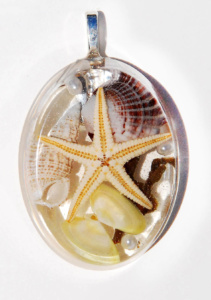 Art necklace | Square seashell pendant necklace, 1" silver chain, $24.99-$29.99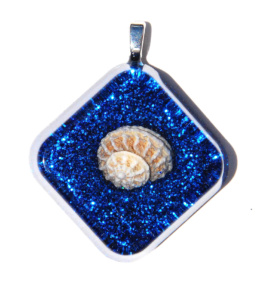 Starfish necklace | Rectangular seashell pendant necklace, 1.5" silver chain, $34.99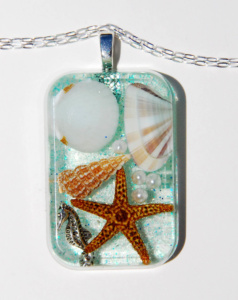 Enchanted Wave Crystals
Star | starfish or sand dollar seashell pendant necklace, 1.5" silver chain, $34.99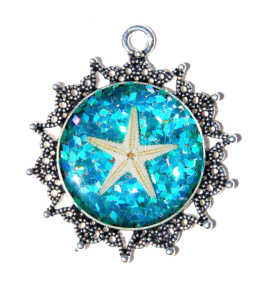 Flower | starfish or sand dollar necklace seashell pendant necklace, 1-1/4", silver chain, $34.99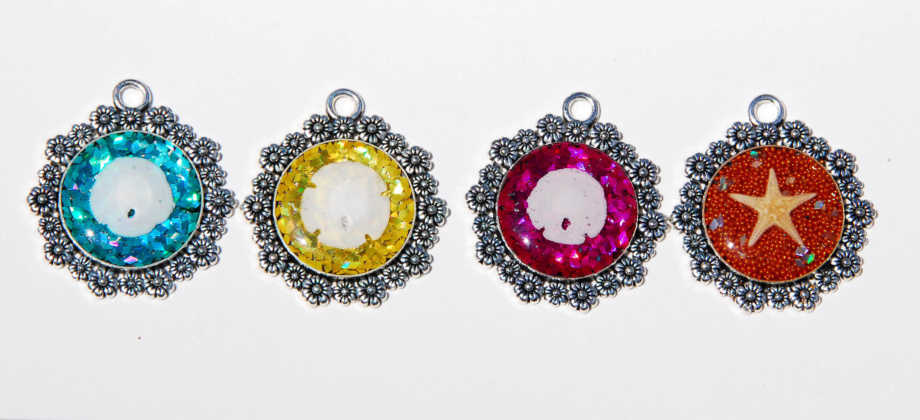 Best friend necklace | Seashell pendant necklace, 1", silver chain, 34.99

Dream wave crystals
Key necklace | Key custom keychains, 1.5", long fashion chain or keychain, $19.99-25.99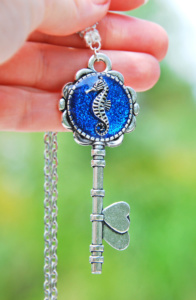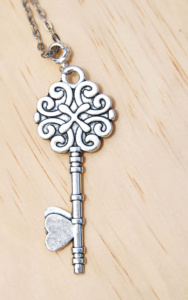 Custom Keychains for Men, 1-1/4", $29.99,  comes with a key ring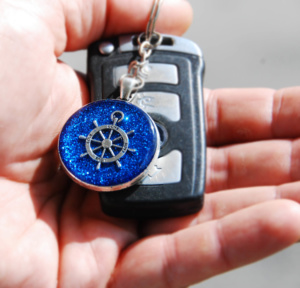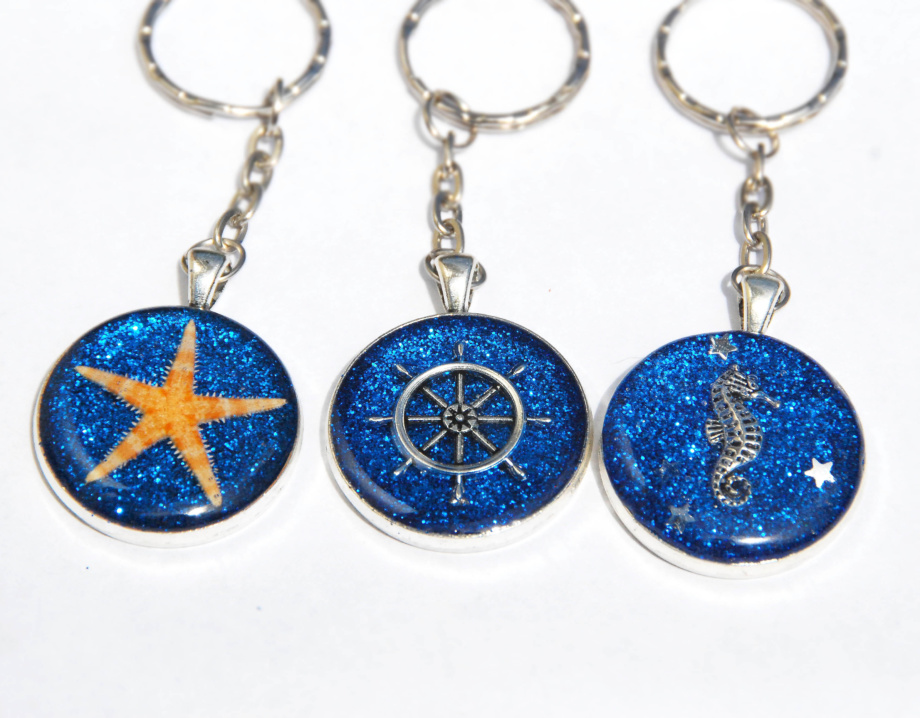 Glass bottle vial necklace | Ocean in a bottle necklace, 1", fashion chain, black cord or silver chain, $13.99-18.99, styles vary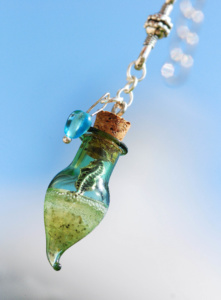 Kids Jewelry | slightly less than 3/4″, silver chain, $18.99, styles vary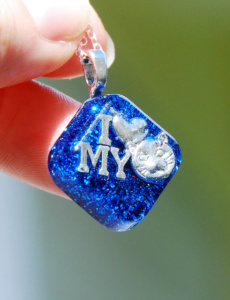 In the News: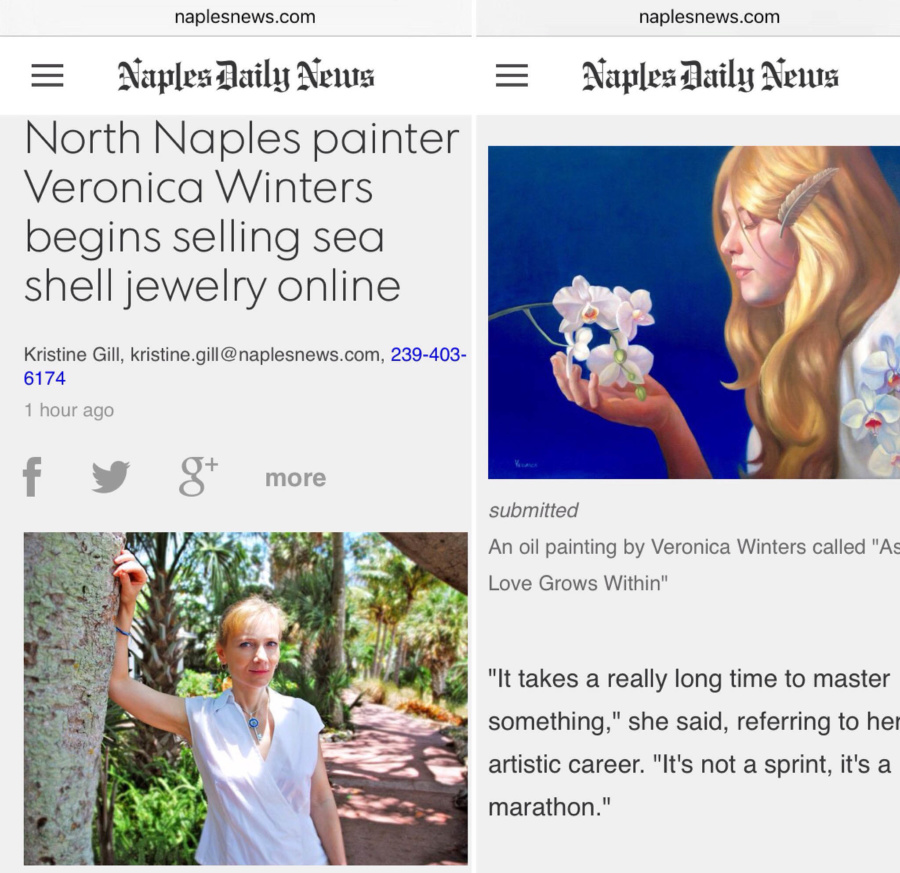 Testimonials:
I bought a handmade shell necklace from Veronica as a special birthday gift for my mom. It was delivered overseas quickly and has been worn over and over again.  I would highly recommend these special, one-of-a-kind pieces of jewelry. 
Clare Roberts
I LOVE LOVE LOVE this necklace!! It is absolutely BEAUTIFUL!! The colors and workmanship are awesome! Can't wait to show it off. I will definitely be checking back for new pieces. Thank you!
This was my second purchase and this necklace was as beautiful as the first!! I have received so many compliments on both pieces. I will be checking back very soon for new additions. Also shipping and receiving was so fast!
Kathleen Bessent
My granddaughter was thrilled to receive this necklace. The design and style fits her personality perfectly. Plus it reminds her of the many family vacations to the beach each year. So glad I could find this unusual necklace, one appreciated by the younger age. Will buy more in the future.
I could not resist purchasing this necklace for myself. The star fish surrounded by shells and pearls give the impression it is still floating amongst other sea creatures in a delicate gentle sea. I love this necklace and wear it often.
Deanna Schwartz
How to clean the sterling silver jewelry: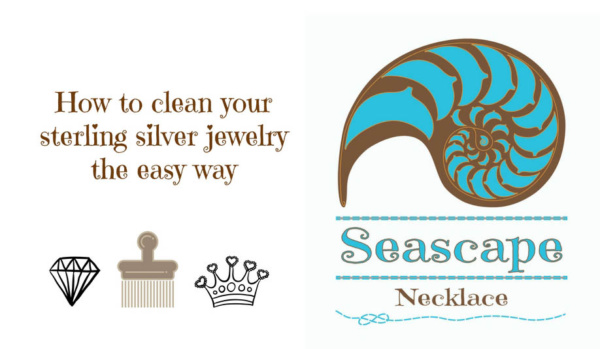 Click on the image to watch how to clean your sterling silver jewelry the easy way. And don't forget to use a very soft brush and a toothpaste that contains lots of fluoride.🙂
♥♥♥ Shop for unique gifts today! ♥♥♥