In this step by step drawing demonstration you'll learn how to layer color in colored pencil on colored paper. You will also see how to use solvents to blend colored pencil. This is a fun drawing project to complete for both kids and adults alike.
Materials:
Canson's Mi-Teintes pastel paper, beige, smooth side. This paper can be replaced with a similar, professional colored paper.
Prismacolor Premier colored pencils (colors are listed in steps); they can be replaced with other soft, colored pencils
Turpanoid/Gamsol and a small brush for burnishing (blending)
General's pencil sharpener
Transfer paper, sketch paper
Kneaded eraser
Fixative: professional spray varnish for dry media like Grumbacher.
Step-by-step demonstration
Step 1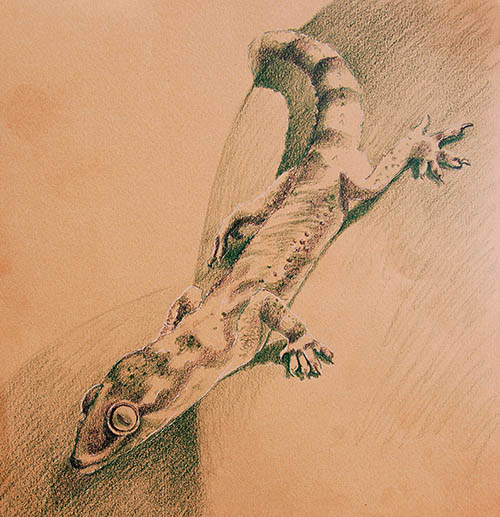 Work on the basic outlines of gecko on sketch paper. Then transfer these outlines onto your colored paper. Keep the fine drawing paper clean of any residue at all times. I usually transfer the outlines using white transfer paper manufactured by Loew-Cornell. This paper lasts for years, and the lines are very easy to erase with the kneaded eraser. MAKE SURE YOU USE THE SMOOTH SIDE OF YOUR DRAWING PAPER!
When you have transferred the outline, strengthen some lines in colored pencil to separate between the shapes. The color of my colored pencil depends on the subject's basic tone. If the subject is light, I use cream colored pencil to strengthen the outlines, if the subject is dark, I use dark brown to outline some shapes.
Use dark brown like raw umber and dark green to map out the dark spots and the cast shadow on the lizard's skin.
Step 2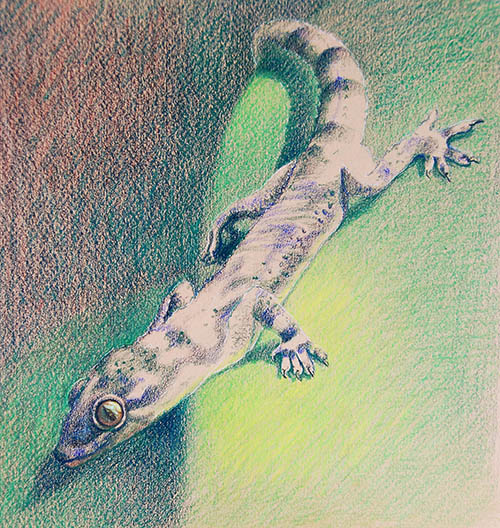 Block in the background with indigo blue and the same dark brown you've used before. (A combination of any dark colors would work well here). Add grass green and apple green in the background's middle tone. Then add spring green in the light.
To strengthen the pattern on the skin, shade with a combination of violet, indigo blue, and dark green.
For the eye, use a sharp point of indigo blue and dark brown to outline the circle and to draw the iris. Shade the darker values (tones) on the left side of the eye, while deliberately using lighter tones on the right.
Notice that all colors look a lot more vibrant on colored paper as opposed to shading on white paper.
Step 3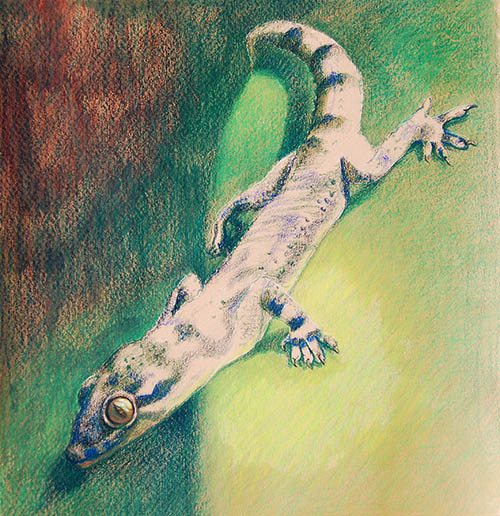 When you've completed shading in the background, use a solvent (like turpenoid or Gamsol) to blend the background and a few spots found on the gecko's skin. Let it dry completely!
Make sure you use a small brush to blend the image with solvents that is not used for anything else. Solvents melt wax in the wax-based colored pencils making the surface smoother and darker.
Step 4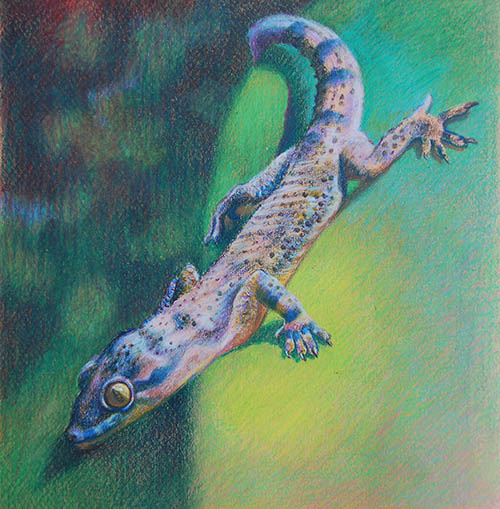 When it's dry, layer the same colors in the background and add a few more over the entire background space. The colors are poppy red, aquamarine, light aqua, and limepeel. OVERLAP COLORS!
Now let's draw the body. You can shade the light values found on the skin with parma violet and cloud blue, using a very heavy pencil pressure.
It's important to see how the skin pattern curves around its body. Don't create straight lines and repetitive shapes. Create volume and dimension by curving the uneven lines around its arms and feet.
Step 5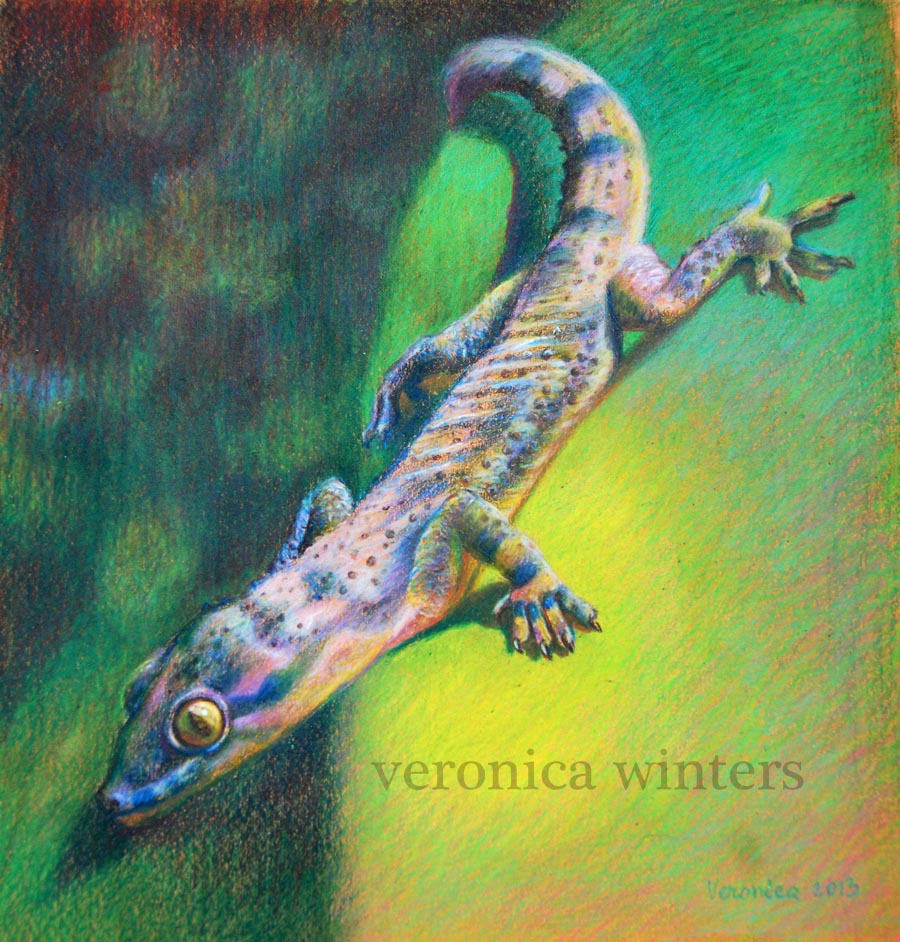 Use a touch of canary yellow and light pink to shade the reflected light on the body's bottom.
Step back to look at it from the distance and check your drawing for contrast, color and shapes. If needed, re-apply the background colors once again with heavy pencil pressure. Step back. Check values and edges. Outline a few edges in its head with sharp pencils for additional crispness and focus.
Browse through complete demonstrations and art books below.