Original art delivery, guarantee, shipping and returns
The artist offers a tryout of artwork in your home for a week after purchase.
You receive a complementary shipping to the U.S. address on artwork orders over $100.
If you're not satisfied, you get a free return of the artwork within 7 days of your purchase within the U.S.
Shipping: Art ships directly from an artist living in Naples, Florida, and arrives at your home within 2 weeks of your order. The artist uses FedEx ground or USPS priority mail to deliver art big or small.
Returns: The artist wants you to love your piece, but if it doesn't fit in your heart and space, please return it within 7 days of receiving your order in its original packaging. The artist will issue a refund for the price of artwork and will issue or pay a return shipping label for a piece under 40 inches on the longest side. For art longer than 40 inches, the artist will refund a purchase price minus a return shipping fee of $300.
For orders shipped outside of the U.S., you're responsible for the cost of return shipping, customs and other fees charged upon return.
Free returns within the U.S. only within one week (7 days) of purchase.
How to return an artwork: Save original packaging, repackage art, and please notify the artist before shipping the artwork back. nika@veronicasart.com or 814-777-1802. The artist will issue a FedEx label to ship it back.
If you've damaged art after receiving it, it won't be refunded.
What happens if I receive damaged art? If it happens, please take a picture and contact the artist within 24 hours. nika@veronicasart.com or call/text 814-777-1802. Please save the box and all packaging materials.
Do you sell framed art? Art sells and ships unframed unless noted in the product's description. There are many paintings that already have custom frames on them. These frames are complementary. Please specify at checkout, if you don't need the frame to be shipped with your artwork, and the artist will take it off the artwork.
Do you ship overseas? The artist ships art overseas that's under 24 inches on the longest side. Art that ships overseas takes 2-5 weeks on average to arrive, depending on the destination. Art maybe subject to duties and fees of your country. The artist is not responsible for these duties, taxes and fees.
The cost of shipping varies depending on size, weight and destination. You can add the artwork to your shopping cart to see the exact shipping cost, or contact the artist via email.
Payment methods, financing plans & coupon discounts: The artist accepts all major credit cards via PayPal secure checkout installed on the site. You don't need to have a PayPal account to checkout. Art ships only after receiving payment in full via PayPal.
Sorry, no checks.
Artist offers 3-5 month financing to local clients only.
Artist offers no discounts on original artwork to honor her clients. Coupon discounts maybe available on merchandise only during the holiday season.
Art prints in the shop: At this time all prints sold are "open edition" prints.
Framing services:
Most clients wish to frame their new artwork by themselves using a professional framer. Therefore the artist doesn't provide framing services at this time. However, a lot of artwork has already been custom-framed. Please see a product's description if your piece is framed or not. Specify at checkout if you'd like the artist ship your art with the provided frame.
Physical gallery space:
Although the artist doesn't operate a physical gallery, every artwork can be seen in person by scheduling an appointment at the artist's studio located in central Naples, Florida. Call/text:  814-777-02
Commissions:
Commissioning art is a unique experience where you stand front and center as the creator of a unique piece. Artist has done a variety of commissioned works. The final cost varies depending on complexity and size. In general, 24×36"-$5,000 | 16×20" – $2,000 | 18×24" – $2,500 | 9×12"- $1,000. Once you have an idea about the subject and a size for your artwork, contact the artist via e-mail nika@veronicasart.com.
Artist takes a 50% non-refundable deposit. This assures that the artist will be paid for her time, effort and materials. Once the piece is complete, the artist will send you a high resolution image of the work. If you accept it, the artist will charge your credit card the remaining 50% and ship the piece to you. There are no returns once you take possession of the art.
Please know that the artist consults and communicates with you every step of the way, making sure to create art that's right for you. It's very rare to see an unhappy client.
The artist paints from high-resolution, professional photos only! If you don't have a picture, the artist takes a creative photo of you in a scheduled photo shoot, or uses her pictures to create a piece based on your request. You is a part of the process every step of the way, and all decisions are made with your input. Once we are set on the subject, color and size of your piece, the turnaround is about 4-6 weeks, depending on a painting's size and complexity of work.
Refer to this page for more information.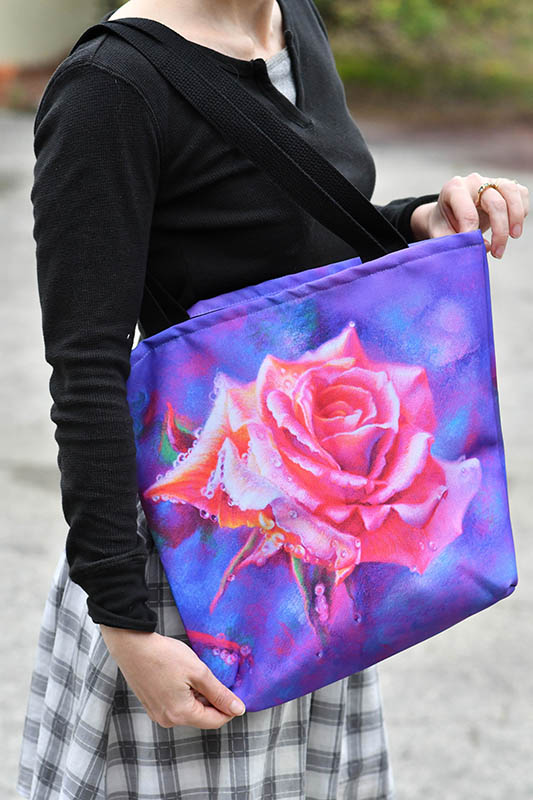 Art gifts / merchandise delivery, guarantee, shipping and returns
When you place an order of the art gift item via the website, your order is sent to a fulfillment company located in California, US for a one-off printing. The fulfillment (printing of your order) takes 5-10 business days on average. The shipping time is extra and depends on your chosen method of shipping, which is 2-5 business days on average.
Fulfillment & delivery of custom-printed items, such as canvas bags, t-shirts, pillows, and prints.
Estimated shipping delivery times:
USA: 3-5 business days
Canada: 5-10 business days
Worldwide: 10-20 business days
FedEx doesn't ship to PO boxes.
International shipments may incur customs fees. For each country the customs policy is different, and the fee is usually based on a variety of factors like weight, value, and size. We do not take responsibility for customs fees.
Order never arrived: If your order have never arrived, be sure to let us know!
First check your shipping confirmation and check that you had entered the correct address. If the address was incorrect, though we'd be happy to send you another order to the correct address, it will have to be at your cost. If the shipping address was correct, get in touch with us at nika@veronicasart.com noting your order number. We'll see what can be done.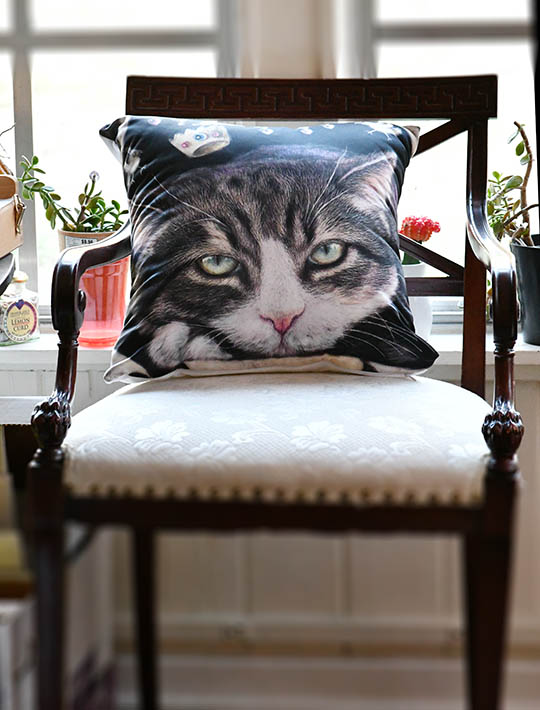 Returns policy on art gifts
Damaged items: The last thing we want is for you to be stuck with a damaged item. If it arrives to you damaged, then please snap a picture and email it to nika@veronicasart.com within one week!
Wrong size: If you're unhappy with the size you've received, first check that the size stated on the garment matches the size stated on the sizing chart. Though rare, it's possible that the garment was mislabelled. Let us know and we'll get you sorted out.
If you'd like a different size, get in touch with us at nika@veronicasart.com  and we'll let you know what your next steps are. Currently artist doesn't process returns if you've ordered incorrect size and try to return it, or wish to initiate an exchange.
The order never arrived: International orders may get lost if they have no tracking numbers. Please checkout using one of the shipping options that has the tracking number.
If it's lost, please check that you've provided the correct address, open up the tracking link we provided in the shipping confirmation e-mail, copy this number, and then contact the artist immediately.
Printed Products:
Printed mugs are vivid and durable, but they don't have a range of subtle tones you normally see in fine art painting.
Printed canvas bags have remarkable print quality. Artwork looks vivid and crisp. Please pay attention to the cropping of the image on the final product. It's printed exactly how you see it displayed in the product description page.
Printed pillows are made of high-quality materials. Please pay attention to the cropping of the image in the picture. It's printed exactly how you see it displayed in the product description page.
Printed all over T-shirts use the sublimation printing process. Therefore, it's common to see white streaks around the seams, especially around the shoulders, under the armpits, and around the collar of the shirt. T-shirts are white on the back.