Marie-Antoinette
$6,900.00
Story:
I wanted to create a painting that's exuberant, light, and thoughtful – beautiful visual shock. I wanted to write a multilayered story in strokes of oil paint. I wanted to make a statement…. I ordered a gown, hand-sewn some lace to it, bought a wig, feathers, and golden pumps, then orchestrated a set up in my studio. Dolled up, I played one of the female roles in front of the camera.
This is one of the everlasting roles most women, especially women with children, volunteer to fulfill in accordance with the societal rules and expectations. While it's often assumed naturally and with full intent, it's the role that either quits working midlife, or works for us partially. It's the role that we may love being in for a while, yet we can't get out of it when we want to. Just like  the 'super hero' stereotype that exists for men, the cult of domesticity haunts women. Even when we have a different purpose to fulfill we try to be perfect at both tasks.
Many women are perceived as shoe cleaners even when we have the jobs, hobbies or aspirations. The perceived value of such activities is simply much lower than a man's work. It's conscious and a subconscious bias where assumptions are constantly made that drive a different behavior based on monetary value of female work. However, it's up to us, women to empower ourselves.
Born Austrian, Marie Antoinette was the Queen of France.  She left home at fourteen to marry the future King of France, Louis XVI when the French court was powerful and lavish. Loved by people in the days of her youth, she had a complicated relationship with the monarch, and drowned herself in decadent luxury, opulent fashion and extravagant parties that later brought her so much trouble. Marie Antoinette was beheaded in October 1793 during the revolution. That just proves it one more time that even the queens are never free despite all the wealth and opulence they might seem to have at their disposal.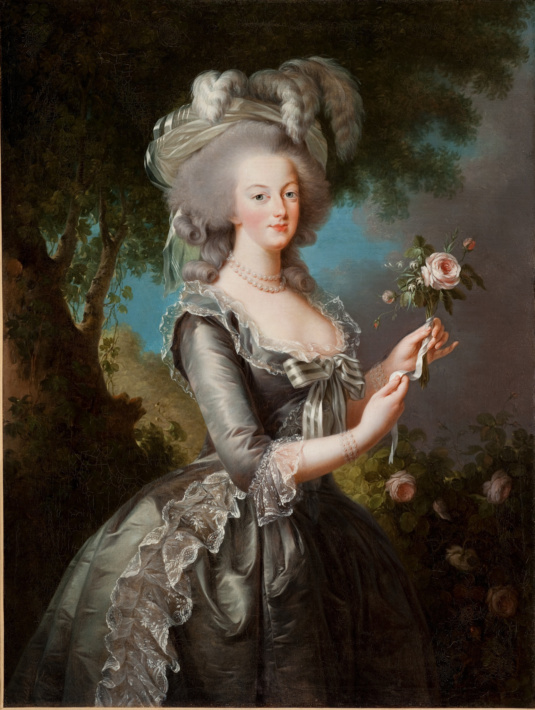 My visual inspiration for the painting came from the rare female artist Elisabeth Louise Vigée Le Brun who painted over 30 portraits of Marie Antoinette in the late 18th-century. You don't see female artists in art history books until the mid. 19th-century because women rarely became artists and were usually taught into the profession by their artist fathers. Vigée Le Brun was the daughter of a pastel artist and of the same age as Marie Antoinette. Painting the queen became the big break in her career, and she later completed a number of portraits. The artist fled the country to Italy escaping the danger of execution in 1789. She traveled across Europe for over a decade finding her fame, painting opulent royalty. The artist came back to France during the Napoleon rule and lived into her late eighties doing what she loved. Painting.
Painting specifications:
36×48 inches
original oil painting on handmade canvas
painted with the lightfast oil paints & varnished
price excludes framing
a certificate of authenticity guarantees the provenance
This painting was chosen from 1,000 entries to exhibit among 63 women artists at Manhattan Arts International online show "HERStory 2017" (April 27 – June 27, 2017).
Delivery time & shipping:
The artwork ships within a week after receiving payment in full. If it requires framing, please allow for an additional two-week process.
International shipping is available to some countries. To receive a quote e-mail to nika@veronicasart.com
Painting the role models to inspire women to discover, pursue & enjoy their calling in life
Bring home Marie Antoinette by Veronica Winters, an original oil painting
Additional information
| | |
| --- | --- |
| Weight | 15 lbs |
| Dimensions | 25 x 19 x 2 in |
Only logged in customers who have purchased this product may leave a review.