Khaleesi Drawing from Game of Thrones
There is something about the character that attracts you when you watch a movie. I think it happens because you find part of yourself present in that person. Sometimes it's not obvious and you need to search deep inside to find the connection. Khaleesi has fragile beauty of course, but she also grows to become a fierce and powerful woman.🌟🌟🌟
Drawing is an essential building block to any representational art form. Pencil drawing is something I practice as much as I can because it improves and informs me of shapes, colors and composition applied to colored pencil and oil painting.
Step by Step drawing
In this photo you see how I began my pencil drawing by blocking in the darks and leaving out spaces for the lights. Both lights and darks become the two extremes between which I create a range of tones at a later stage. I also work on the eyes in the first step to make sure they line up and rotate at the right diagonal.
Drawing Paper

I'm amazed by the quality of this paper.  It's quickly becoming my favorite because Koh-I-Noor in & out pages are thick, smooth, and versatile. I love how easy it is to layer both graphite and colored pencil on it that hardly needs any blending! Also, I can place my drawings back into the pad for a beautiful presentation. I've drawn on Koh-I-Noor Bristol vellum, Bristol smooth, Colored Pencil and Black Drawing drawing papers so far. All of them are fantastic! While Koh-I-Noor Black Drawing has thin pages, the rest of them are thick, and all are smooth with a different degree of light texture present to grab the pencil. Give it a try!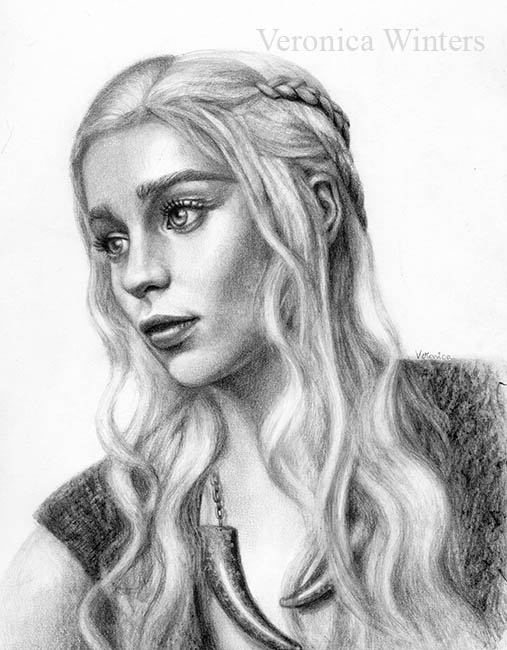 Once I'm done blocking in the values and I have developed a range of tones, I work on textures. In this drawing of Khaleesi you see the texture of clothing that I've done via rubbings. I placed a pumice stone under my paper and shaded over it with a soft pencil where the clothing should be. This rubbing gave me the initial texture I worked around in pencil to develop it further.
I also use the kneaded eraser a lot to make soft lift outs, to create subtle edges, and to clean up without leaving grease and residue on paper.
To make texture in the jewelry on Khaleesi's neck, I used some magic tape. I placed it over the shaded area, made short strokes on the tape with a ballpoint pen and lifted it out to reveal this unique texture.
Don't miss out on a great deal! Grab your tutorials bundle here.