How to draw a portrait in colored pencil
This post introduces you to some experimental techniques drawing in colored pencil and more. Here you'll see how you can combine colored pencil with other art supplies, such as gold or silver marker, acetate-like paper and permanent markers. I'm not explaining the basics of the anatomy drawing here, rather I show my trial and error process in drawing portraits in mixed media. In my experience, I've learned that it's very important to find the right paper for your specific colored pencils. The same professional-grade colored pencils work differently on various papers. I find that if I use Prismacolor Premier colored pencils (that are very soft), they work best on the Stonehenge paper pads, while harder colored pencils do better on a rougher surface. Below I explain what materials I've used drawing portraits and with what results.
Artistically, I wanted to depart from expected and accepted realism and to draw a portrait that is playful and well designed. Every drawing has its movement and a color scheme that I plan out beforehand. Those who draw in colored pencil know how long and laborious the process is when a 9×12″ drawing takes up to 40 hours to complete. So planning is very important to success of the finished drawing. I usually draw from my own pictures and rarely take someone else's references because as an artist I have a vision of capturing the light and color usually absent in phone snapshots. The best investment I've made into my tools is the camera with excellent lens. I have Nikon D500 that captures an amazing range of color and tone. A lot of times I draw in colored pencil to develop my artistic ideas that I can take to oil painting.
How to make a mixed media portrait
In this drawing I aimed at putting all the attention to the face of the person by juxtaposing fully-rendered features with the flatness of space in the hoodie and the background. The earring repeats the pattern in the background "connecting" the model to her surroundings.
Materials: Faber-Castell Polychromos colored pencils, Koh-I-Noor Bristol Vellum Paper, Winsor & Newton white pigment marker, Painters gold metallic marker, Grumbacher final fixative for dry media.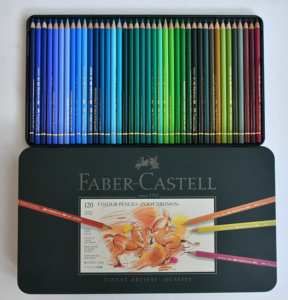 These colored pencils are not as soft as Prismacolor Premier, but a lot more durable and lightfast, and therefore Polychromos are becoming my favorite colored pencils. They do require a specific type of paper to work on I'm yet to find, so what I'm showing here was quite a struggle in layering the colors because these colored pencils tend to glide off the smooth page but can produce incredible detail in a small area. In the drawing of Christina the face and hair have at least 6 layers of color that may not show as such. I kept layering the color to deepen the values as much as I could.
Once I layered the background colors I wanted to lighten them up a bit and to blend them more. So I applied the white pigment of the W&N marker using its chisel tip. It's a very soft white and thus instead of using it for the highlights, I used it for blending parts of the drawing. The white space for the hoodie has no white marker, rather shows the paper's original color.
The earring is drawn with the Painters gold metallic marker and some colored pencil. It does reflect some gold once you see this drawing in person. Metallic accents don't reproduce in photography and scanning of the drawings.
The trick to drawing anything is to keep the overall form correct and often symmetrical (here it's the anatomical features of the person), while shading the image to create a variety of values you see in the reference. Usually students don't push their tones far enough to create enough contrast in the drawing. In portrait drawing you also need to pay attention to subtle shifts in tone, general color and color temperature (warm/cool) in skin tones. These shifts in color and tone in the skin are not as drastic as in other parts of the person (hair and clothing) on average unless the light is dramatic.
How to draw a portrait in colored pencil and permanent markers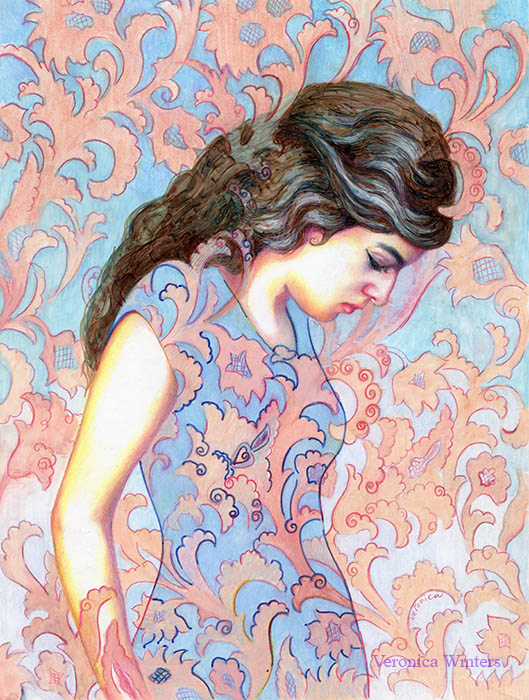 Materials: Prismacolor Premier colored pencils, Winsor & Newton pigment markers, W&N pigment marker heavy weight paper, Grumbacher final fixative for dry media.
This W&N pigment marker heavy weight paper is designed specifically for the W&N markers. It doesn't bleed through and its smooth surface is very good for colored pencil drawing in general. But you have to get used to it too because layering feels different than on other drawing papers. In this drawing Invisible I I went back and forth shading in colored pencils and markers, creating the first layer with the markers and then layering colored pencils on top, blending them with the markers and layering again. I didn't use the markers drawing the skin tones. The hair, however, have layers of markers only. I find that these markers don't layer evenly and I have to shade with colored pencils over them a lot. The main reason for me to try layering with the markers is the speed of covering the background space. Colored pencil is a very time-consuming medium and shading with the markers speeds it up by a lot. Because of their uneven layering, however, I have to shade with the colored pencil over them. What I really like about the Winsor & Newton pigment markers is their projected lightfastness of 100 years… If your materials are not lightfast, they tend to fade off the page quite quickly. Various pigments have different lightfastness rating and you may see some pigments fade much faster than the others.
The W&N heavy weight paper is much better for colored pencil drawing than their lightweight paper. The lightweight paper is just too smooth and too thin to accept the colored pencil. That's why don't buy it unless you plan on drawing with the markers only. It's great for drawing with the markers exclusively.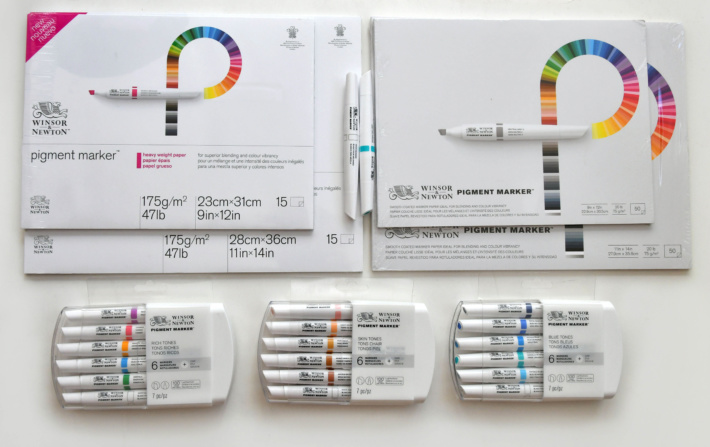 In my next drawing you see the initial layer done in the markers only that shows how unfinished it looks without colored pencil shading over them. So using the markers helps me to cover the surface quickly, but the refinement is achieved through regular colored pencil layering.
This is the first layer.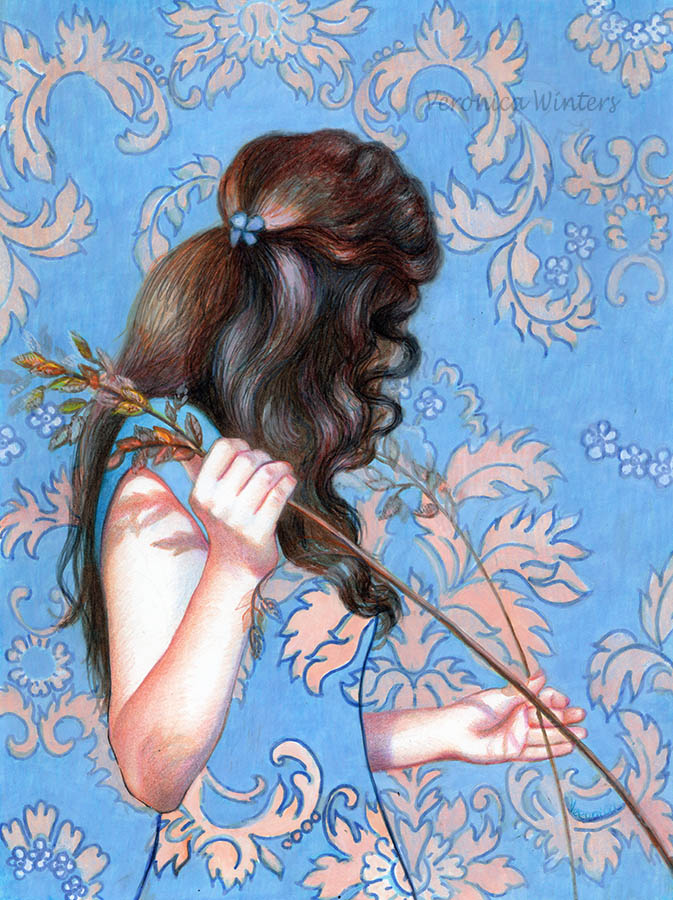 And here you can see how the surface of the drawing changes by applying white colored pencil over the blue marker. Whenever you want to lighten up the surface with the colored pencil, use Prismacolor Premier white pencil because it's the softest colored pencil that does the job. You have to use maximum pencil pressure to blend the colors well.
In this drawing I've departed from straight representation the most. I used a reference snapshot that didn't have much information for drawing (the light fell flat and the colors seemed off. There was no sense of direct light source. That's why the photo itself was difficult to draw from). Yet, I really wanted to capture the essence of Motherhood and I think this picture of Veronica and her children has this warmth and idyllic beauty I got so attracted to.
I often think of motherhood. I've met women so desperate to have a child they went through surgeries and procedures to become a mother. I've seen mothers who sacrificed everything they could for their children. But I also see women who are selfish complainers that can't think beyond their own life and refrain from giving love to their children. Obviously, they were ignored as children themselves, but as adults we are responsible for our own actions. This drawing is dedicated to all women who go above and beyond themselves regardless and despite their challenges, raising their children.
"Motherhood" is playful and fun because of the pattern with blue butterflies and pink peonies with lotuses I layered over the original image. I took a picture of this pattern on my trip to Japan. I'm more and more interested in the simplification of form and I think the Japanese art is masterful at that. I took main elements from the pattern to create the flow of flowers and butterflies between the figures. In the family photo children play with the necklace, not the flower. To continue with the pattern I used the gold pen outlines for the figures as well as the flowers.
Materials: Faber-Castell Polychromos colored pencils, Koh-I-Noor Bristol Vellum Paper, Winsor & Newton pigment markers, Painters gold metallic marker, Grumbacher final fixative for dry media.
Technically, layering was very difficult because I found that Ploychromos don't "stick" to the surface of bristol papers. Therefore despite my efforts at multiple layering, the shading seems not quite complete. I always spray my drawings with the fixative to prevent fading and smudging. I strongly recommend the Grumbacher fixatives because they spray evenly and even out the surface beautifully. Cheap sprays don't get rid of pencil bloom and spray unevenly.
How to draw a portrait in pencil and colored pencil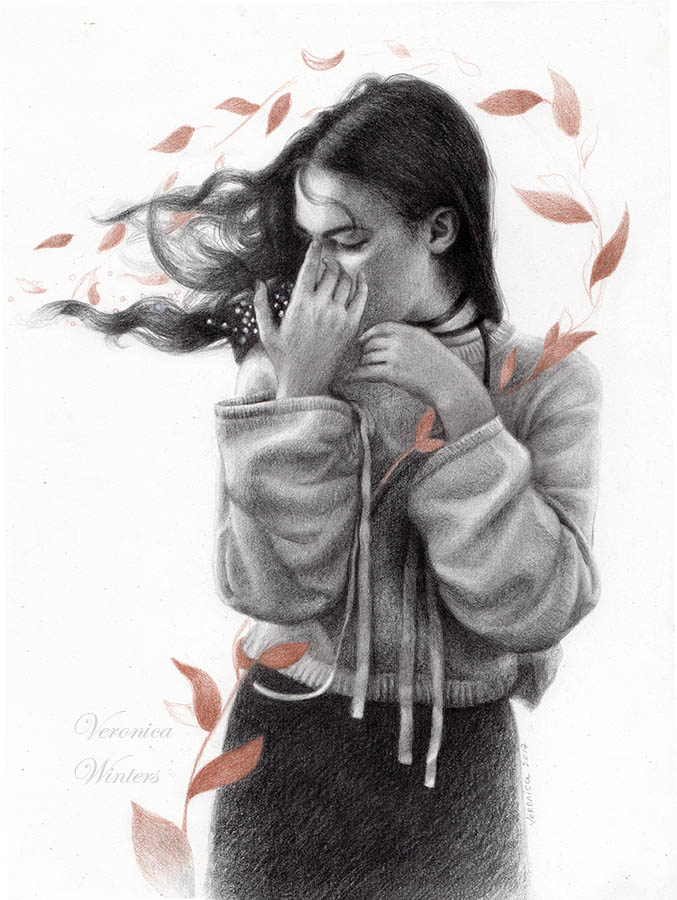 Materials: Tombow graphite pencils, 4-6B, 2H, Koh-I-Noor Bristol Vellum Paper, Prismacolor Premier bronze metallic colored pencil, Grumbacher final fixative for dry media.
In this drawing I shaded the figure to completion first because graphite smudges and it's important not to smudge it over the colored pencil areas to keep the color clean. Once the figure was complete, I sprayed the drawing lightly, let it dry, and used metallic colored pencil to draw the leaf design to create the movement. The fixative prevented the smudging. I sprayed it one more time once the drawing was complete. For graphite work, I usually shade the darks with soft pencils (4-6B) but switch to the hard ones to develop the skin tones (2H). The only eraser I use is the kneeded eraser. It leaves no residue and lifts out the highlights beautifully.  If I need to get into tiny details and to erase there, I absolutely love the Tombow  Mono eraser that I order on Amazon from a store in Japan.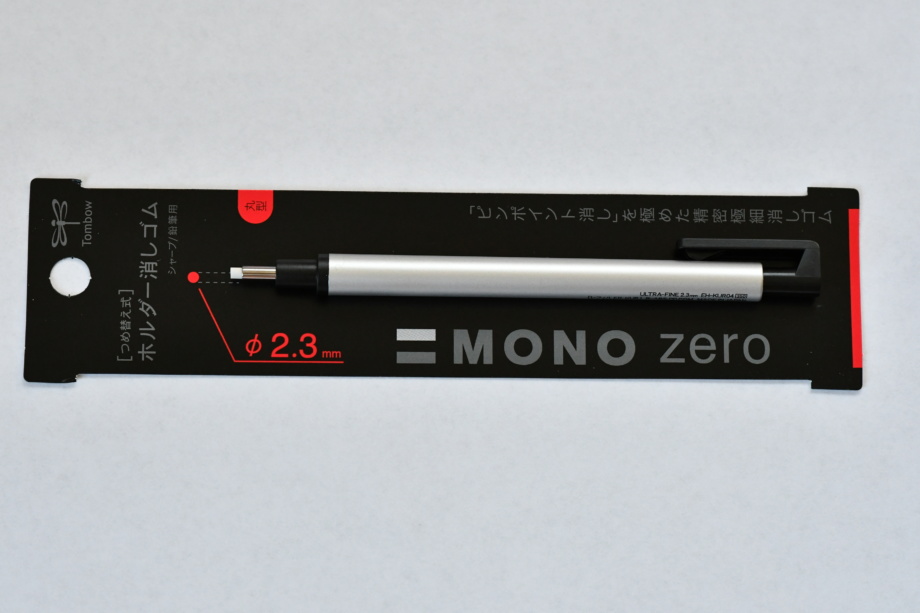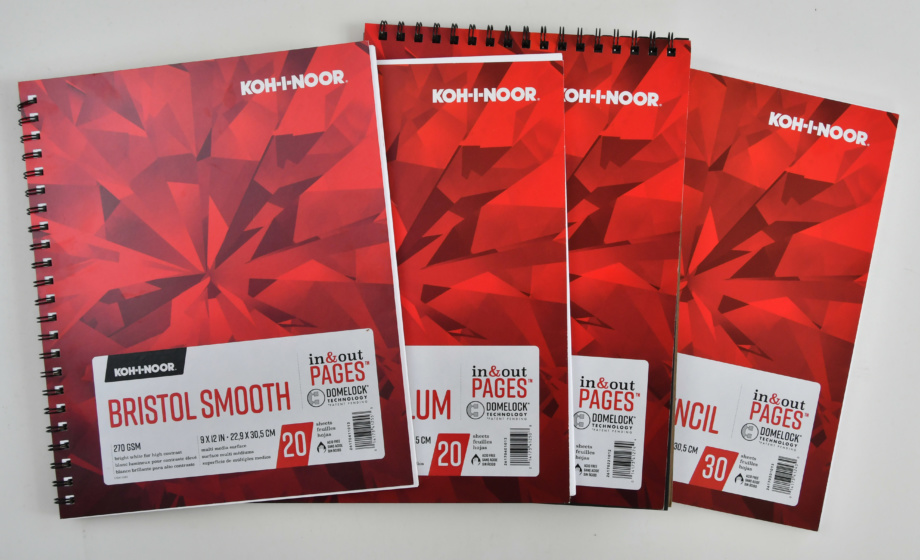 Koh-I-Noor drawing papers are my favorites now! Their surface and thickness is perfect for pencil and colored pencil drawing! The pages also have the unique in&out design, allowing me to put my drawings back into the pad if I need to. I absolutely love the paper's high quality surface that let's me color effortlessly, especially when using soft colored pencils.
Attention! My brand new Colored Pencil Manual art book will be coming out this summer with Dover Publications! I'm also working on a complete video course for beginners in colored pencil drawing. The course may release much earlier than summer. It will be available for download from my site. Please subscribe to my list to stay in touch! http://mailchi.mp/db9030aaa7d3/veronica-winters-art
How to make a mixed media portrait using dura-lar paper, colored pencils and markers
This is the most experimental drawing for me in terms of its surface. I wanted to create more depth in the drawing and therefore played with the paper's surface changing it to acetate-like paper. Here I'm showing my experiments in how to draw portraits step by step.
Materials: Faber-Castell Polychromos colored pencils, Dura-Lar Paper, Painters gold metallic marker, a scalpel/ X-Acto knife/ scissors for paper cutting, Grumbacher final fixative for dry media.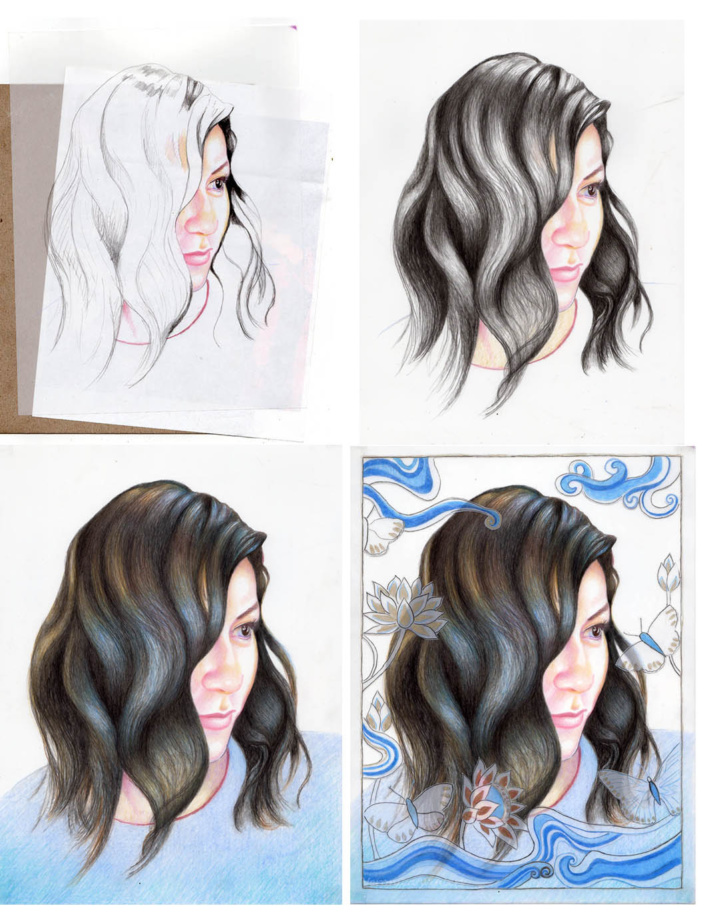 Dura-Lar is a .0005 matte and archival film that's translucent and non-tearing. This is the acetate-like paper that's quite transparent and therefore needs some backing to show the drawing in full. Either white or color acid-free backing is necessary to begin drawing because you can't really see the colors unless you put something underneath your artwork. In the first image you can see how translucent it is where both white paper and brown paper show through. I didn't use white pencil to draw the highlights, rather they show as white because of my white paper placed underneath the drawing.
In the second image at the top you see me layer basic anatomy structure and a hair pattern. I use Faber-Castell Polychromos colored pencils to draw the image. Because this paper is very smooth, it basically accepts a couple of color layers, making it difficult to create subtle transitions in tones. I've tried to use Prismacolors with this paper before, which are much softer pencils and have found it even harder to create subtle transitions in color and tone. However, the very effect of transparency can be explored a lot more, in my opinion. It's possible to place different backgrounds and photographs underneath the drawn image, creating a different sense of depth and realism.
In the third image at the bottom you see me layer as much color as possible. I must say that I was interested in drawing the hair more than the face.
In the last image you see the second layer of this transparent paper placed over the portrait drawing. I tried to cut this paper with a scalpel but found that it was really hard and small scissors worked much better, cutting out the shapes. Paper cutting turned out to be a very laborious process just like the drawing on such smooth surface, resulting in much struggle to finish the work. I connected all three pieces of paper with the archival, double-sided tape in the corners.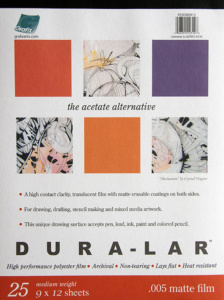 Once again I've played with the Japanese pattern I saw on my trip. I think the best way to frame such artwork would be a floater frame where the image floats in the middle sandwiched between the two layers of glass as opposed to framing with a mat.
What do you think? Have you tried these materials and techniques? Let me know! Feel free to share this post on Facebook and Twitter.
Start learning the colored pencil techniques by downloading the step-by-step demonstrations and art books here.  Once you complete a purchase, the file is sent to you via e-mail automatically! Please check your spam/junk/other folders to see this email. If you can't find it, please email me: nika@veronicasart.com
Use this coupon to save 10% off of your purchase today!