Commission a painting: transform your life!
You don't need a designer or anyone else for that matter to become an art collector. It's a term that I think scares many people away. If you're not into a conspicuous consumption, and strive to find something really meaningful that speaks to your heart – art is for you. People buy art because it truly shows their personality and transforms their life for the better. Art makes a gift that lasts. Art captures a fleeting moment or a warm memory that disappears once time passes. Our children grow up. We get older. Landscape, home, our appearance change. But a personal artwork stays up on your wall as a beautiful reminder of fleeting days and memories.
So if you're tired of bare walls, visit an artist's studio or commission a painting that shows YOU!
Types of Commissions I do:
Romantic, realist portrait of a woman
Colorful landscape or still life painting
I work very closely with you, sharing the progress every step of the way to make sure you like the end result!
Pricing:
9 x 12″ unframed, graphite drawing – $249+ Priority Mail shipping
9 x 12″ unframed, colored pencil drawing – $350-500 + shipping
9×12″ unframed oil painting – $900
11×14″ unframed oil painting – $1200
16×20″ unframed oil painting – $2000
18×24″ unframed oil painting – $2500
24×36″ unframed oil painting – $4000-5000
36×48″ unframed oil painting -$6000+
A 50% deposit is required to start working on your commission. Final payment is expected in full once I email you the bill via PayPal. The check out is secure. You use the service with your major credit card even if you don't have the PayPal account. Email me for details nika@veronicasart.com or call/text: 814-777-1802
1. Realist portrait painting
You can keep a lasting memory in your heart with the original, oil painting of your daughter, mom, sister, or wife. It's a special occasion gift that lasts a lifetime.
You can also commission your portrait that's creative, elegant and shows who you are through a unique artistic vision. Such paintings bring happiness, elegance and healing into your world.
I help women feel forever beautiful by painting their most enchanting side!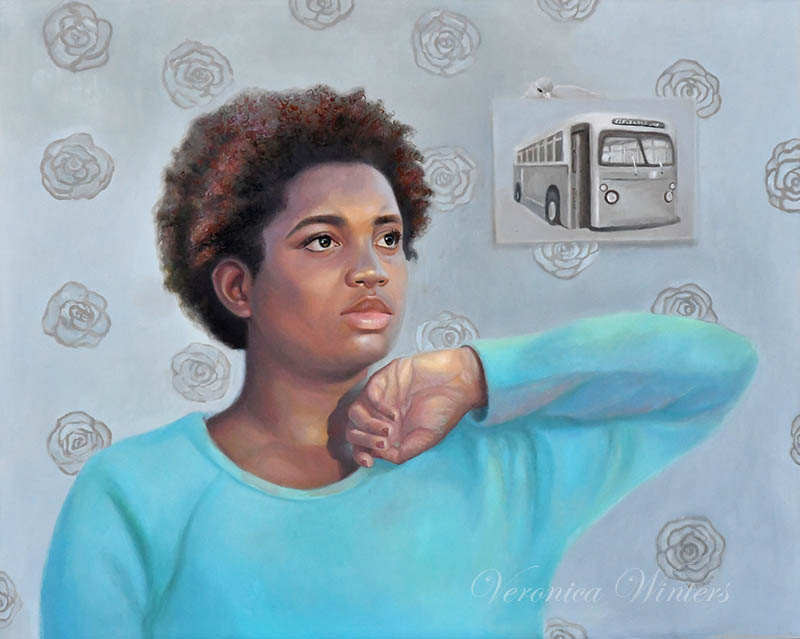 2. Landscapes or still life painting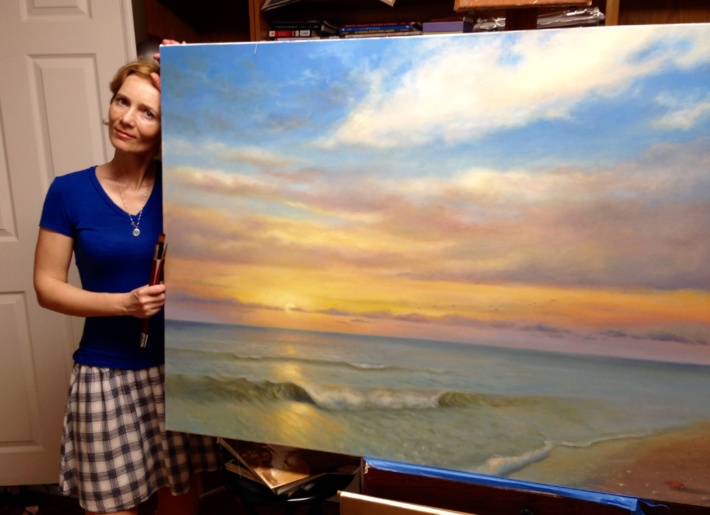 I love to paint landscapes that fit your space and budget. Give me a call! We discuss the imagery, size, mood and color of a piece. While I prefer painting from my references, I can also paint from your pictures (assuming the quality is good).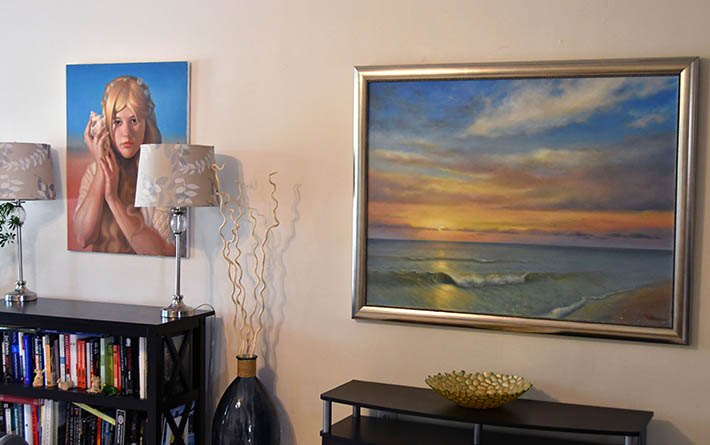 How I create:
Most of the time I work from my photographs. I prefer taking pictures myself for portrait commissions whenever possible. The photo shoot ( a $3,000 value) is free for you when you schedule an appointment with me for picture-taking on the beach in Naples or your favorite surrounding area. I usually shoot one hour and a half before the sunset. However, if you live outside Florida and don't wish to travel, I can work with your professional photographer to get high-resolution photographs to paint from. I can't paint from pictures taken with your phone or with the flash. There is not enough information for me to paint a high-quality portrait from. I pay close attention to lighting, composition, model's pose and a special atmosphere that I capture through my photography that's often absent in the snapshots.
When you commission a painting, we discuss:
The logistics of a photoshoot session (we can either meet at my studio in Naples or at a specific location within a two-hour distance from Naples).
Theme, subject, set up, clothing
Color and mood
Painting support and size
Framing
Delivery time/ turnaround
Pricing. Artwork's price depends on its complexity and size. A 50% deposit paid via PayPal is required to start working on any commissioned painting.
Custom sizes are also available. Pricing excludes framing.
Wall art at homes of my happy clients: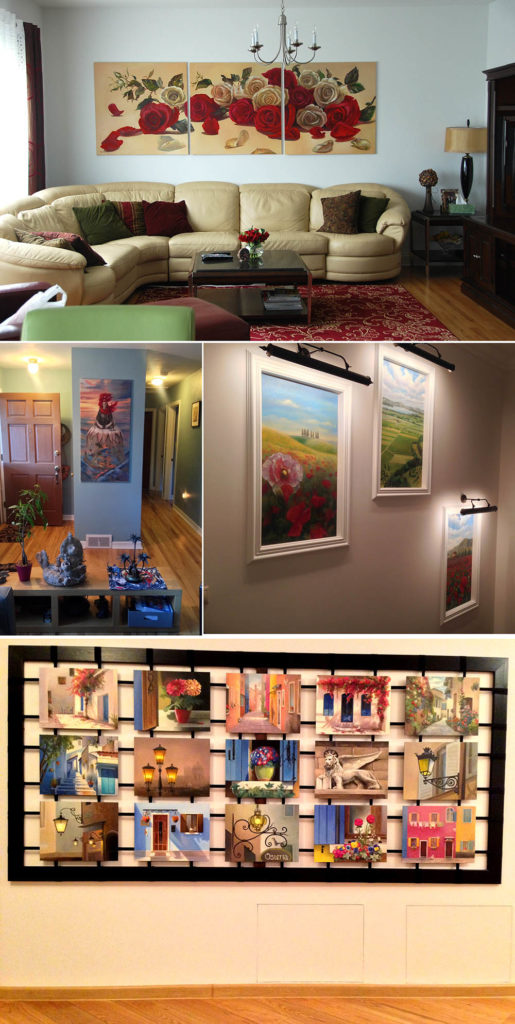 Testimonials:
Winters focuses on capturing the delicate forms and colors in landscapes. She hopes her work conveys a deep respect for art and its place in people's lives.
— American Art Collector
…In her endeavors, Winters has developed a keen knack for rendering the play of light on human skin… She is skilled at depicting piercing emotions on the faces of her subjects…
— Centre Daily Times
Although we have never met I feel that we connect across the miles separating us through shared feelings that are more than surface deep.  As I follow your creative path over the past few years I find a connection that is hard to put to words for me for your paintings stir a my inner voice telling me to look deeper into the painting to find myself.  I thank you for awakening my inner soul to appreciate life and all it has to offer me.  As I gaze out my office window at tree branches stripped of their leave only to be replaced by snow hugging the limbs I am filled with wonder at the image that unfolds with each passing moment   Wind stirs the flakes sending them as white dust into the atmosphere only to settle on snowy mounts covering the ground below my window.
Yes, your paintings invoke deep feeling for life and all that it touches in a never ending cycle. May your New Year bring about an even deeper understanding of those who have touched our lives in a positive way.  I look forward to your future creations.
–Deanna S.
We're are just sitting in our living room, before guests are to come for dinner, admiring and enjoying your study of seashells painting hanging on our wall.  It is just lovely, and wears on me in such a nice way, getting more interesting every day. We're enjoying having it, and thinking about you and your enormous talent.  Many thanks for seeing to it that we have it.
–Bob S.
Art donation guidelines for organizations requesting my artwork:
Thank you for your interest in my art. I appreciate the fact that you'd like to serve a higher purpose with your art auction. Your organization has three options, requesting my work.
Buy my piece at wholesale (at 55% its listed price) and sell it for as much as you can during your auction.
Find a donor who can buy the artwork and then donate it to your auction.
Or get my work in print in the major newspaper of your city, covering your event, and I'll donate a piece.
Get in touch via e-mail: nika@veronicasart.com
Videos showing my creative process:
[spacer height="20px"]
[spacer height="20px"]
7 reasons why paintings belong in the home of every educated person:
Inspiration delivered to your door steps to nurture positive thoughts and emotions at home or office.
Artwork is a tribute to your taste that gives you new insight into your emotions and experiences. It's a contemporary painting that honors you!
Luxury gift that expresses love.
Museum-quality artwork that suits your style of living, made with professional art supplies and techniques.
It's precious memories that you wish to keep for yourself and your family. It's artwork that belongs in the home of every educated family.
Contemporary painting that looks opulent in your interior space, creating a special atmosphere.