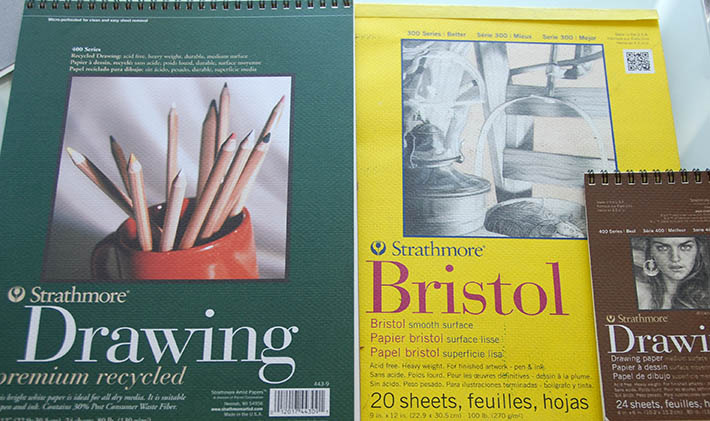 I'm often asked what paper I use for my colored pencil work. So here I list a few of my favorite drawing papers that are inexpensive and suitable for drawing in various dry media.
In general, the drawing paper has three properties that affect the quality of  artist's artwork:
the paper's tooth or texture
the paper's weight or page thickness
the color
Let's look at each property in detail.
Texture
It's very hard to draw on textured surface in colored pencil. Blending can be a nightmare even if you blend with a solvent. Therefore, I highly recommend drawing on smooth paper. These include the Strathmore Drawing paper, Bristol smooth paper or Stonehenge papers. If you are a beginner, go to a craft store like Michael's and simply touch the pages of various papers to understand the difference in texture among them.
In the "Nicaraguan boys" I did very little blending because my colored pencils blended on their own shading on smooth, printmaking paper that is very similar to Stonehenge.
Weight
The weight of the paper affects how thick your paper is. If you use a solvent for colored pencil blending, don't work on paper that weights below 80 lb.  It's just too thin to withstand washes of any solvent as it crumbles. Sketch paper is too thin and shouldn't be used for fine drawing at all.
Regular drawing paper is 80 lb., but some printmaking papers and pastel papers are over 98lb. The bristol smooth drawing paper has the greatest smoothness and 100 lb. thickness. However, some artists find it hard to shade on it, because it doesn't accept as many layers of color as less smooth papers do. Some artists use mat boards to draw because of their extreme thickness and velvety smoothness.
The Stonehenge paper pads are my favorite because of their thickness and the velvety surface that is almost perfectly smooth, yet has enough tooth to layer more colors. They also come in various light colors, which is a bonus.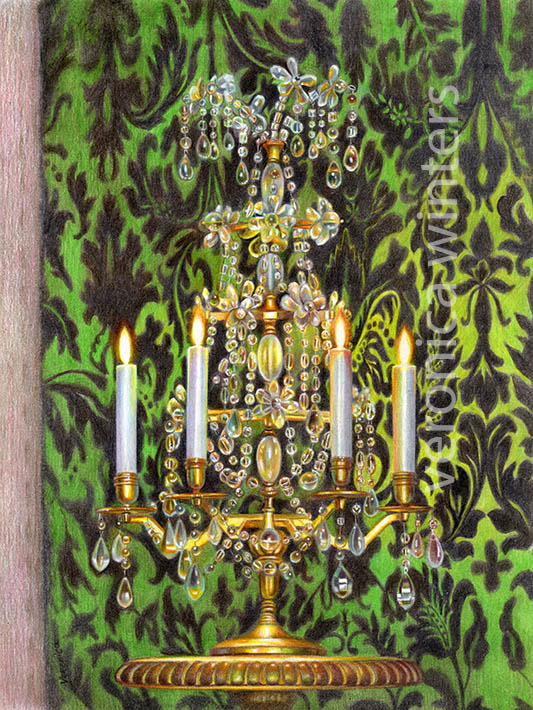 Color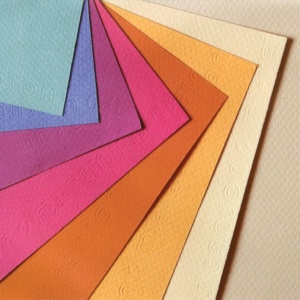 I draw on colored paper most of the time. Colored papers offer a much quicker block-in of colors, "reacting" to the colored surface in a different way. My favorite brand is Stonehenge.
The color of the paper itself shouldn't be chosen based on the image's dominant color (for instance, you have an image of the blue sky and you want to pick the blue colored paper. No, to that!) Rather, pick the opposite paper color, bright orange to draw the blue sky on it.
As an example, the drawing of the Christmas bows shown here was done on the Canson Mi-Teintes pastel paper. I used a blue-gray paper color.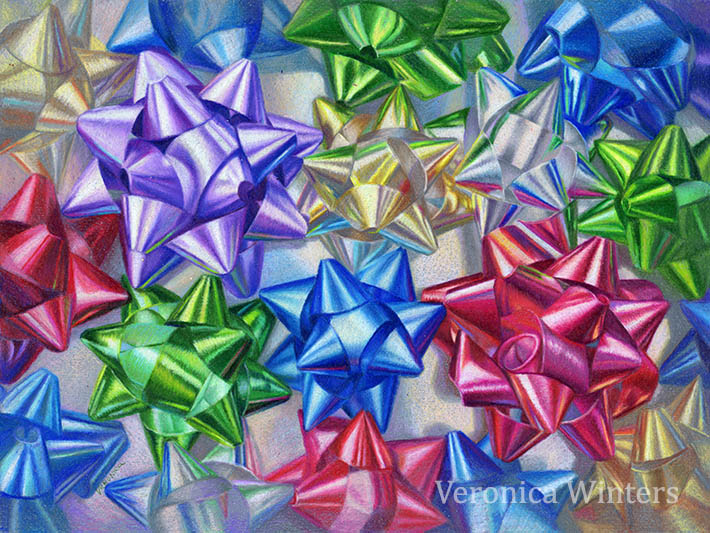 The step-by-step demonstration of this drawing is available for purchase on my website www.veronicasart.com.
To learn more about papers, colored pencils, and the floral drawing, browse my books here.
Canson Mi-Teintes drawing papers are sold in 19×25 sheets and in pads. Note that this paper is great for pastels (because of its texture), but the other (a fairly smooth) side is OK for colored pencil work as well. I must say that it's much harder to shade on this paper as opposed to the Stonehenge and thus it requires blending with a solvent most of the time.