Colored pencil portrait drawing
Attention! My newest Colored Pencil Manual art book will be coming out next summer with Dover Publications in 2018! I'm also working on a comprehensive video course based on my book that teaches how to draw in colored pencil. Stay tuned for the release!
I love to draw in colored pencil! Here you can explore some of my portrait pencil drawings that are inspired by real people. In my colored pencil portraits I enjoy capturing the character of each person through expressive eyes and color. I often layer additional elements to convey a story. I plan out my drawings around a specific color scheme, and I know how it's going to look like finished before I even begin drawing. Usually, I have some interaction with the model before the photo shoot, which helps me in the creative process of designing the image. Sometimes I draw famous people when I'm captivated by their photographs that have amazing light, color and shapes.
My colored pencil artwork has been featured in many publications, including several issues of Leisure Painter, Colored Pencil Student, Colored Pencil magazine, and Artists & Illustrators magazines, Women Artists 2004, 2013, 2018 calendars, two Colored Pencil treasures books, Draw portraits in colored pencil book, Flowers in art, Strokes of Genius 8 & Strokes of Genius 9 art books, as well as in Dick Blick's national ad campaigns.
Colored Pencil Drawing Art Gallery
To buy a colored pencil drawing
If you'd like to buy any of these drawings, please email me for details. nika@veronicasart.com   .
9 x 12″ unframed, graphite drawing – $299-399+ Priority Mail shipping
9 x 12″ unframed, colored pencil drawing – $499-599 + shipping.
You will love how the colored pencil artwork looks up on your wall once it's framed! I use professional, lightfast colored pencils and drawing paper.
Payment is expected in full once I email you the bill via PayPal. The check out is secure and you can use the service with your major credit card even if you don't have the paypal account.
Drawing Paper
Here you can also see some of my drawings completed in graphite or as mixed media pieces where I combine W&N permanent markers with colored pencil. My recent pleasant surprise is the discovery of pretty awesome drawing paper by Koh-I-Noor. I strongly recommend their bristol papers, black drawing and papers for colored pencil art. All of them are thick and smooth- perfect for colored pencil drawing! Canson Colorline drawing papers are my favorite for drawing on toned paper. I also recommend buying Faber-Castell Polychromos and Luminance although I often get away with some colors by Prismacolor Premier and Pablo colored pencils.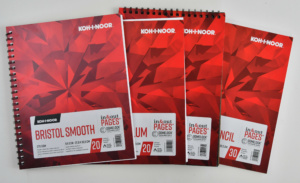 Step-by-step drawing
I usually draw on colored paper using professional, lightfast colored pencils. In the following images you can see the drawing sequence. I always begin drawing in one dominant color, and then slowly add the additional colors one by one. This way I have full control over my values and color. You can find a lot of free information about colored pencil drawing on my blog. You can also use a search bar to find a specific topic you need information on.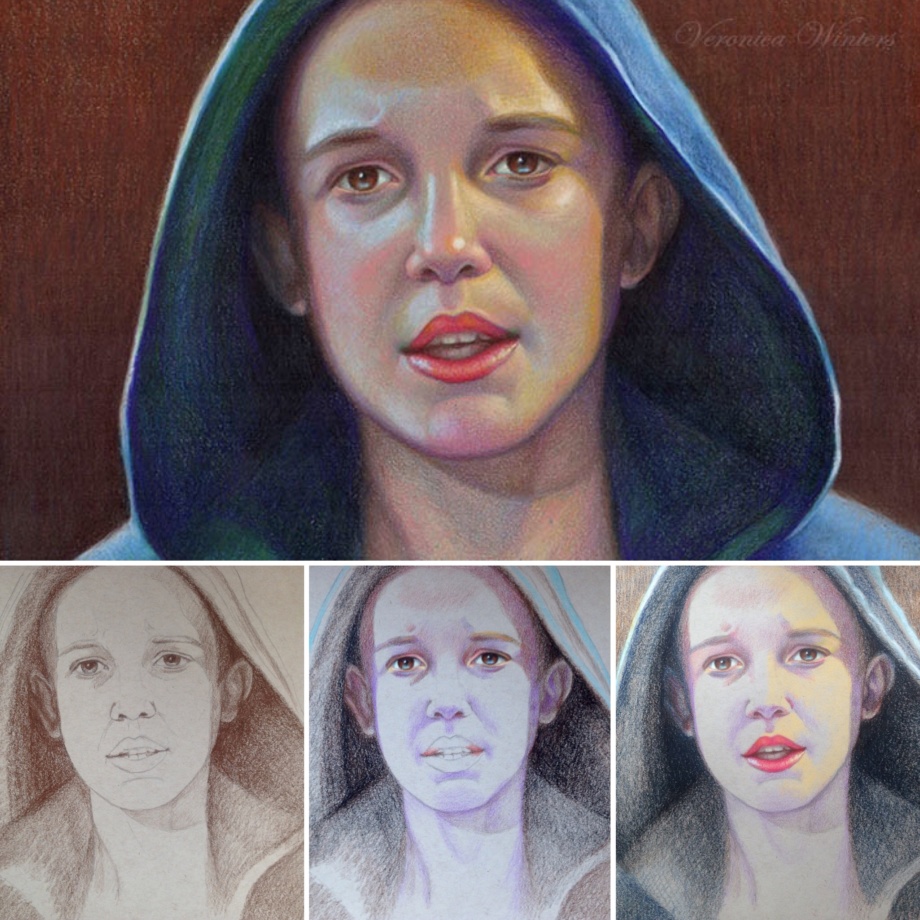 Tutorials:
If you are interested in my step-by-step drawing tutorials that explain my drawing process, you can purchase them here. 
 The art of drawing: