Art Palm Beach International 2018: highlights
Art Palm Beach International 2018 is a much quieter show in comparison to the Art Basel and Art Context Miami.  The foot traffic commanded a much slower pace that actually allowed for thorough examination of work. Situated at the Palm Beach County Convention Center in West Palm Beach, Florida, the annual show consists of galleries showing art and sculpture with some installation work between January 18-21, 2018. As you often see in such fairs the quality of art hardly matters to be promoted and sold since there is no standard in art to adhere to in the first place. Craftsmanship doesn't equal sales. We don't listen to music or singing that is off key, but we are open to looking at and buying terrible 'art'. Not all presented contemporary art was bad at the fair, but visitors had plenty of chances to feel confusion and doubt in their understanding and appreciation of art. In this post I've decided to highlight some of the best pieces that were shown there as well as the worst ones, and a few artworks stuck in between the two categories. A lot of times an idea present in contemporary art overpowers the technique, which weakens message delivery.
A new trend in painting and 3-D art is added sparkle with Swarovski crystal, diamond dust or glitter. I think it cheapens the art for the most part and makes it too decorative. It's really challenging for the artist to combine new materials with the traditional ones to record a unique vision that stands the test of time. Neon light messages get incorporated into canvas art, and wall art installations may surprise some tech gigs. Paintings look fresh if the artist is able to innovate and to play with the surface itself where the canvas size also matters. Innovation, thought and craftsmanship all contribute to the quality of painting and 3-D art. Here you see these elements at play in different proportions and scale.
If you'd like to learn more about the shown pieces, please contact the artists and galleries directly, I made every effort to identify each picture with the name of the artist or gallery representing him/her. If you see a mistake or want to add a name, please write to nika@veronicasart.com
Video of selected works
In the video you see a handcarved/etched glass with a neon sign "Keepworking sucker" by Zac Knudson, 30×51″, Evan Lurie Gallery, and a solar Icd units in plexiglass titled "Perceptual Mirror" 28x17x2″ by Sungchul Hong, Anthony Brunelli Fine Arts.
Highlights from the Art Palm Beach Fair 2018
Fake Fulfillment Center, Shawn Kolodny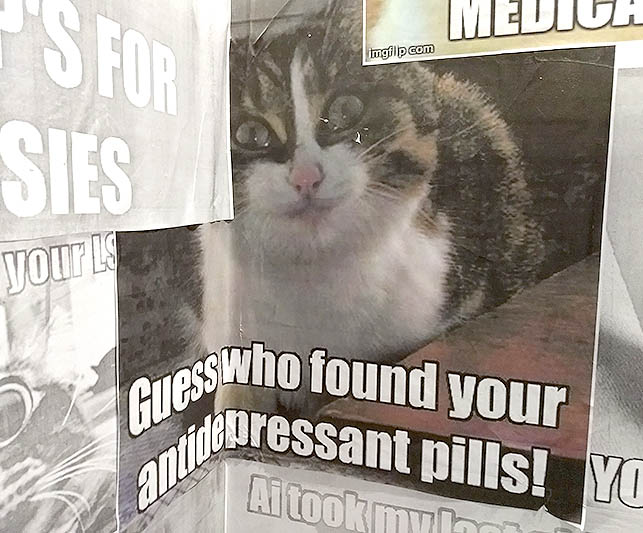 Fake Fulfillment Center  at ArtPalmBeach is a 3000-square-foot multi-sensory art installation by New York based artist  Shawn that confronts the reality of modern addiction in a fun way. It consists of a short maze with rooms depicting and confronting the overwhelming drug addiction in our society.
Activation room: raise the caliber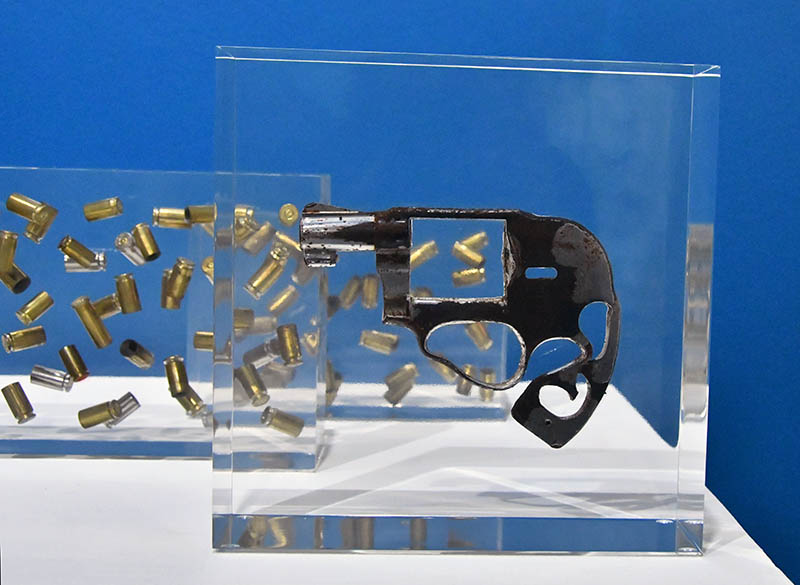 Artists DetroitWick and Crow Studios transform pieces of guns that remain after they've been voluntarily turned in through gun buy back and amnesty programs or seized from crime scenes in America, into beautiful sculptures of lucite and prints. Percantage of sales is donated to the Caliber Foundation.
Debra Steidel

Ethereal and delicate vases reminiscent of the ocean are expertly crafted by Debra Steidel. Their textures look like sand and waves  Coral forms pull you in to touch the form and to feel the breeze of the waves. Visit steidelcontemporary.com to learn more.
Arinze Stanley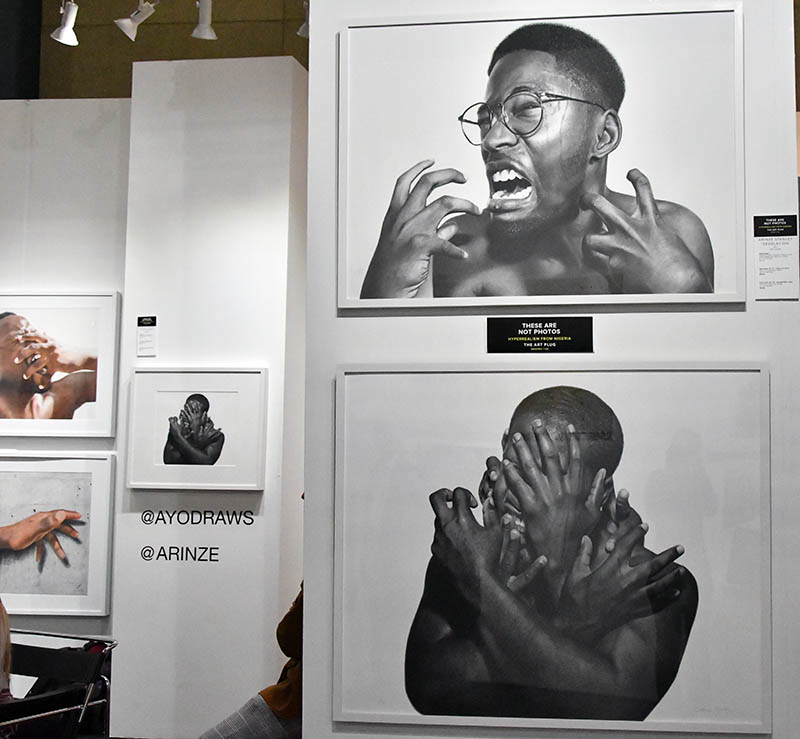 Marco Grassi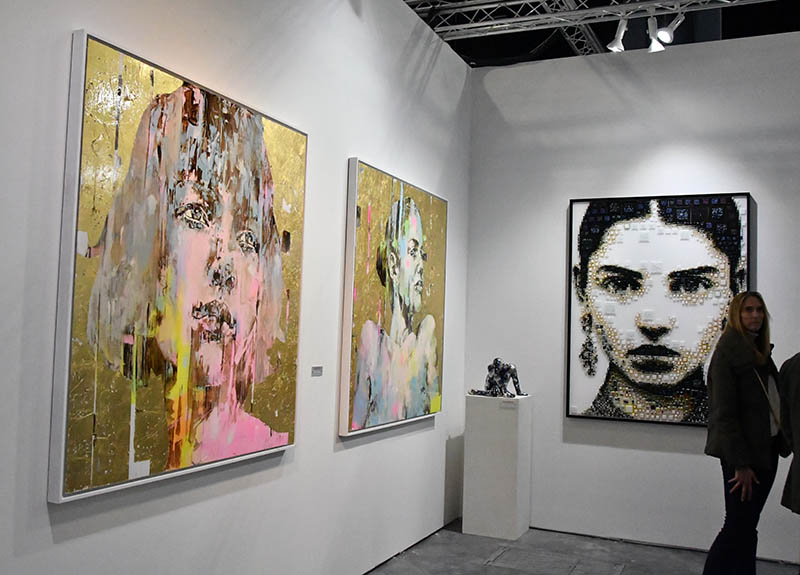 Isabelle Scheltjens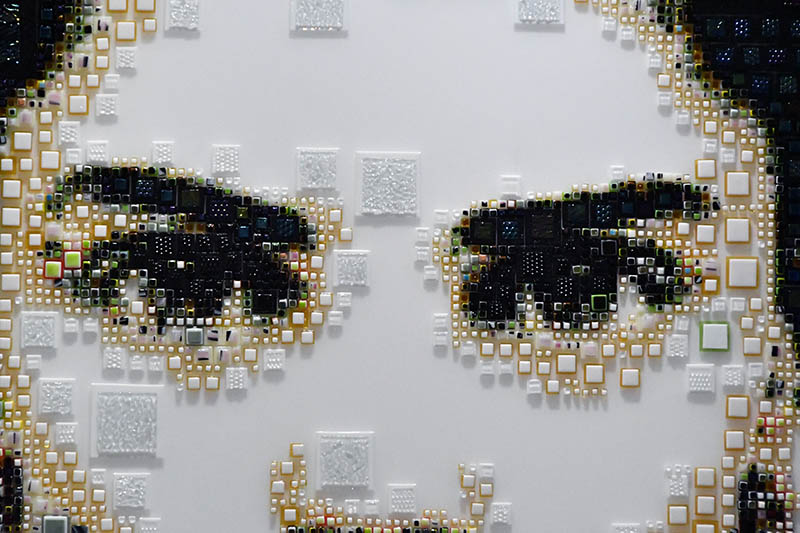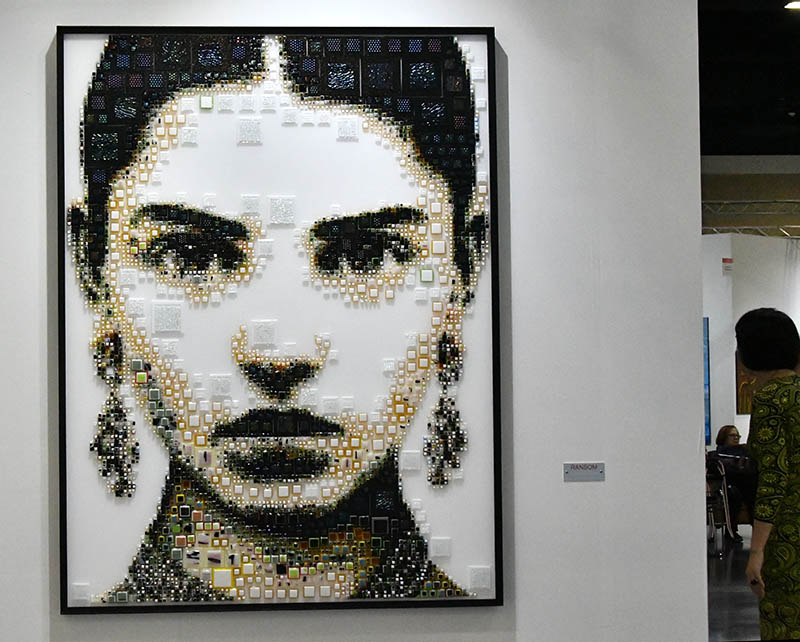 This painting is made of glass-fused mosaic! Like in some Dali paintings, Isabelle Scheltjens achieves unusual optical effects with her technique. The abstract image seen up close becomes a giant face observed from a distance.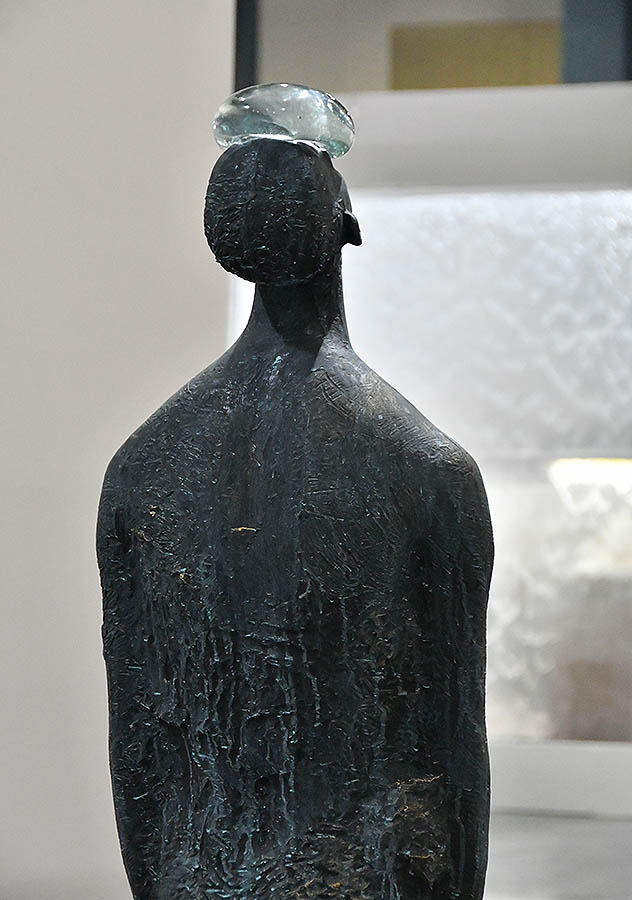 Unfortunately I don't know the name of this artist who made this sculpture, but by looking at this man it makes me think of life and balance, and how challenging it maybe to achieve.
Martin C. Herbst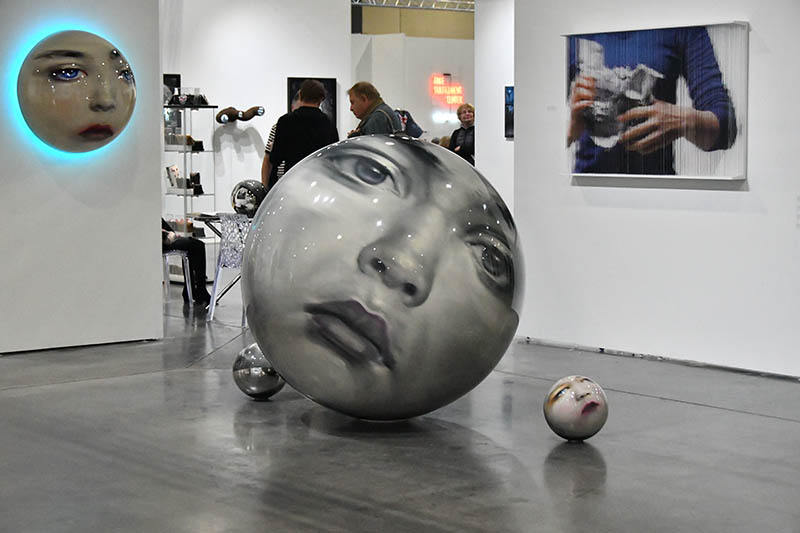 B.1965, the artist creates a series of painted sculptures that are made of oil/lacquer on mirror-polished stainless steel. They range from 55 to 11 inches in diameter. Herbst paints a face on one half, and the other half of the sphere remains unpainted and becomes a distorting mirror (image below). The spheres rest on hidden rings and depending on the positioning of the sphere, the painted images change quite a bit. The idea for the spheres came to the artist from Italian painting by Parmigianino titled "Self-portrait in a Convex Mirror."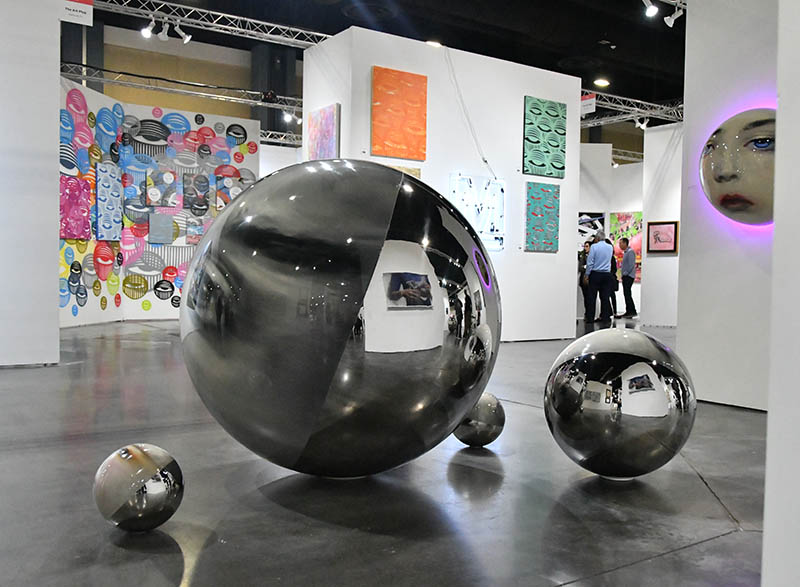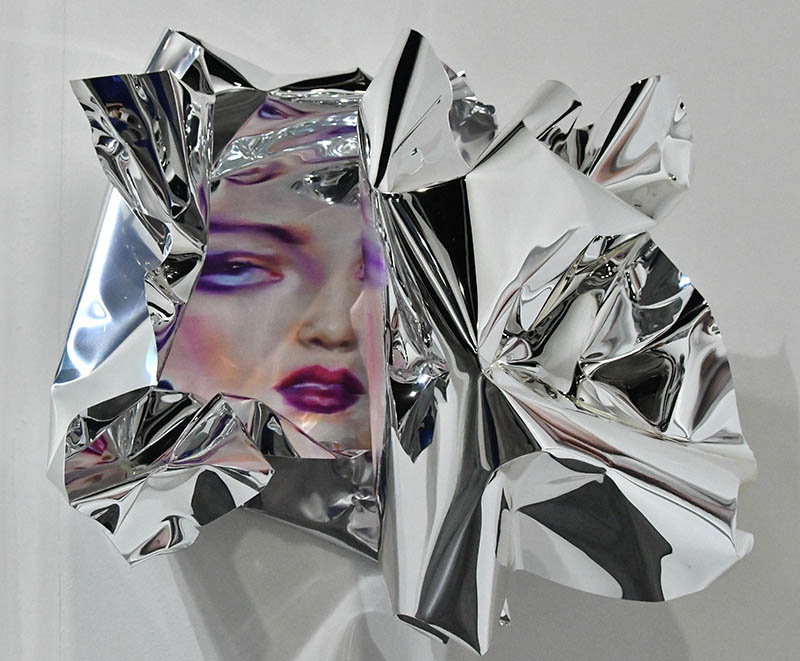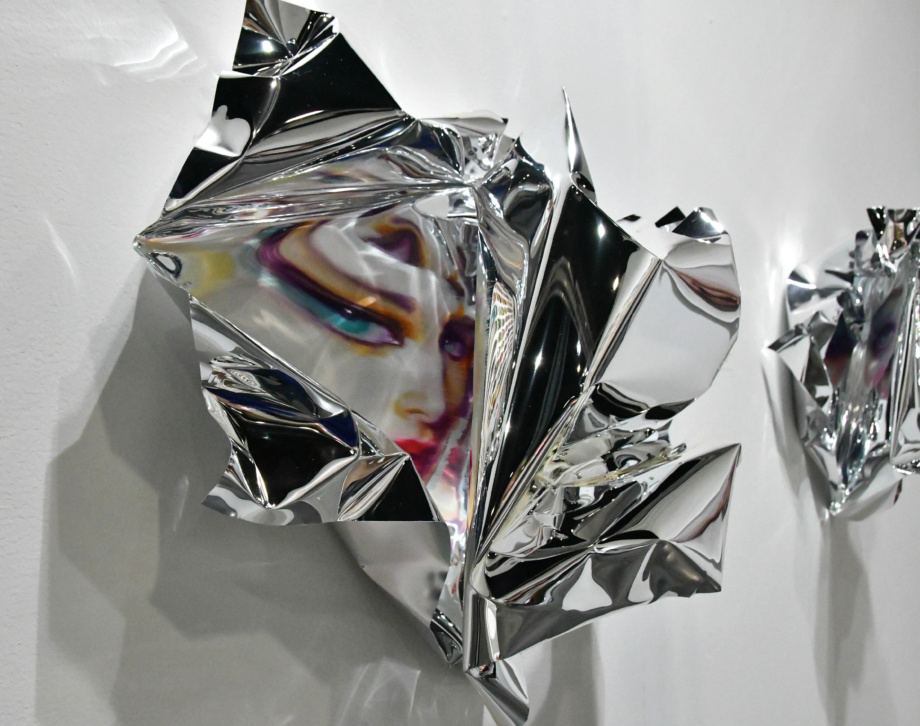 The series hidden treasure explores the mystery of  reflection. We see a woman's face as a reflection found within the aluminum folds. Mirrored painting moves and disappears in the folds depending on your point of view.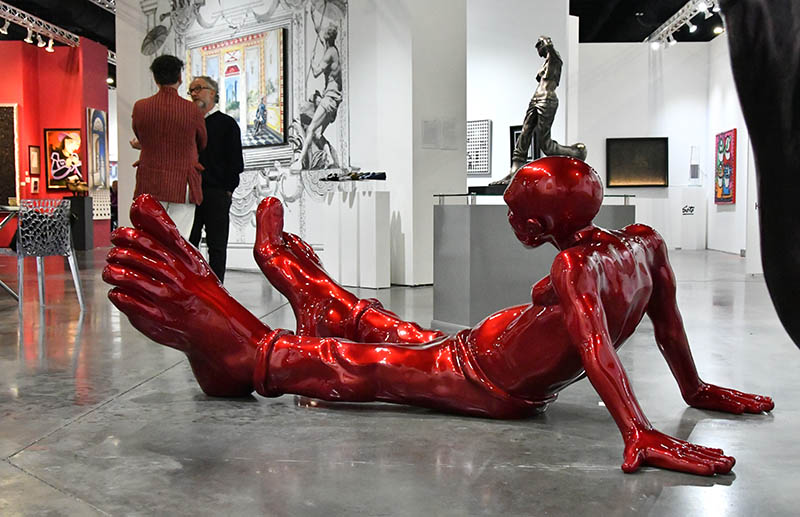 Pablo Dona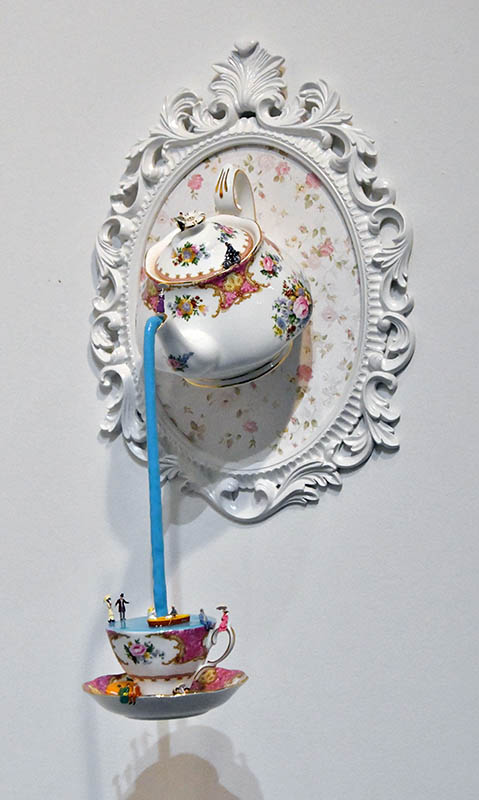 Pablo Dona creates whimsical installations pink, yellow and blue that are reminiscent of happy childhood. The artist aims to create a sense of magic that every child sees in commonplace objects and surroundings. Installations and photographs of tea cups, books and teacup sets with tiny people engaged in conversation, boat riding, swimming or walking have clean pastel colors that invite us to come back to that pure land of childhood. Whether you want to find it or not, you can contemplate your memories over tiny figures, rubber ducks and marshmallows. Carefully set up photographs seem to communicate a much stronger feeling of a bright childhood moment as opposed to an installation itself.
Irene Wijnmaalen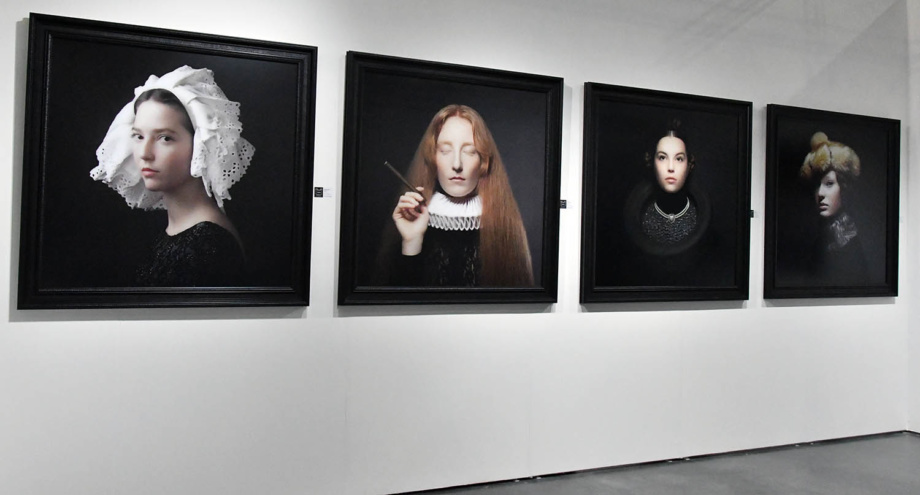 These portraits of women have mesmerizing effect where you just keep looking back at the faces. Influenced by the Dutch painting, Irene creates moving portraits of women that seem to be lost in time.
Erin Anderson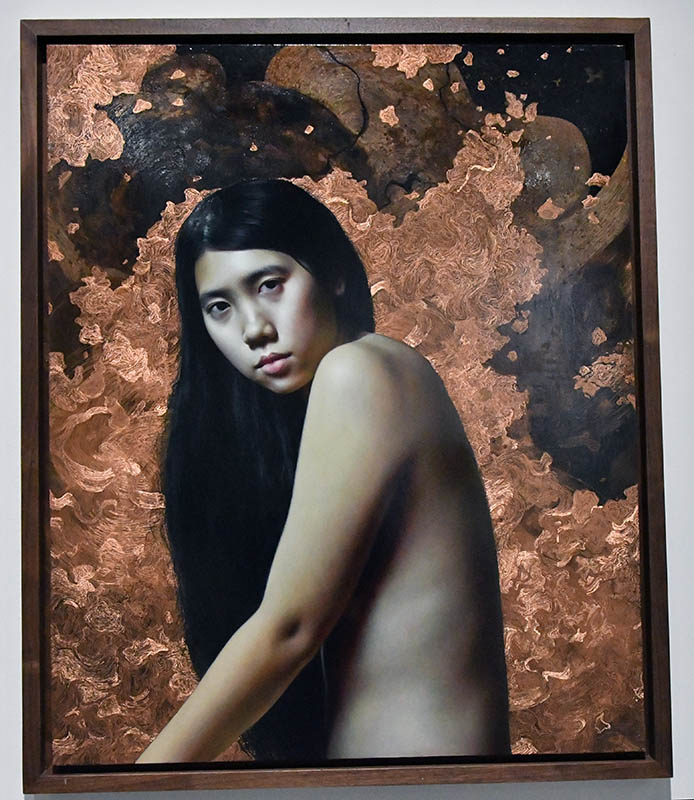 B.1987, this young artist shows off her incredible talent painting figure on copper sheets. The artist creates visual comparisons between the figure and systems in nature. The metallic texture of the background is fascinating and creates movement and unusual shine, while the painted figure is rooted in classical art.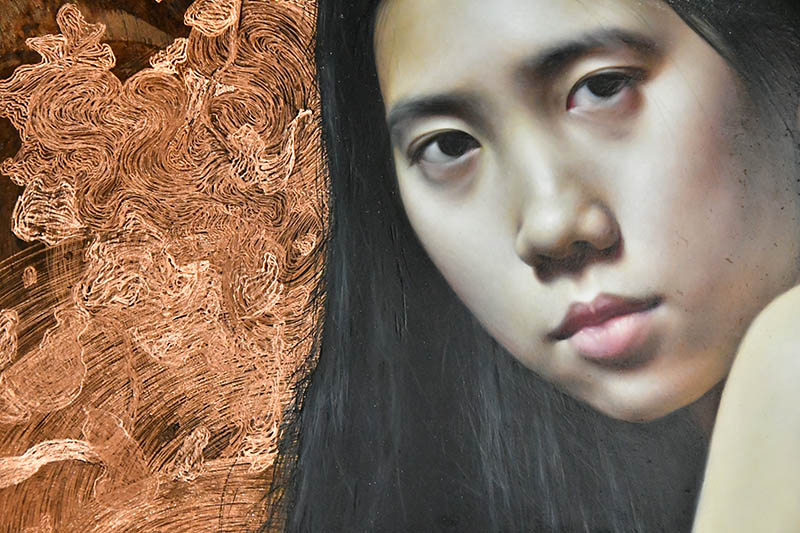 Tanja Gant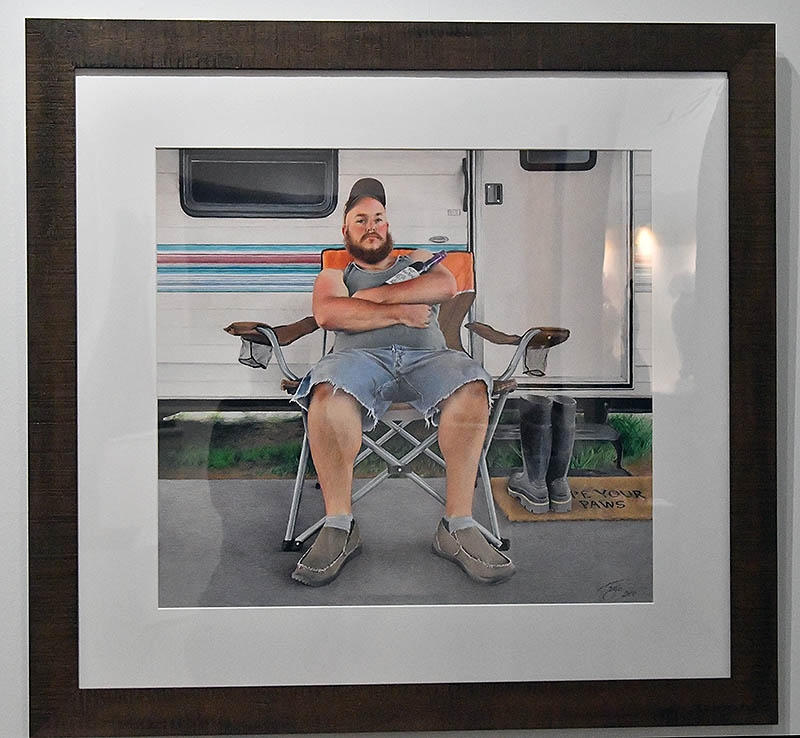 Tanja Gant keeps us high on our toes with her colored pencil drawings that have a unique interpretation of ordinary subject, which goes far beyond realism and technical skill.
Sungchul Hong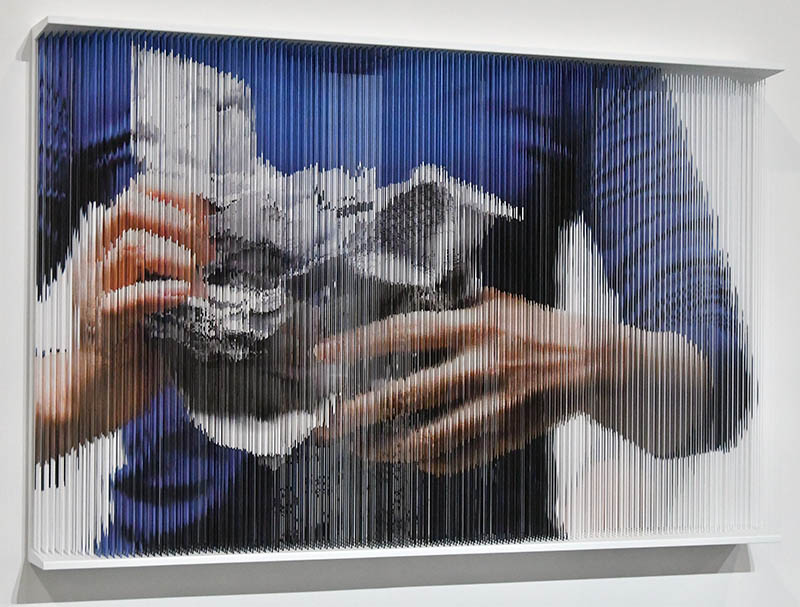 B.1969, Korean multidisciplinary artist Sungchul Hong creates sculptural art out of strings. He prints photographs on elastic cords that he stretches over canvases or within steel frames. The images of grasping arms and hands look beautiful from a distance and puzzling up close. The construction of such images feels disruptive and you want to step back to see the unified piece. Artists often feel disconnected from the world, working alone in their studios. This sense of disconnect reveals itself in separate strings.
 In the video you can notice his wall art installation -blinking solar LCD units titled "Perceptual Mirror." Grids of identical solar lcd units make changing flickering patterns that communicate life's impermanence and isolation.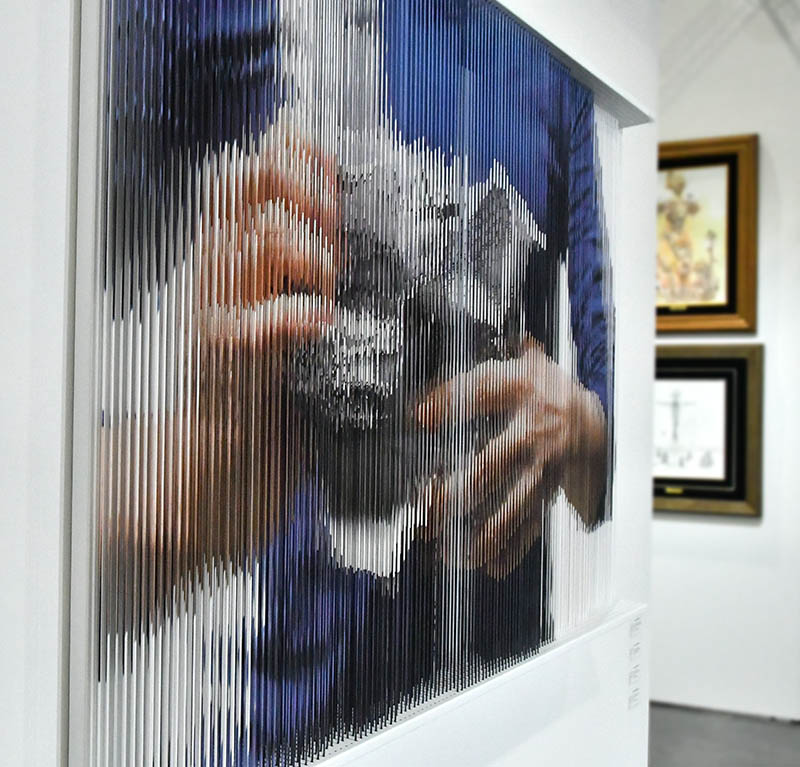 Annalu Boeretto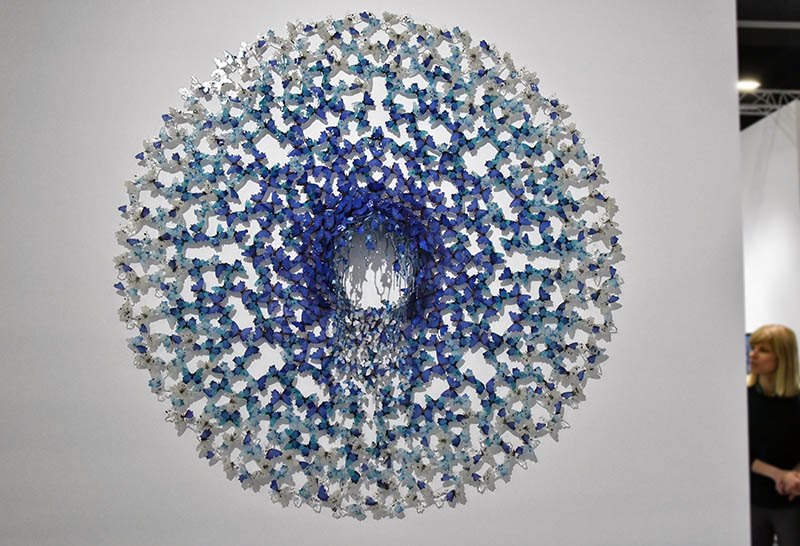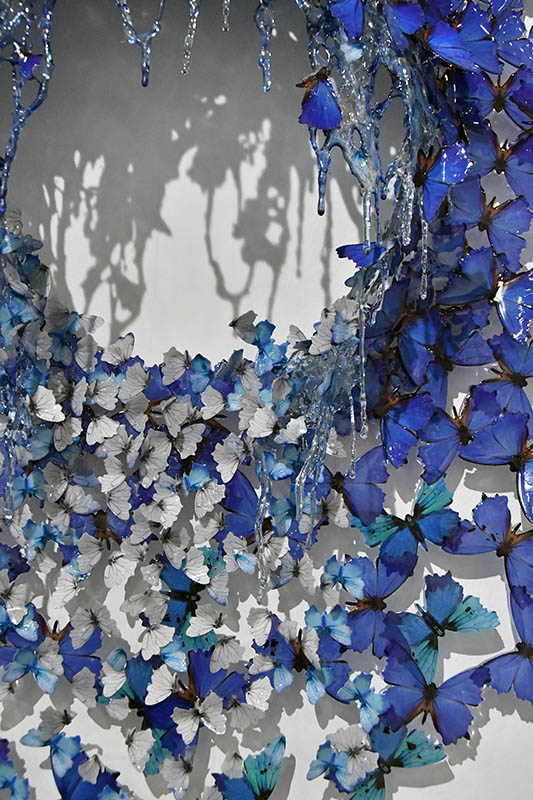 B. 1976, Annalu Boeretto lives in Venice, Italy but exhibits her liquid sculptures internationally.  Her mandala-like wall art mesmerizes us with light and lightness, natural beauty and liquidity. Influenced by the long history of Venetian glass blowing and water ways, she creates wall art from different materials that have this sense of lightness and transparency common to water and glass. Fiberglass, resin and ink become Annalu's materials that "freeze" pieces of nature in art. To learn more: www.annalu.it/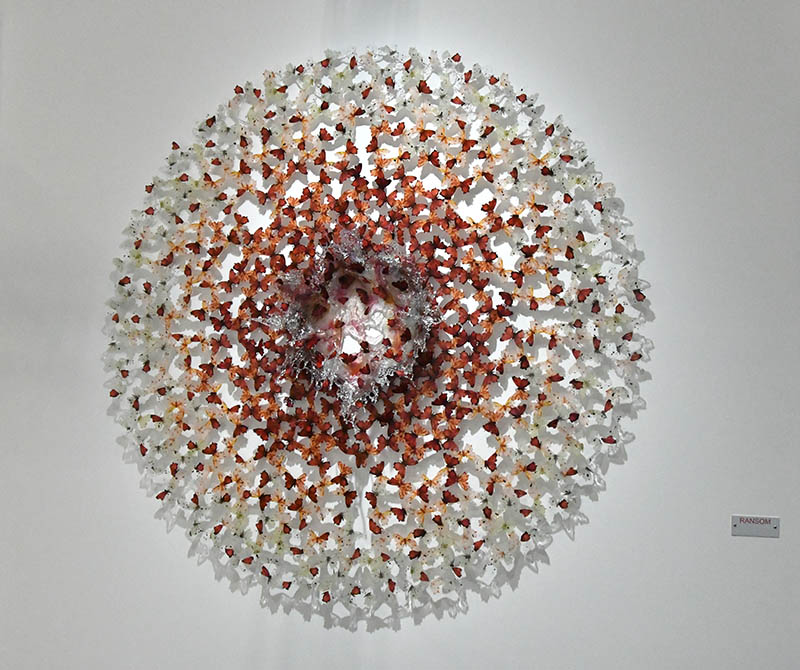 Pablo Caviedes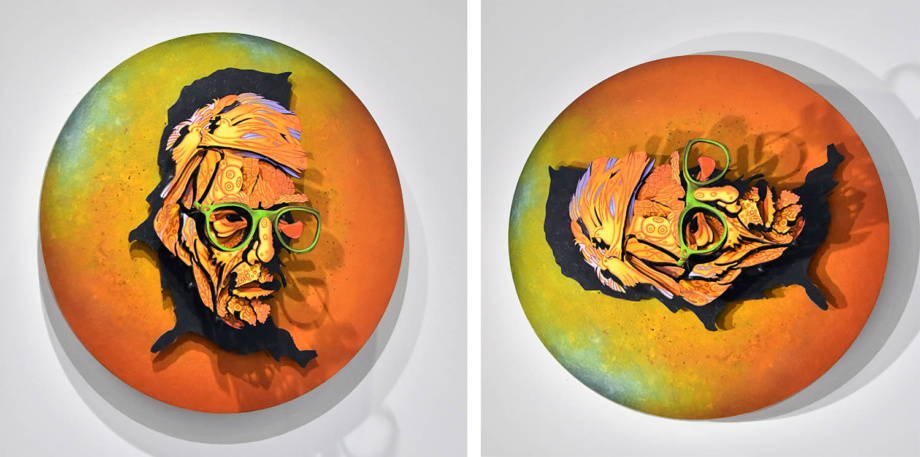 Pablo Caviedes, "On the map"We can look at this image and just see a face, but when a giant plate turns sideways the face becomes the U.S. map.
Jae Yong Kim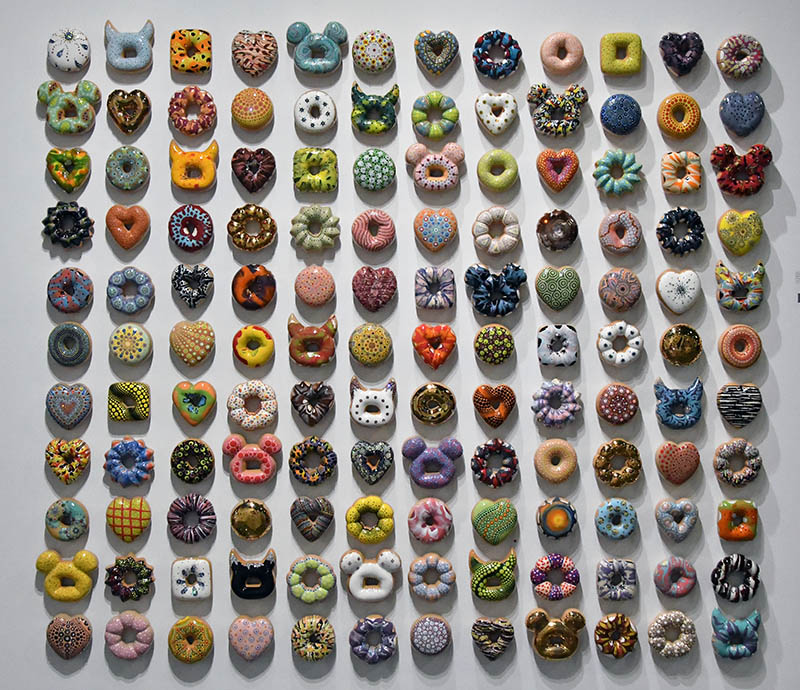 B.1973, the artist makes playful ceramic donuts. Each has a unique number of glazes and finishes that also include the Swarovski crystals in some. Fun shapes and colorful glazes create a visual feast so much so that you want to run to a donut place to eat some right away.
Mr.Brainwash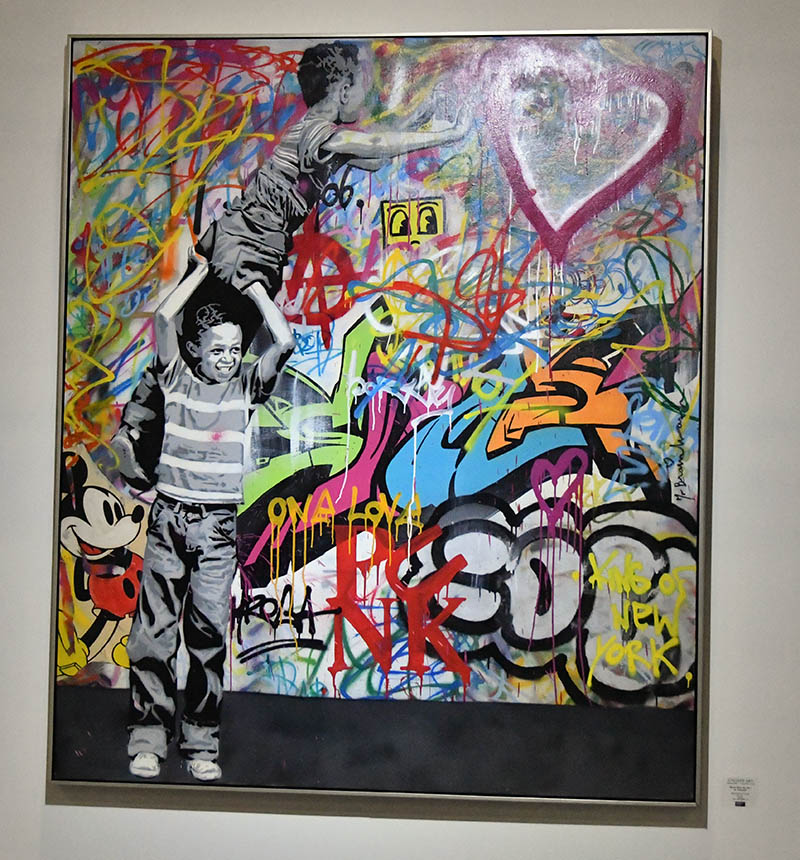 Mr. Brainwash established a name for himself in a single show that he organized and promoted to a celebrity crowd in LA years ago. Coming from video taping of street art, Banksy art in particular, this man decided to become an artist himself, making these large canvases that carry instant message in street art style.
Alexi Torres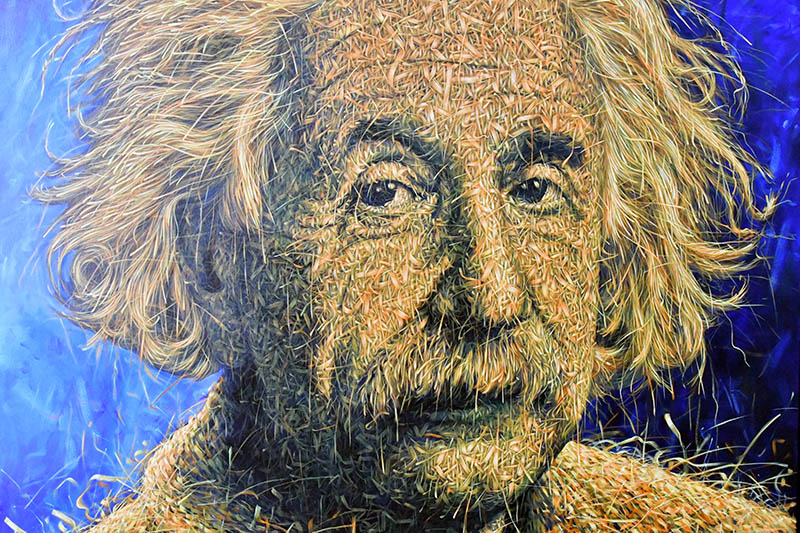 B.1976, Cuban artist Alexi Torres creates oil paintings that appear woven. These highly unusual brush strokes make this work very different from other figurative paintings.
Zena Holloway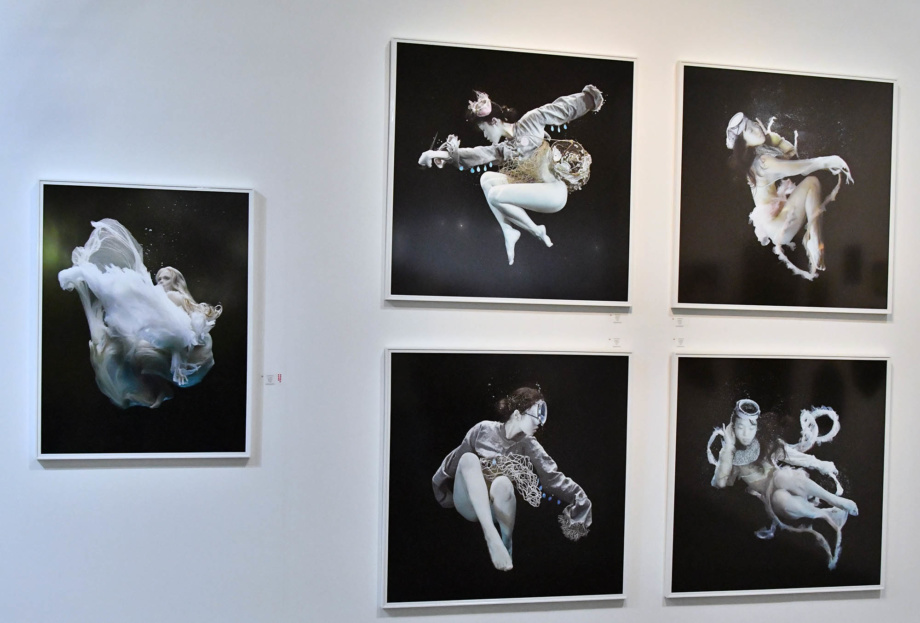 Underwater photography is not an easy fit. B.1973, Zena Holloway takes pictures of celebrities and models underwater. Staged photography involves a lot of prep work with a team and a connection with models to get the shots just right. Her latest projects Sea Women and Body of Water aim to raise awareness of the effects of overfishing and pollution in the oceans.
Oliver Cole gallery: Michael Kalish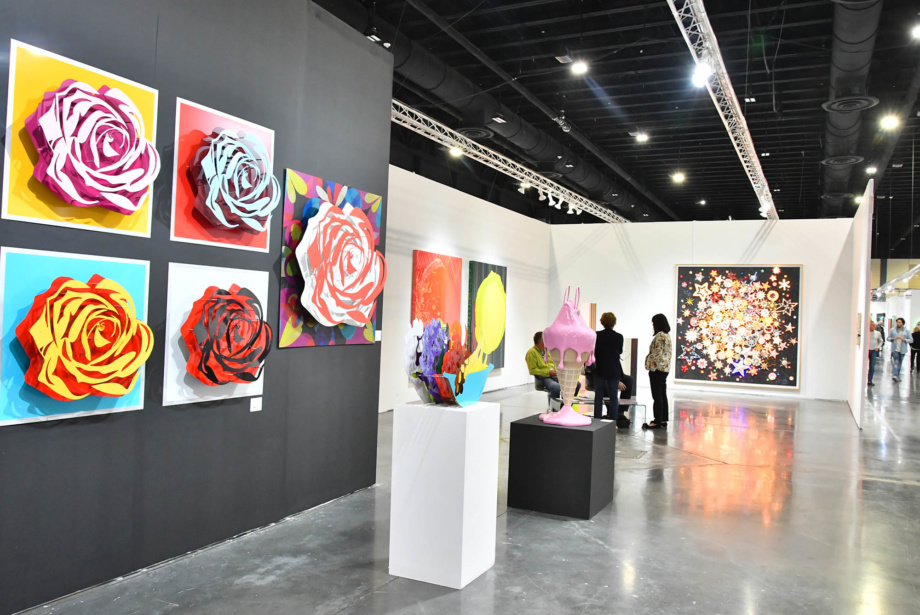 Artist and sculptor Michael Kalish makes vivid roses from reclaimed materials that include the license plates. These metal cuts that make up the flowers are suspended above the flat surface to create extra dimension.
Roberta Coni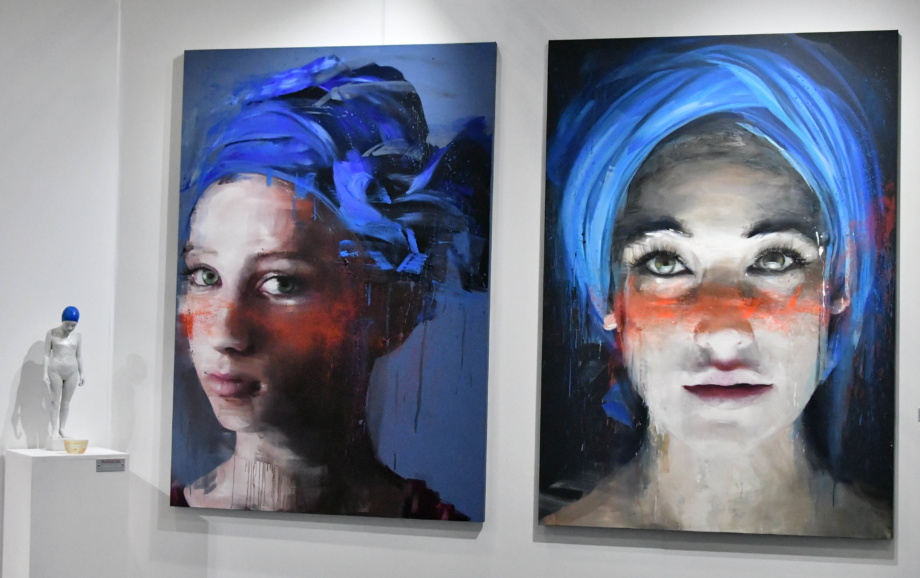 Roberta Coni paints women inspired by Flemish painting. Her portraits don't have the technical skill of the old masters, however, Coni's eyes have piercing beauty.
Anja van Herle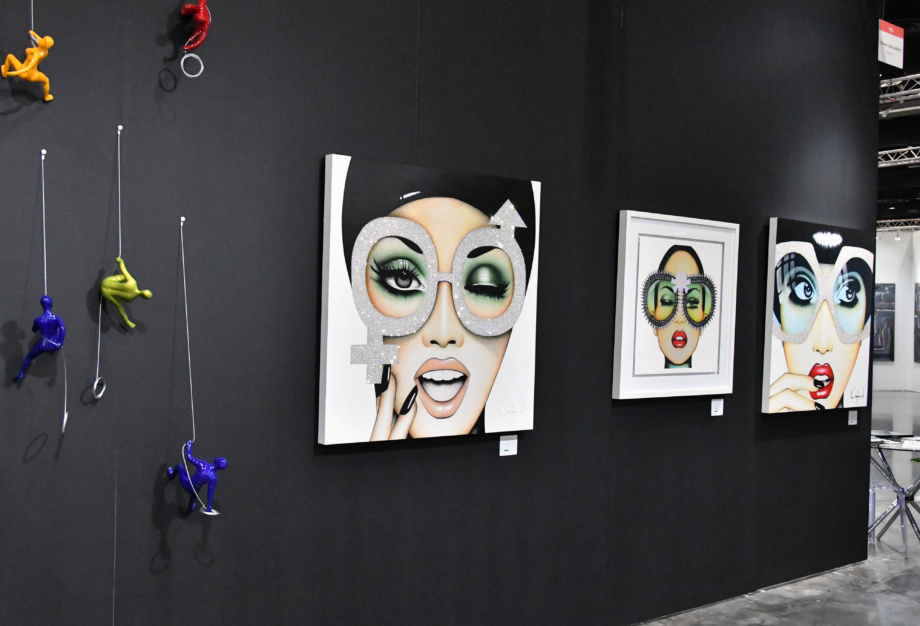 Decorative and colorful, these sparkling paintings look like fashion ads where a woman's skin is Photoshoped and lips have heavy outlines. The female faces are playful but not enigmatic.
A borderline "genius" art? If you don't root for cuteness, it's hardly artistic.
"Genius Art" Conner
Sorry, guys, but this is hardly good art.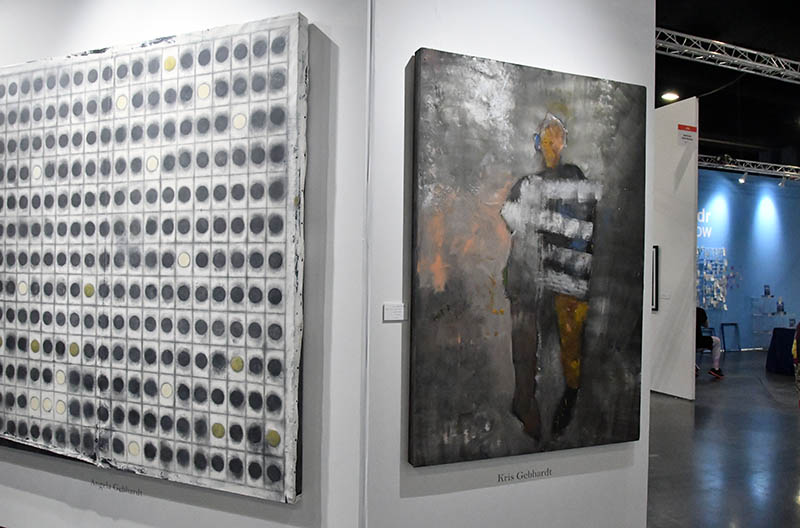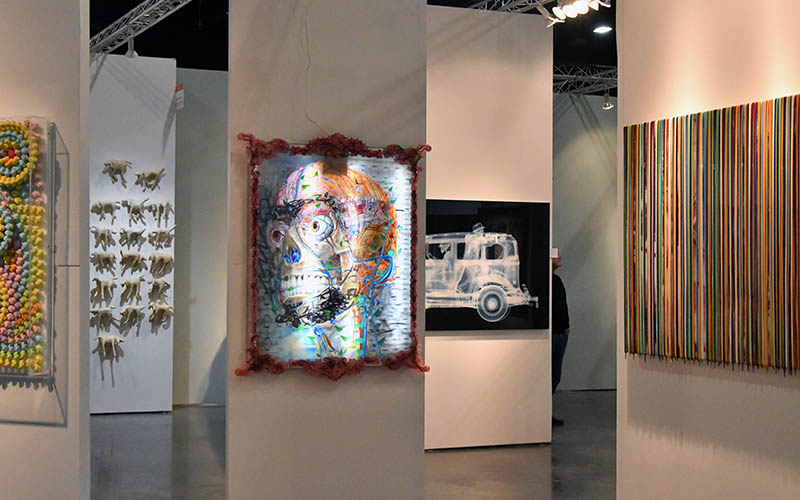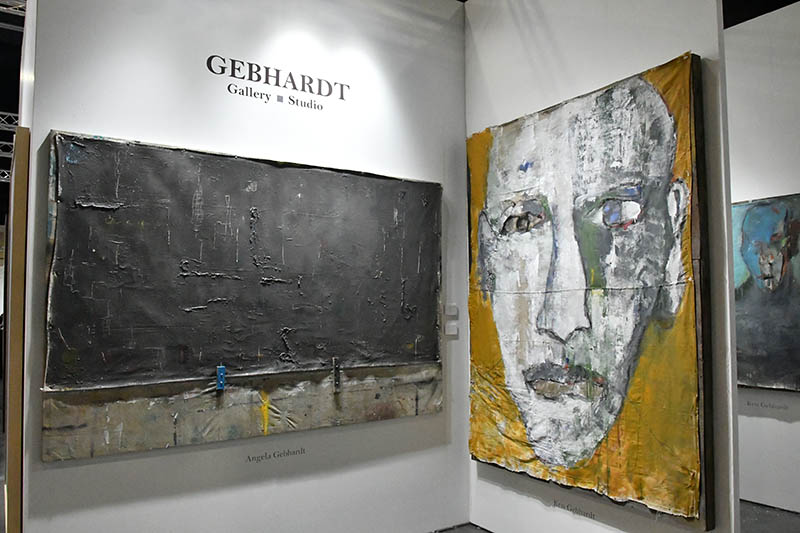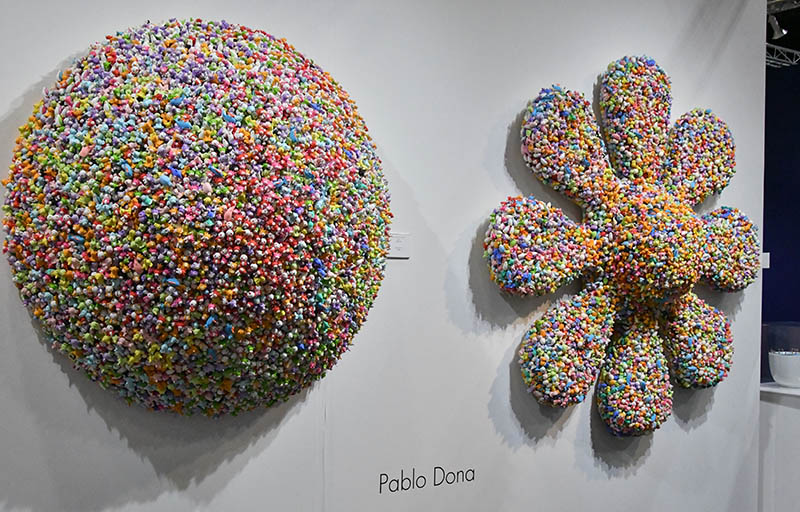 These pieces are whimsical and fun, but can we really say they are highly artistic creations? Perhaps to some who love toys or want to return to perfect childhood.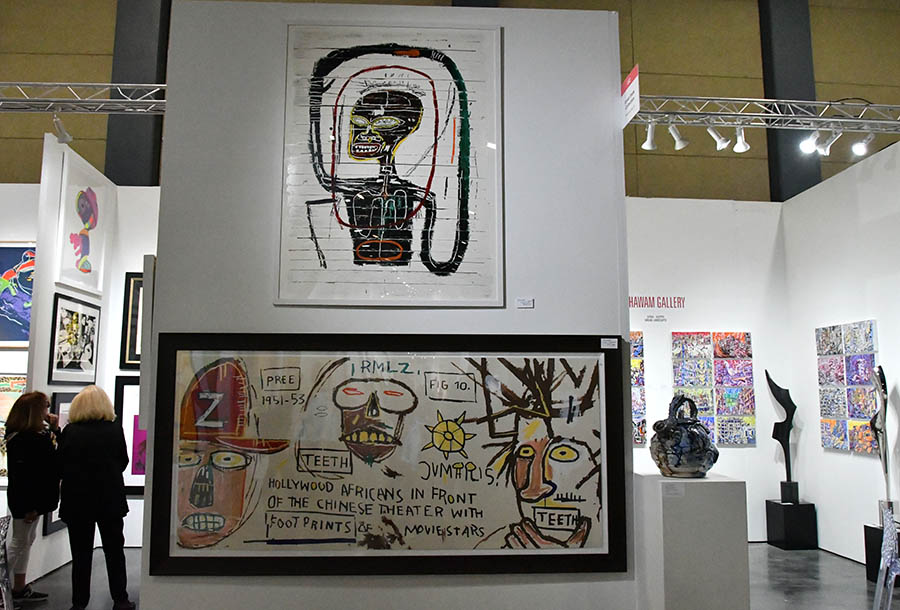 This concludes the roundup of art you could have seen at the Palm Beach fair. Hope you've enjoyed looking at various kinds of contemporary art.
My other posts to check out:
Contemporary figurative realism and more at Miami Art Basel Week 2017